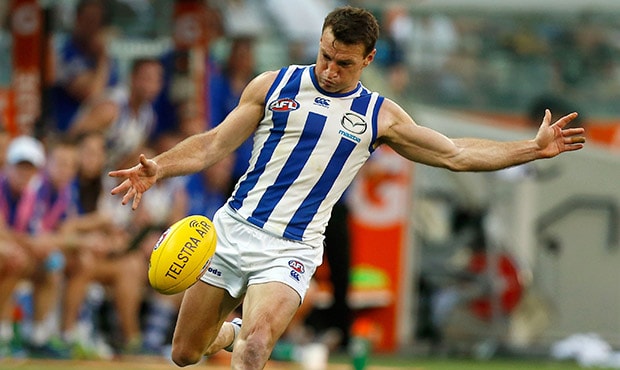 NORTH Melbourne veteran Brent Harvey didn't get a kick in his first game. Now, nearly 20 years since that day, he is the best kick in the AFL.

That's not just an observation.

Harvey, 37, retained his title as the game's best kick, according to this season's Champion Data Prospectus.

Once again in 2015, he was rated in the best six kicks in the League, finishing sixth behind Mitch Duncan, Nathan Krakouer, Bradley Hill, Cameron Guthrie and Grant Birchall.

It was the fourth year in a row he has been rated in the top six kicks in the League, ensuring he maintained his status at the top of the table that measures the AFL's best kicks using all data collected between 2010-15.

A chainsaw is the only thing that has come close to ending that six-year reign as the man with the nicest kicks going around.

His former coach Dean Laidley, who coached Harvey at North Melbourne between 2003-09, does not need much prompting to tell AFL.com.au the speedster is the best there has been at hitting a target 35 metres away.

"He is able to use his pace. His ability to slow and then make the right decision, whether he is kicking the ball straight off the boot or pushing the ball off the outside of his boot, is a special quality," Laidley said.

Champion Data established Harvey's dominance using a measure called kick rating, which takes into account the degree of difficulty of kicks when measuring a player's kicking effectiveness.

It assessed the pressure on the kicker along with the kicker's intended target and distance and direction to measure how difficult kicks were and come up with a kick's expected hit rate. The kick rating then shows the player's hit rate minus his expected hit rate to come up with a figure that is plus or minus zero.

It is different to kicking efficiency, which measures the percentage of kicks that are merely effective.

Harvey's kick rating last season was +6.8 per cent and it was at +7.6 per cent over the past six seasons, hitting 119 more kicks than expected under Champion Data's model.

This is the best kick rating of any AFL player with 500 or more kicks since 2010.

Western Bulldogs skipper Robert Murphy and West Coast captain Shannon Hurn – both noted for their kicking – had the second and third best kick ratings during that period.

Closing in on 'Boomer' in 2015 was Cats midfielder Duncan (below), who had a kick rating of +9.5 per cent in 2015, which took his kick rating since 2010 to +5.8 per cent.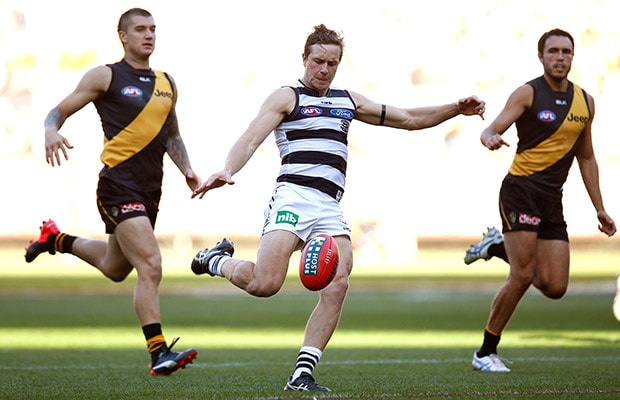 Harvey has kicked the ball 5397 times since he collected his first kick in his second game, with his percentage hit rates for a kick inside 50 elite.

He has found a target to mark the ball 33.5 per cent of time he has kicked inside 50 since 2010.

That is way above the competition's next best player in relation to that statistic with former Geelong premiership player Steve Johnson, who is now with Greater Western Sydney, finding a marking player inside 50 27.2 per cent of the time.

Duncan was among a group of players who made ground on Harvey in 2015 with Hawthorn's Grant Birchall (+7.3 per cent in 2015 with a kick rating of 5.1 per cent between 2010-15), Richmond's Chris Yarran (+6.9, +5.5) and Fremantle's Michael Walters (+6.9, +4.4) vying to take the mantle in future seasons.

But they will have to catch him because he shows less signs than Keith Richards of slowing down as he gets older.

Laidley says the key is Harvey's pace that allows him to find time and space.

"It comes pretty naturally to him but he works hard on everything," Laidley said.
OVERALL LEADERS (500-plus kicks) 2010-15

NAME

CLUB

KICK RATING



Brent Harvey

North Melbourne
+7.6 per cent
Robert Murphy

Western Bulldogs
+7.4 per cent
Shannon Hurn

West Coast
+6.9 per cent
Matthew Scarlett

Geelong
+6.8 per cent
Mitch Duncan

Geelong
+5.8 per cent
KICKING AND CATCHING

NAME

CLUB

2010-15

2015 ONLY



Mitch Duncan

Geelong
+5.8 per cent
+9.5 per cent
Grant Birchall

Hawthorn
+5.1 per cent
+7.3 per cent
Chris Yarran

Richmond
+5.5 per cent
+6.9 per cent
Michael Walters

Fremantle
+4.4 per cent
+6.9 per cent
Brent Harvey

North Melbourne
+7.6 per cent
+6.8 per cent
BEST KICKS (with 100-plus attempts) WHO MADE THEIR DEBUT IN PAST TWO SEASONS

NAME

CLUB

KICK RATING



Billy Hartung

Hawthorn
+4.4 per cent
Cory Gregson

Geelong
+4.4 per cent
Jack Billings

St Kilda
+4.0 per cent
Patrick Ambrose

Essendon
+3.1 per cent
Martin Gleeson

Essendon
+3.0 per cent
Stats supplied by Champion Data