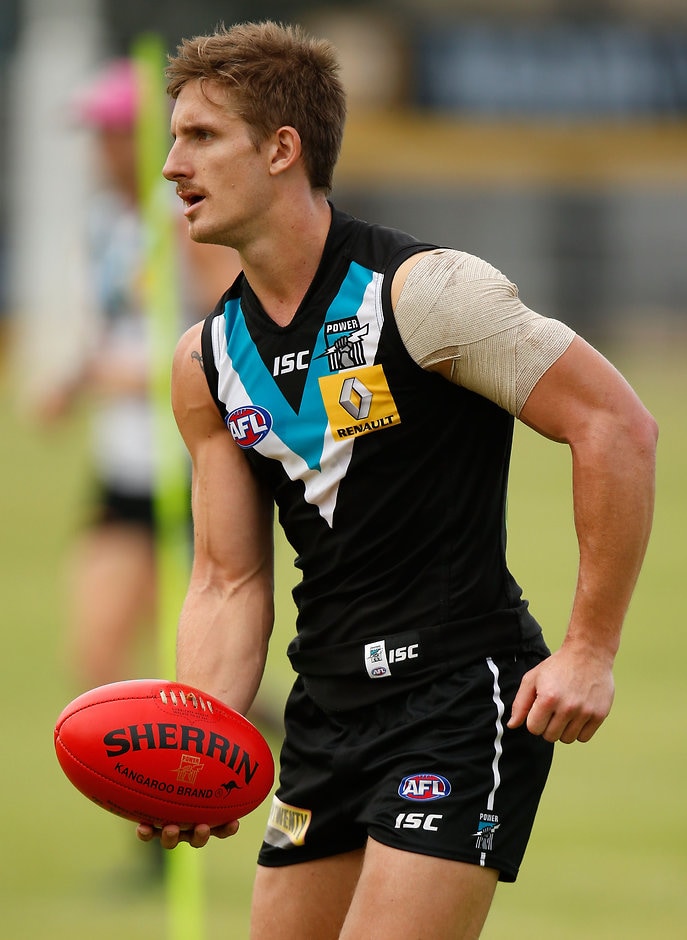 HAMISH Hartlett has been elevated to the post of stand-alone vice captain at Port Adelaide.
The Power revealed on Thursday night that Hartlett, 25, had been named the deputy to fourth-year skipper Travis Boak, ahead of the unveiling of the club's full leadership group on Friday morning.
Following a process in which votes were cast by every player and coach and senior administrators, Hartlett replaced previous joint vice captains Brad Ebert and Matthew Lobbe, both of whom will remain in the leadership group.
Power coach Ken Hinkley said the vice captaincy hadn't changed hands because Lobbe and Ebert had dropped off, but rather because Hartlett's leadership skills had developed considerably.
"Since we really started playing what I would call 'Port Adelaide football' in the back half of last year, Hamish really showed the quality he can bring to our group on the field and also on the track," Hinkley told the club website.
"He has only grown further over this pre-season, and the confidence the players and coaches have in him is really shown through him becoming our vice-captain …
"Hamish works hard in every aspect of his role as a player and a club man."
The powerful 112-game midfielder, who was first voted into Port's leadership group four years ago, plans to help drive high standards by both example and by using his renowned vocal skills.
"Communication these days is becoming more and more important in games of footy," Hartlett said. "There's a lot going on in terms of structures that we need to set in place, the way the game is unfolding and the changes we sometimes need to put in place from play-to-play … Communication is crucial."
Hartlett also feels ready to capitalise on his best and first "niggle-free" pre-season.
"I gain a great deal of confidence from being able to be on track day after day, and week after week," he said. "It's fantastic when you can see little improvements in your own game that spur you on, and the incredible summer from the whole playing group is really motivation enough."