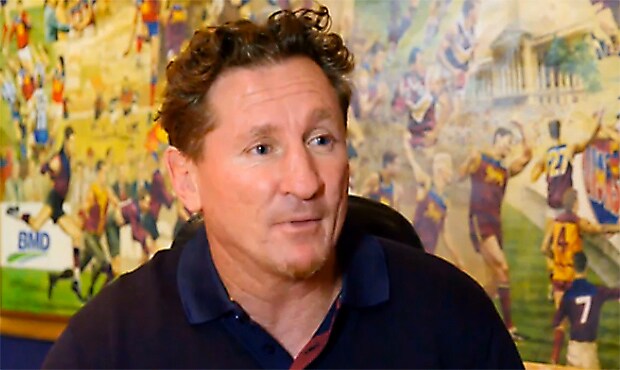 LONG after Rhys Mathieson broke his cheekbone in an NAB Challenge match against Greater Western Sydney, Craig Lambert was still by his hospital bedside, ringing the teenager's parents every hour with an update.
The moment Dan McStay got home from having his wisdom teeth removed, Melissa Lambert was presenting him with a huge bowl of pumpkin soup.
Justin Clarke, still suffering from a concussion he received two months ago, is the beneficiary of a weekly tray of pasta from the Lamberts.
These are just some of the examples of why Craig and Melissa Lambert are two of the Brisbane Lions' most crucial recruits in recent years.
After five years with the start-up Greater Western Sydney Giants, the husband-and-wife team returned to Brisbane in September as the club's welfare managers.
The results have been instant.
After years of haemorrhaging players to other clubs the bleeding has stopped, with a raft of off-season retentions.
Last year alone the Lions lost quality midfielders Jack Redden and James Aish, both of whom wanted out, and were also happy to wave goodbye to loyal servants Jed Adcock and Matthew Leuenberger.
For varying reasons – some of them outside the club's control – Dayne Zorko, Stefan Martin, Daniel Rich, Sam Mayes and Josh Green were also dissatisfied to varying degrees.
But before the Lions open their season against West Coast in Perth on Sunday, they have locked away Rich (five years), Martin and Zorko (four years each) and are on the verge of adding Green to the list.
In some ways, the season has already been a success.
Zorko has led a chorus of praise for the Lamberts, saying they had "brought back the fun" at the club.
Craig, a former Lion who moved to Brisbane as a 25-year-old "kicking and screaming" and left 17 years later, said there was no magic dust, just "genuine care".
"I hope this doesn't sound like a cliché, but we don't believe you draft a player, you draft a family," Lambert said.
"If we don't include families, partners, brothers and sisters, we'll always be at threat from big powerful clubs to lose our talent.
"You can talk about being a family club, but you've got to act it.
"Unless you create these environments, you're just another club and you're probably relying on win-loss ratio."
The Lions have gone through huge off-field upheaval in recent years, particularly the past off-season, with the welfare, football manager and head of physical performance jobs all changing hands.
Lambert said the club was "unstable" when he returned and he had to quickly go about forming new relationships.
He was already close to coach Justin Leppitsch and football director Leigh Matthews, who had originally employed him as an assistant coach during the premiership years, but he knew just six of the 47 players personally.
"The thing that really alarmed me was I lived in Sydney for five years and I knew exactly what was going on at this football club," Lambert said.
"That to me says there's something not right at that football club. You don't hear much out of Hawthorn, you don't hear much out of Fremantle.
"A lot of things were happening at the footy club and the whole world knew about.
"It meant it wasn't a stable club and it wasn't a united club.
"We lost far too many players. To lose so many players over that period is disappointing. You might lose one or two to homesickness or an offer they can't refuse, but there was too many players leaving this football club.
"There's not much we won't do for the players. They've got to meet us half-way, they can't be ratbags."
In Lambert's first years with the Giants, the Lions lost a host of players, including first-round talent like Mitch Clark, Jared Polec, Sam Docherty, Billy Longer, Elliot Yeo and Aish.
One of the Lamberts' first ports of call was engaging powerful coterie group The Lethal Lions to fund and run an induction weekend for parents of first- and second-year players.
Craig Lambert with Leigh Matthews during the 2004 Grand Final. Picture: AFL Media

It has snowballed from there, with regular Monday night dinners as a team, twice-weekly dinners at the Lamberts for differing groups of players, and help in finding jobs for partners or family members of players.
Lambert says players call around his place at any time, and most of their work is done outside traditional work hours. It's a real 24-7 job.
Just as important as his relationships with the players is Lambert's relationship with Leppitsch.
There's no other way to cut it – 2015 was a rough year for the Lions' second-year coach.
Not only did he narrowly avoid the wooden spoon, but Leppitsch confessed to learning a lot about himself as a coach and how to deal with his staff and players.
Lambert has been a circuit breaker of sorts. He compared his relationship with Leppitsch to that between Matthews and former Lions footy manager Graeme Allen in the club's premiership years.
Just as 'Gubby' was there to have the hard chats with Matthews, Lambert sees it as his job to do the same with Leppitsch.
"He (Leppitsch) learnt a lot about himself last year and I think he's a little more comfortable that he's got some people around here that he trusts," Lambert said.
"Leppa and I argue a hell of a lot, but we trust each other.
"Sometimes you need that person to have that challenging conversation with to rationalise the whole situation.
"We're two strong personalities and we had to go through that process to figure out how to get things on track.
"We're still in the honeymoon period, but if you ask some of our senior players, they're impressed with the way Leppa is a bit more at ease, more personal with the players."
The honeymoon ends on Sunday when the Lions take on the powerhouse Eagles.
Whatever the season brings, the Lamberts' impact has already been profound. There's still plenty of young talent to re-sign – Mayes, Lewy Taylor and Darcy Gardiner among them – but the signs are positive.
"I want to create that mystique, so that no matter how many games we win this year, if we get nearly everyone signed up again, people will look and say, last year everyone wanted to leave, and now everyone wants to stay, what's going on there?"
So far, so good.