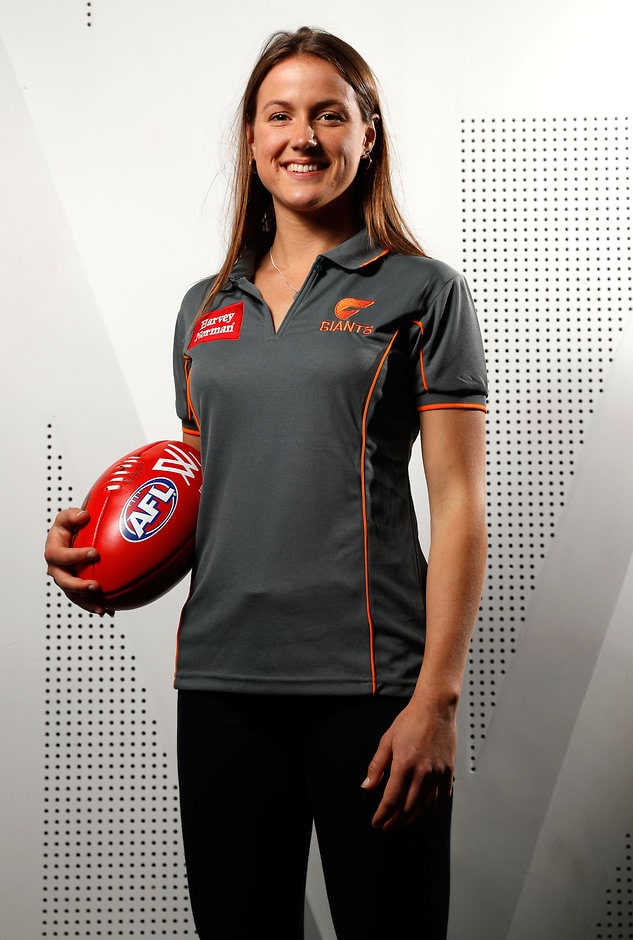 GREATER Western Sydney has selected hard-running midfielder Nicola Barr with the first pick in the 2016 NAB AFL Women's Draft.
Barr, 20, who started playing football three years ago, won the 2016 Mostyn Medal – AFL Sydney Women's Premier Division best and fairest medal. The 168cm midfielder also won the 2015 AFL Sydney Women's Rising Star award.
Barr, from Sydney University, is regarded as an elite runner with plenty of speed when out in space. She is also a powerful and accurate kick.
A talented junior soccer player, Barr said she decided to pursue football because the game has all the components that interest her.
• Who went where? Check out all the picks from the 2016 NAB AFL Women's Draft
"I was playing a lot of soccer beforehand and I just went along with a school team one day and we all got together and started playing, and I've loved it ever since," Barr said.
"Footy incorporates so many elements from different sports and that's what I love about it.
"I love the fitness about it and you can use everything - running, tackling, kicking, marking, it's the best sport."
• Blues select identical twins
The Brisbane Lions selected half-back Emily Bates with the second pick, with Carlton taking high-leaping half-forward Bianca Jakobsson at pick No.3.
The eight clubs have already chosen two marquee players each and added players under rookie and priority selection rules.
They will end Wednesday afternoon's draft with 22 of their 25-player lists filled, and each will have until the end of October to sign three so-called free agents.
The top-eight draftees celebrate making it onto an AFLW list. Picture: AFL Photos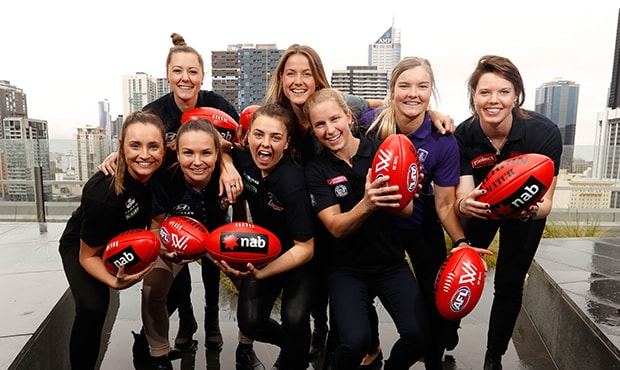 Tough and courageous half-back flanker Hayley Miller went to Fremantle with pick No.4, in-and-under midfielder Jaimee Lambert was selected by the Western Bulldogs with pick No.5 and Nicola Stevens became a Magpie with pick No.6.
• Think you know your women's footy stars? Take the quiz
Stevens, from Melbourne University, spoke about the impact the introduction the women's competition will make in providing a pathway for youth girls.
"I think the AFL Women's competition is going to get bigger and bigger and it's really good to be able to start here and use this a stepping-stone for the future," she said.
Former surf lifesaver Ebony Marinoff was taken by Adelaide with pick No.7, with Elise O'Dea at pick No.9.
Players must have nominated a state to be drafted to – it can only be one state, but they can chose which one they want.
Most have nominated their home state, while Adelaide has an alliance with the Northern Territory, and can choose players from there.
Aussie cricketer Jess Cameron was drafted by Collingwood with pick No.75, while Cecelia McIntosh, at the age 37, was also selected by the Magpies at pick No.123.
As expected, Steph Chiocci was picked up early in the draft and went to Collingwood, as was five-time All Australian Aasta O'Connor who found her way to the Western Bulldogs.
The AFLW recruiting teams start building their lists. Picture: AFL Photos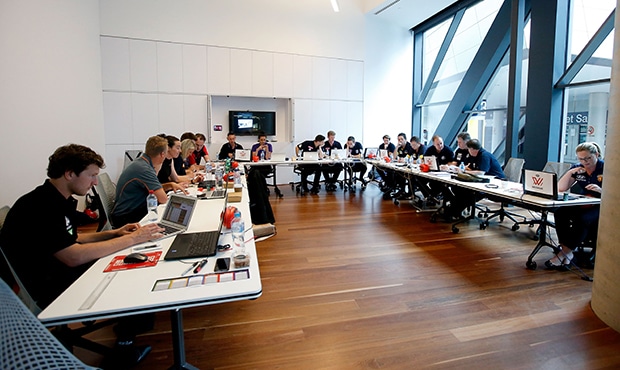 What they said
Here's what each of the women selected in the first round of the draft said, just moments after achieving their dreams of making it on to an AFL list.
1. Greater Western Sydney - Nicola Barr (Sydney University)
"No words can describe how I'm feeling right now. It's so exciting to be here and I'm so excited to be part of the historic journey. It was a big shock for me (going at No.1), but I couldn't be happier. I think GWS are a great club and I can't wait to get started."
2. Brisbane Lions - Emily Bates (Yeronga South Brisbane Football Club)
"I never thought this day would come and to finally be here and hear my name for the Lions, I'm really happy. Hopefully I can be a future leader at the Lions because I like to consider myself as a leader."
3. Carlton - Bianca Jakobsson (Cranbourne)
"It's a dream come true and it's something I never thought would happen in my career. I grew up in New South Wales and moved down here when I was nine years old and got on the Blues bandwagon ever since and it's a dream come true to play for the team I grew up barracking for."
4. Fremantle - Hayley Miller (Coastal Titans)
"It's been pretty hectic. I didn't expect it to be quite this big but it's so exciting. I think being able to play consecutive games and having that elite lifestyle at the club, with the new facilities (in Cockburn, WA), will be great for us to improve our football."
5. Western Bulldogs - Jaimee Lambert (Eastern Devils)
"I was chatting to them (Bulldogs premiership players) and they're all so kind and they're as excited for the women's game as much as we are. I like to consider myself as an in-and-under midfielder and I like to get forward and kick Eddie Betts-like goals."
6. Collingwood - Nicola Stevens (Melbourne University)
"They (the Magpies) really are the benchmark for sport in Melbourne and it's really good to be able to have access to the facilities that they have. I think AFLW is going to get bigger and bigger and it's really good to be able to start here and use this a stepping stone for the future."
7. Adelaide - Ebony Marinoff (Morphettville Park)
"I started playing footy when I was five and I also did surf lifesaving so there did come a time where footy and netball started clashing with that so I thought I would give footy a red-hot crack, knowing that there was going to be a national women's league. So I thought I'd hang up the bathers, put the netball skirt away and live and breathe football."
8. Melbourne - Elise O'Dea (Darebin Falcons)
"I thought my dream was just to be picked up and put on an AFL list and then to have my name read out by (Melbourne women's football manager) Debbie Lee, who is an absolute pioneer of the women's game, it was pretty spine-tingling and it was a great moment."
• Think you know your women's footy stars? Take the quiz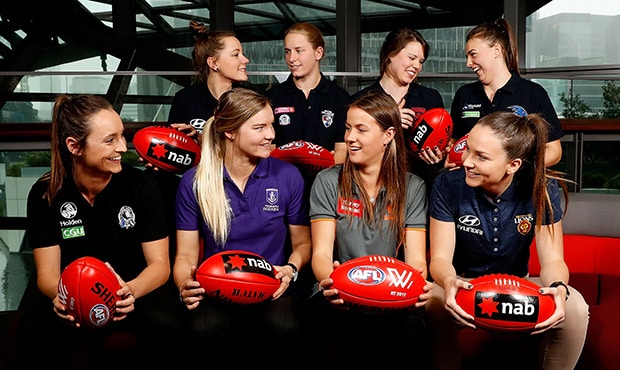 Want more women's footy news?
• Meet the future stars of the women's game at the AFL women's football hub
• 2016 women's exhibition games results
• Who went where? Check out all the picks from the 2016 NAB AFL Women's Draft