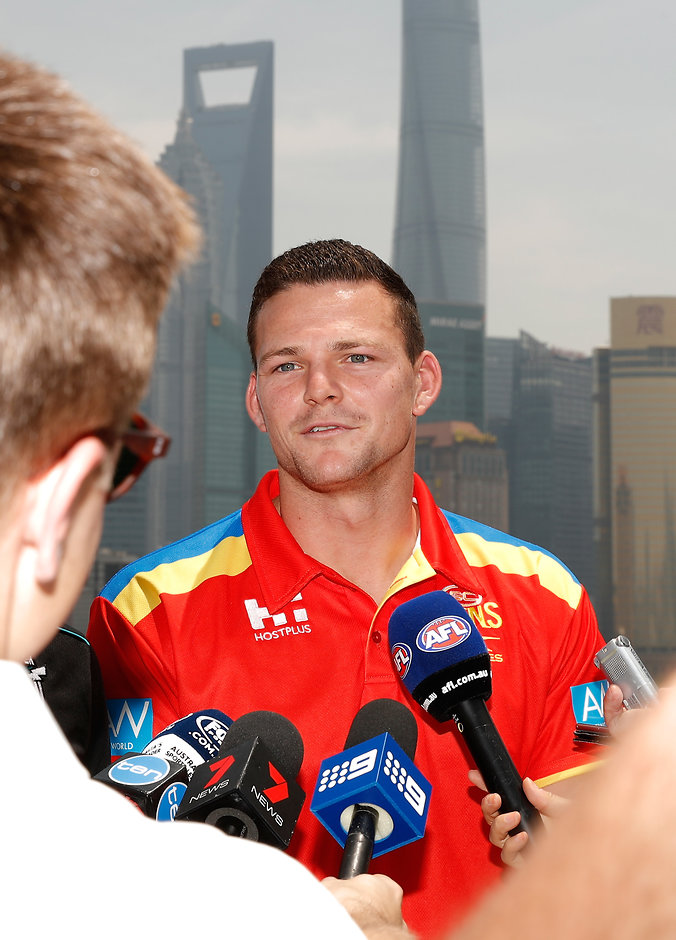 It's all about the attitude and that's what we've preached with the group
Steven May
GOLD Coast co-captain Steven May says they are determined to overcome any obstacles and make their historic match in Shanghai a success.
Gold Coast and Port Adelaide team leaders were special guests at a launch in Shanghai's famous Bund district on Thursday for the Sunday match.
It will be the first AFL match for premiership points outside of Australia or New Zealand.
Full match preview: Gold Coast v Port Adelaide
But there has been plenty of commentary about potential problems, including air quality and whether the gamble of trying to tap into the Chinese market is worthwhile.
The plane carrying the Gold Coast group was also stuck on the tarmac at Singapore airport for two hours on Wednesday.
That meant they travelled for nearly 24 hours before arriving in Shanghai early on Thursday morning.
May said immediately after their big win over Geelong last weekend, the players addressed the need to have a positive attitude for the China trip.
"We sat down immediately after the Geelong game - we know what we're taking on in China, which is an historic event," he said.
""We knew there would be potential delays, as there were last night, and there may be an issue with the food - there are a range of possible things that can go wrong.
"But it's all about the attitude and that's what we've preached with the group."
Suns coach Rodney Eade had expressed concerns at the weekend about the lack of a direct flight to Shanghai.
Eade was also asked in the weekend radio interview about possible sandstorms and he replied that they would not play anyone who has respiratory problems.
Another issue for the Suns is that only a few of their players were able to travel in business class, with the extra leg room.
But Eade said on Thursday the air quality had not been a selection issue, with the two clubs bringing squads of 25.
Eade added they would be ready for the match.
"I didn't actually express concerns - I was asked a question and I answered," he said of Sunday's radio interview
"The facts are, (what) the travel time is and I was asked a question about business class and there are only a few (players) in.
"But there are no complaints, no concerns ... we've had this on our radar for six months and we've planned accordingly."
The two teams will have the bye round after Sunday's game to help compensate for the international travel.
Port Adelaide travelled to Shanghai earlier on Wednesday.
Port coach Ken Hinkley said star utility Robbie Gray would train later on Thursday, amid speculation about a groin problem and whether he will be fit for the match at Jiangwan Stadium.