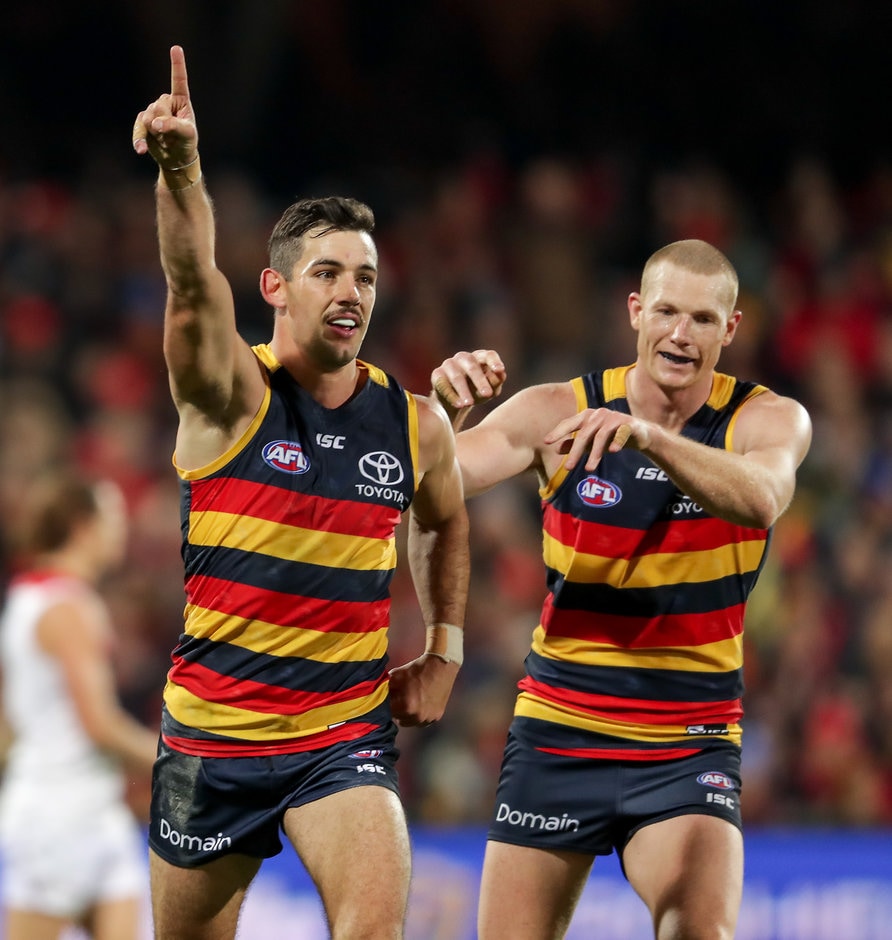 A PREMIERSHIP on the 20th anniversary of Adelaide's first AFL flag is in Crows fans' sights after their stunning first half of the season.
Delivering their mid-season verdict on Adelaide in an AFL.com.au survey, 80 per cent of Crows fans were bullish in expecting their side to push on to earn the double chance.
Star midfielder Rory Sloane divided critics as Adelaide finished the bye period in top spot with a League-high percentage of 141.8.
But fans voted Sloane the team's best performer so far, with Rory Laird hot on his heels.
Speedster David Mackay has spent time in a variety of positions across his 10 games this year, but has been judged the club's biggest underperformer.
Second-year coach Don Pyke received a ringing endorsement from supporters.
Here are the full survey results, plus as a selection of Crows fans' views on their great expectations for the second half of the year.
It'll be a good year for the Crows if …
We win the Grand Final – in an even year it is up for grabs. We need to hunt the ball and body more.
- Justin Warren, Adelaide SA
Secure a top two finish and finally make a Grand Final appearance.
- Phillip Stampton, Hallett Cove SA
Win a tough final, bury the nightmare 2016 v the Swans, and make the Grand Final.
- Matt Sullivan, Adelaide SA
At minimum, preliminary final. But we need to make the Grand Final to be considered a great year.
- Cameron Scott Tee, Christies Downs SA
We are premiers to match the 1997 20-year anniversary.
- Gail Alexander, Clarence Gardens SA
We can find two solid contested ball kings and the Crouchies keep getting better.
- Shaun Watson, Elizabeth SA
We aren't so reliant on Sloane, and have more consistency from the midfield.
- James Fenton, Mandurah WA
The Rorys hold up the premiership cup and Sloane wins the Norm Smith.
- Adam Croxton, Maroochydore Qld
Read more
• Mid-season review: How Adelaide's best 22 has changed
• More mid-season reviews and fans' verdicts
• Your club's mid-season player awards
$(document).ready(function(){ document.getElementById("interaction").innerHTML = ''; });