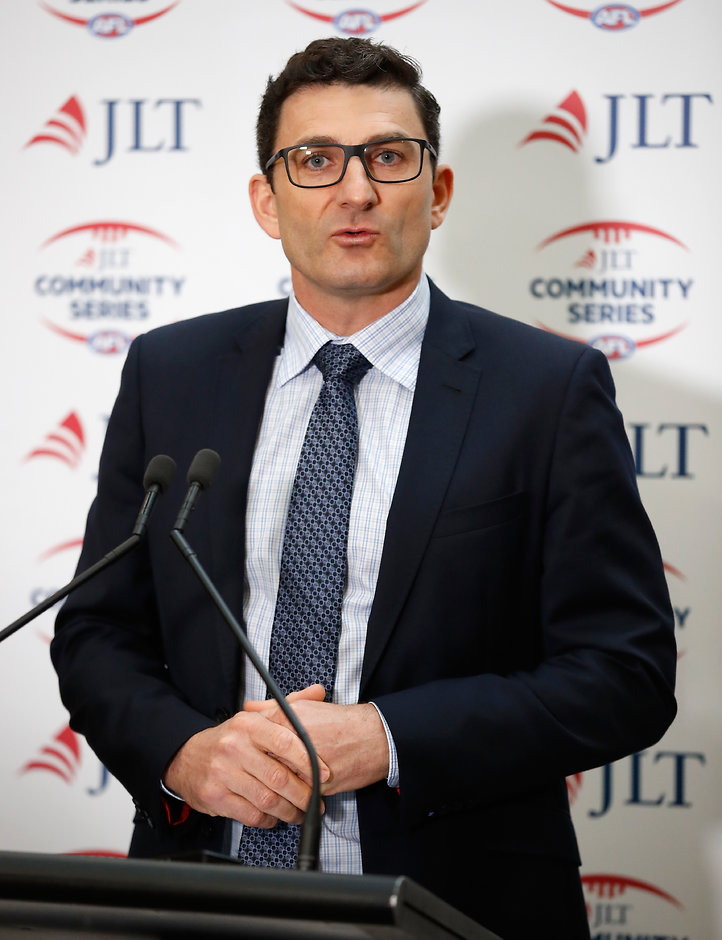 We're not really in a position to formalise both the format and when we might program AFLX games or a carnival
Travis Auld
THE AFL has remained coy on the immediate future of AFLX, despite confirming a reduced pre-season fixture for 2018 that could accommodate the shortened new format of the game.
The men's JLT Community Series has been reduced to two matches for each club over a three-week period, creating space for standalone NAB AFL Women's games and the potential introduction of AFLX.

Does X mark the spot? Warning to AFL on new footy

Asked on Thursday if fans would see AFLX played this pre-season, AFL general manager of clubs and broadcasting Travis Auld said: "You may, we're just not sure yet. Watch this space".
"AFLX is something we've been talking about for some time now and we're still in the process of developing," Auld said.
"We're not really in a position to formalise both the format and when we might program AFLX games or a carnival."
AFLX is a shortened seven-a-side format, with 10-minute quarters and no centre bounces. Play is re-started from goals with a kick-in from full-back, and 10 points are awarded for goals outside 40m.
New football boss Steven Hocking recently said most of the work on the new format had been done, and Auld said there were no sticking points in the final stages of its introduction.
"It's just a new product (and) new products take time to develop," Auld said.
"We want to make sure the format's right, that our clubs have bought into the product and the journey and what we're trying to do with it.
"Where is the right slot for it? What is the right time to introduce it? All of those things are getting worked through.
"There's certainly no need to hurry it."
Clubs have been split on the reduced JLT Community Series, with some happy to play two games, while others would prefer more.
Auld said the League felt it had struck the right balance and there was enough time over the course of the pre-season for clubs to play their own practice games if they wished.
The AFL will unveil its AFLW fixture on Friday, with standalone matches set to be played in primetime Friday night slots in weeks one and two of the men's pre-season competition.
There will be no double-headers with men's matches in the 2018 AFLW season, with the League keen to give the women's matches clear air.