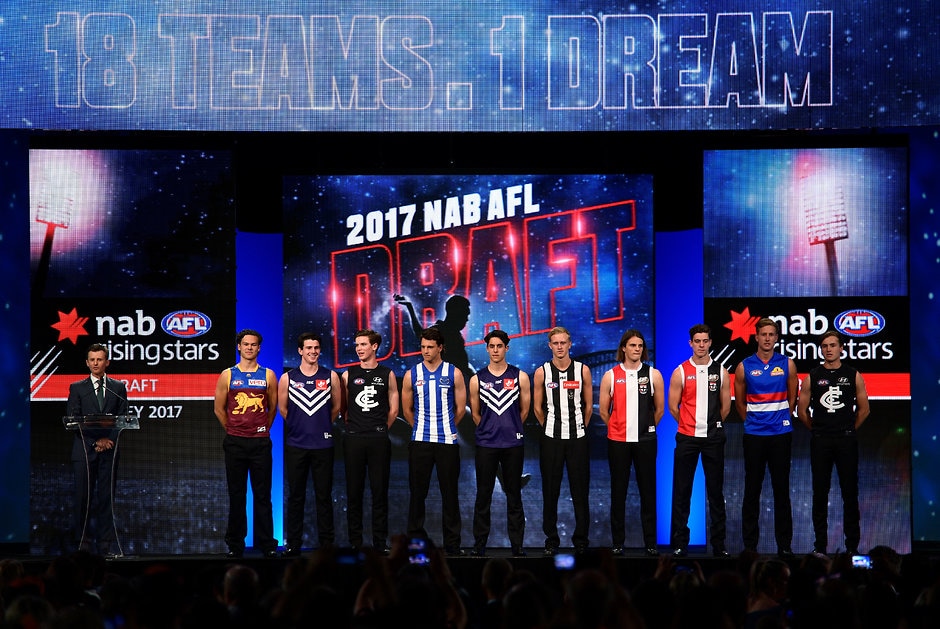 AMERICANISMS are inevitably creeping into the AFL, with free agency and future draft pick trading in its fledgling stages – and live draft pick trading likely to be introduced this year.
But should the AFL be looking even closer for ideas from their American sporting cousins, such as the NBA, NFL, MLB and NHL?
There are many other American sports rules that could translate well to the Australian game, especially with AFL chief executive Gillon McLachlan eager for more player movement.
McLachlan has foreshadowed the return of the mid-season draft, but rather than dredging out something from the past, how about clubs being able to sign free agents mid-season?
Below are four American sports innovations – not including a lottery pick system or mid-season trading – that could liven up the AFL landscape (without changing the on-field rules for the umpteenth time).
10-DAY AND TWO-WAY CONTRACTS
Here are two types of NBA player contracts that could suit AFL clubs. NBA teams can sign players to a 10-day contract (lasting that period or three games, whichever is longer) from about the midway point of the season. That player can be signed to a second 10-day contract, but the club must either sign him for the rest of the season or cut him after that. A player on a two-way contract is principally a G-League (the NBA's feeder league) basketballer, but can spend up to 45 days off and on with that NBA team and can't be poached by a rival. Clubs can have up to two two-way players and they are additional roster spots. These players can be upgraded to a full contract at any time, although a teammate on the active roster must be delisted to make room in that scenario. A two-way player's full contract is guaranteed in the event of injury.
Why does the AFL need this? A 10-day contract would enable clubs to trial a deserving state league player without having to wait until the post-season draft or having to commit to a full season. Some players never get a chance, so clubs may be more willing to take a punt in these circumstances. A two-way contract is ideal for players who narrowly miss out on being drafted. A club can sign a player on one of these contracts and has a vested interest in his development, rather than simply recruiting him to its state league affiliate with the risk of another side swooping in the draft.
INJURED RESERVE
One of the various injury designations given to an injured NFL player, but the one most likely to suit the AFL. NFL teams can place any number of players on injured reserve and they count against the salary cap, but not the roster limit. IR-listed footballers are ineligible to play again for that team in the current season, although they can be cut then play for another side. Those players also can't practice with their team, but can attend team meetings and related activities. But a variation on the injured reserve rule – the IR-return designation – requires a player to instead be out for only eight weeks before rejoining their side. Each club can bring two IR players back under this rule.
Why does the AFL need this? The AFL has a long-term injury list, so this would be an adaptation rather than a fresh rule. Clubs can already upgrade rookie-listed players to replace teammates placed on the long-term injury list. But the restriction is to players already on the list, whereas the NFL's injured reserve rule enables teams to sign free agents as direct replacements. This would be perfect if a finals-bound club was, say, suffering through a ruck shortage and could pluck an in-form state league big man rather than turning to an internal makeshift option or a raw rookie-listed ruckman.
PROTECTED DRAFT PICKS
This is the NBA's way of lessening the risk clubs take in trading as many as seven years into the future. A future draft pick involved in an NBA deal can be, for example, top-10 protected – clubs agree on the protection range – meaning it won't change hands if the club that dealt it lands in that territory in the coinciding draft. The pick in that case would then move to the following year, assuming the club does not have a top-10 selection again. There is generally an expiry period in these deals, whereby eventually the pick goes to the trade partner regardless of the original team's placing that season.
Why does the AFL need this? Future draft pick trading changed the face of the AFL and enabled some blockbuster deals to happen in the past two years. AFL clubs can trade just one year into the future and there are no plans to increase this, whereas NBA teams can trade seven years ahead. The AFL's version keeps the risk relatively low, but Hawthorn's much-scrutinised future pick swap with St Kilda (as part of the process for the Hawks to recruit Jaeger O'Meara) showed how dangerous it can be. Hawthorn was dead-last four rounds into 2017 and would have effectively handed over the No.1 pick if that didn't change. Some sort of protection policy could help avert disaster. But football visionaries Paul Roos and Chris Pelchen told AFL.com.au last year they don't want the AFL to introduce any safeguards.
DESIGNATED PLAYER CONTRACTS
The NBA operates a much more sophisticated salary cap system than the AFL and also has maximum player salaries tied to a percentage of the cap. The American League's latest CBA in late 2016 introduced a designated veteran player rule, whereby teams could re-sign players who fit certain elite criteria (such as all-NBA team selection) to six-year extensions rather than the usual five. It not only provides more guaranteed money for players, but the player's original team can offer a higher max salary, or percentage of the salary cap, than opposition teams trying to lure them. The rule is designed to increase loyalty and help teams retain their stars.
Why does the AFL need this? This is a hard one, because McLachlan wants to encourage player movement and the introduction of designated player contracts would require a salary cap overhaul. But it's hard to imagine AFL clubs being against any rule that helps them keep their premium talent and gives them an advantage over suitors. The Dustin Martin saga in 2017 could have been so different if the likes of North Melbourne was unable to offer more money than Richmond. Clubs would, however, have the added complication of deciding which players are worthy of max contracts, and the go-home factor would still be there if homesickness – instead of more money – was the true reason for wanting out.