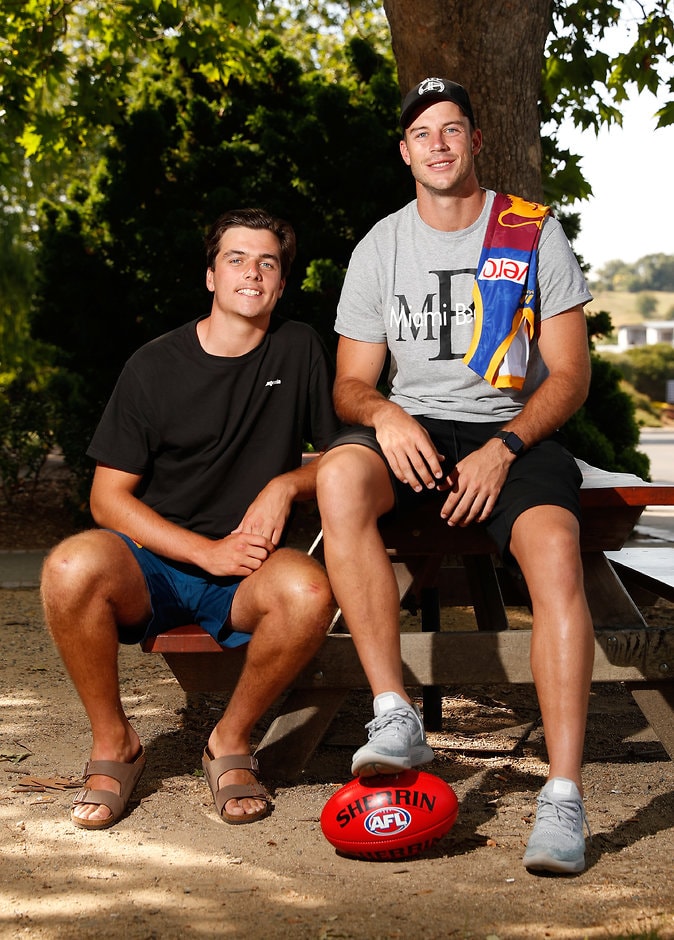 IN THE 1960s, Fred Wooller and Peter Walker were two of the biggest names in Geelong.
They were instrumental in helping the Cats to the 1963 premiership – Wooller was the captain and forward focal point, while Walker was a star at centre half-back.
Both men played more than 100 games for the hoops and both won best and fairests. They are revered at the Cattery.
Now, in a strange twist of fate more than half a century later, their grandsons will be teammates in 2018 – for the Brisbane Lions.
Josh Walker has been at the Gabba for two seasons since being traded by Geelong in 2015, and when Toby Wooller was taken with the 41st pick in last year's NAB AFL Draft, the family names would again be linked.
"When the name got called out by Brisbane, grandpa was at my house and he mentioned to me that our grandparents played together in the '63 flag," Wooller told AFL.com.au
"Gees, it's a small world.
"That night I got a message from Walks and he said the same. It's crazy to think our grandparents played together and now we've got an opportunity to play together."
With Walker's grandfather passing away in 2010, it was left to someone else to point out the family history.
"My nan sent me a message straight away and said: "that's Fred's grandson"," Walker said.
"I met Fred a few times – that was part of being at Geelong.
"They'd remained friends after footy. He was always good enough to take an interest in my career at Geelong."
Growing up the grandson of a Cats legend, Wooller was exposed to things most youngsters could only dream of.
When Geelong broke its premiership drought in 2007, seven-year-old Toby was riding shotgun with his grandfather, who presented the cup to captain Tom Harley and coach Mark Thompson.
"It was a magic day for the family," he said.
"I got some pretty good photos with the premiership cup with grandpa and Jimmy Bartel with the number three guernsey.
"I remember the day well.
"Post premiership we were able to go down to Kardinia Park and when we had the cups I still have a photo holding the 2007 in one hand, holding the '63 in the other, grandpa on one side and Jimmy Bartel on the other.
"That's a really cool photo and it's still on my desk at home.
"I've got very fond memories growing up."
Walker said his memories were equally good. He dreamt of being a Geelong player and got to live that out for five seasons before being traded.
Walker said his grandfather was a huge support but didn't offer much technical advice during his youth, although he tried to coax him into using his left foot more by offering $10 for every goal young Josh kicked on his non-preferred foot.
"That was about as much coaching as I got from him," he said.
"The day I first got it, it was my third set shot at goal I reckon. I really wanted that $10," he laughed.
Walker said Wooller had fitted in well during his first month at the club and he was hopeful the pair could roam the forward line together one day.
In one final link between the two, Wooller will wear the No.34 jumper that Peter and Josh Walker both wore in their days with the Cats.
The two families just can't seem to escape each other, and the Lions will be happy if that continues for years to come.