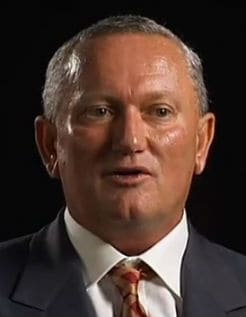 THE MAN at the centre of the Essendon supplement controversy, Stephen Dank, says he did not inject any Essendon player with a prohibited substance and that coach James Hird was aware of the program the club had in place for its players.
He also told ABC television's
7:30
in an interview aired on Monday night that he would be very surprised if any player was unaware of what they were taking as part of the program, "given the amount of discussion with players".
Dank also claimed that senior coach James Hird, club doctor Bruce Reid and high performance manager Dean Robinson had knowledge of the program.
Stephen Dank: in his own words
Dank detailed what players were given intravenously and said none of the supplements provided sat outside the anti-doping code.
"They had intravenous injections for vitamin B and vitamin C, which are quite compliant with the WADA Code," Dank said.
Dank, a biochemist, said there was no intravenous application of peptides and that any peptides within formulations given to players were "very, very legal" under the WADA code.
In the interview Dank also said:
- Thirty-five to 40 Essendon players followed the club's supplement program in 2012
- That after interviewing him at length in September, the Australian Crime Commission (ACC) "said they didn't think that I had done anything wrong."
- That under no circumstances was GHRP6 ever used at Essendon.
- "Three, four, maybe five" people within the club who were not players and not subject to the constraints of the WADA code were taking supplements "that were using supplements if you like that were a little bit outside the WADA code. Again they were entitled to it, certainly nothing illegal there".
Dank said he is an "obvious" scapegoat in the Essendon scandal and suggested supplement programs similar to that used by the Bombers would have been considered by other clubs.
"You'd be sort of foolish to think that Essendon were the only [club] that were looking at these sort of programs," he said.
"And I think when you think of what these players do on a week-to-week and a year-to-year basis, I think you've got 18 clubs that are all very well coached and obviously all have a very good high performance unit and they want cutting edge."
Lawyers for Dank are launching a $10 million defamation claim
against various media outlets in several states, claiming he has been falsely accused of selling drugs to sportspeople.
Dank told
7.30
he has "no specific reasons why" the finger had been pointed at him after the AFL and ASADA launched an investigation into Essendon's sports science program.
AFL.com.au
is not suggesting Dank provided banned substances (or used prohibited methods) to Essendon players.
The views in this article are those of the author and not necessarily those of the AFL or its clubs