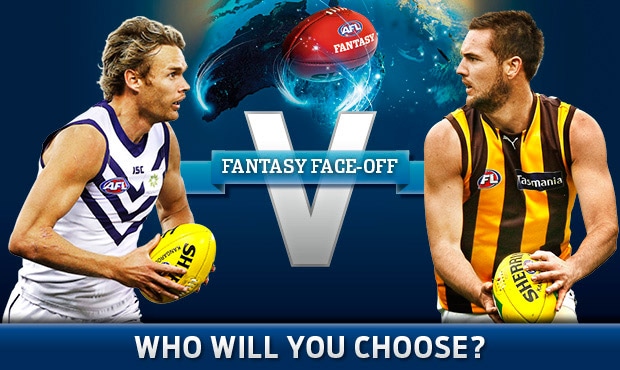 PAUL DUFFIELD


 

MATT SUCKLING


 
Fantasy position
 
Defender
Defender
2013 price
$426,800
$426,900
2012 average
82.84
 
82.86
 
2012 high score
125
 
127
Age
28
 
24
X-factor, Rising Star or Mr Reliable?
X-factor. After a poor 2011 season, Duffield bounced back last year to become a viable option in the Fremantle backline. He averaged 102 between rounds 17 and 23, but also recorded six sub-50 scores through the season, making him somewhat unpredictable.
 
X-factor. The lethal left-footer was less effective in 2012, with his Fantasy average dropping from 90.7 to 82.6. While still a key player in the Hawks' backline, Suckling bettered his 2011 averaged just eight times. His end to the season was particularly disappointing, averaging 69.1 between rounds 16 and 23.
 
Value for money
Duffield's price is anchored by his poor scoring through the first half of last season. He found his groove under Ross Lyon after round 16, however, and if he takes that form into 2013 he will be a value buy.
 
At 24, Suckling is entering his prime and has definite scope for improvement. The obstacle will be defensive forwards given how damaging his left-foot kick is. A slight rise in value is certainly possible.
Job security
Duffield plays an important role in Fremantle's back six and is clearly in the club's best 22. His pre-season has   been strong and at this stage he will line up in round one.
Suckling's long running goals and deep inside 50s are of great value, so there are no issues with his job security. Fit and available ahead of round one, he should hit the ground running in 2013.
 
Where he'll play
While he has flirted with midfield roles at times, Fremantle can't afford to remove Duffield from its back six after the departures of Adam McPhee and Greg Broughton. He has played his best football running off half-back and that should continue this season.
With Clinton Young moving to Collingwood, there is scope for Suckling to push up the ground more permanently in 2013. His long kicking and ability to push hard both ways makes him a natural replacement for Young on a wing.
Injury history
Duffield has been a very durable player, missing just five games in his last four seasons. He has been unrestricted this pre-season.
Suckling played every game in 2012 and missed one-off matches in 2011 with minor knee and back injuries. The half-back has no concerns ahead of the new season.
 
The case for
Duffield gave coaches who owned him a dream ride late last season, with his form rising alongside Fremantle's. He has fitted into Lyon's game plan well and should be expected to perform at that level consistently in 2013, meaning an AFL Fantasy average of close to 100.
There is significant AFL Fantasy upside for Suckling, given his age and the potential for him to spend more time up the ground. Attacking is his strength, so you can select him and be confident he will play in high-scoring roles.  
The case against
While his 2012 form line is impressive, coaches who owned Duffield in 2011, when he averaged 70, will no doubt remain wary. If Danyle Pearce slots into the team as a half-back, he may take Duffield's place as the Fremantle's No.1 rebounding option.
 
Suckling's dangerous kicking is his biggest strength, but it might become an AFL Fantasy hindrance if he is consistently targeted by defensive forwards. Opposition teams can't afford to let him pin-point 50m passes off half-back, so keeping the ball out of his hands becomes a necessity.

The verdict

Not so dangerous that the opposition will look to shut him down, but smart enough to accumulate possession and play an important role – Duffield is a low-key but safer option.
Pick your NAB AFL Fantasy team now.