HAVE you considered including St Kilda midfielder Jack Steven in your AFL Fantasy team? If not, maybe it's time you did.
The emerging 22-year-old leads the League in points-per-100 minutes during the pre-season so far, counting all players who have appeared in at least two matches.
In 51 minutes of gametime, Steven (priced at $433,300) has scored 82 fantasy points, equivalent to 161 points per 100 minutes.
Second on the table, compiled by Champion Data, is North Melbourne captain Andrew Swallow ($528,800) at 153 points per 100 minutes, followed by Steven's teammate Leigh Montagna ($498,100).
Steven recently signed a two-year contract extension with the Saints, and looks set to fill a key plank in coach Scott Watters' midfield in 2013.
After averaging 20.2 disposals and 84.1 fantasy points in 21 games last season, the Lorne product shone in St Kilda's intra-club hitout leading into the NAB Cup, before picking up 42 and 40 points in the club's two lightning round one games.
He then sat out the Saints' round two win over the Sydney Swans on Sunday.
With his 134 points per 100 minutes, Montagna heads the list of players who have played at least three matches.
While many senior Saints rested against the Swans, Montagna took the field and collected 28 disposals, posting a game-high 120 fantasy points.
Yet another Saint, David Armitage ($459,500), is second on the three games table, scoring 118 points per 100 minutes so far.
Other notable names on the list include West Coast midfielder Chris Masten ($436,000) with 110 points per 100 minutes, Western Bulldogs recruit Nick Lower ($352,200) at 108 and Carlton defender/midfielder Bryce Gibbs ($473,300) at 105.
The figures include all NAB Cup games, plus Adelaide's unofficial trial match against Fremantle a fortnight ago.
Here are the top scorers in points per 100 minutes for both minimum two and minimum three-game players so far: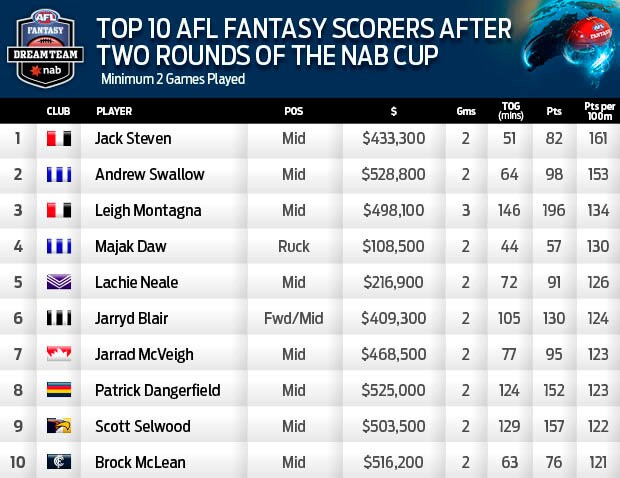 Register your NAB AFL Fantasy team now