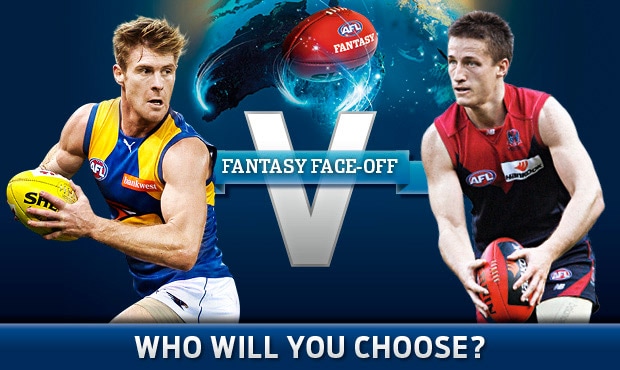 BEAU WATERS


 

JACK GRIMES


 
Fantasy position
 
Defender
Defender
2013 price
$472,100
$474,000
2012 average
91.6
 
92
2012 high score
126 (rd 13 v Collingwood)
 
121 (round 8 v Sydney Swans)
Age
26
 
21
X-factor, Rising Star or Mr Reliable?
Mr Reliable. The 26-year-old had his best season to date, earning All-Australian honours in 2012. He is relentless in his attack on the footy, courageous when backing into packs and providing drive from half-back. A genuine star when up and going.
Mr Reliable. Grimes was named co-captain last year in a testament to his standing at the club. He's competitive, brave, has an uncanny sense of where the ball is heading and his skills are first class. Still young, but has enormous ability and a strong temperament.
Value for money
One of the Eagles' most important players, and vital in their backline setup. His decision making and reading of the play are a powerful combination.
 
Grimes has all the tools to become a genuine A-grader, if he's not already. One of the few Demons players, you can rely on for Fantasy production every week.
Job security
An All-Australian, a club poster boy and a fan favourite. They rarely get the flick.
The co-captain. The new number 31. Enough said.
 
Where he'll play
Waters excels in his position in the Eagles' backline. It allows him to drop off his man and utilise his sublime kicking skills to construct the team's forward movements.
Alternated between the midfield and defence in 2012, proving his worth as a flexible option. May play more as a primary midfielder in 2013, which would only enhance his Fantasy value.
Injury history
Waters has also had to deal with his fair share of injury concerns, most notably a significant elbow injury in 2010 and a foot injury in last year's finals.
Injury has bothered Grimes throughout his career, with groin, hip, hamstring and foot problems delaying his progress. However, he managed 19 games in 2012, his most ever in a single season and the Fantasy points flowed.
The case for
A proven fantasy star and a vital cog in the Eagles' backline. His role is well suited to the Fantasy format, as he can often get loose and collect piles of possessions in defence. Teammates intentionally look to hand the ball to him, so they can utilise his skills.
The 23-year-old is not even close to his football ceiling, yet is regarded as one of the club's best players. His work ethic and effort cannot be questioned, while he is polished in his ball use.
The case against
Injury and suspension. The vice-captain can be prone to the odd brain fade, which costs him and the team.
2012 was his first year without a long-term injury. Can you trust him to be on the field week to week?

The verdict
Additional stints for the Demon skipper in the midfield is an exciting proposition for Fantasy coaches. Given that expectation, Grimes over Waters by a whisker. 
Pick your NAB AFL Fantasy team now.