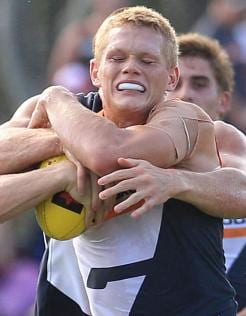 I think they just tried to bully us I guess and we weren't standing for it
Adam Treloar
HEADING into Saturday's Battle of the Bridge, Adam Treloar was determined not to be bullied.

The Sydney Swans had thumped their cross-town rivals in their two meetings in 2012, but this time was going to be different.

A year older and a year wiser, the Giants sent a message to not only the Sydney Swans but to teams all around the League by matching the reigning premiers for much of the contest at ANZ Stadium.

The final margin - 16.10 (106) to 11.10 (76) - was the closest the Giants have come to beating the Swans.

"I think they just tried to bully us I guess and we weren't standing for it," Treloar said after the match.

"We may be younger, we may be smaller than you guys [the Swans] but we have got as much heart as you guys, and we're are going to take it to you guys if you guys take it to us."

Saturday's showing - taking the lead in the second term and then winning the last quarter - has given Treloar hope the Giants will be able to better the two wins achieved in their debut season.

"It showed glimpses of what we are going to be in the future, especially that run in the second quarter," Treloar said.

"We almost beat the Sydney Swans, the premiers from last year, it showed we can match almost any team in the competition."

Coach Kevin Sheedy said the Giants' performance against the 2012 champions would have perhaps put the team in position to win against some of the other teams in the AFL.

Moreover, the side was missing versatile veterans Chad Cornes and Setanta O'hAilpin.

"If we had played that way against maybe some of the couple of other teams we might have won," Sheedy said.

The Giants head to Port Adelaide in round two.