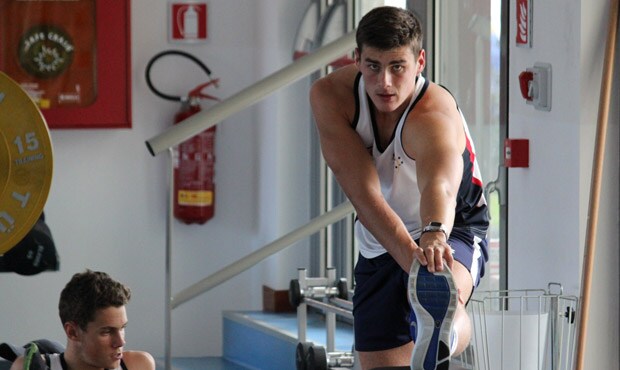 Victorian Tom Boyd is a tall, strong big-marking forward who had an outstanding year in 2012 as a 17-year-old. Now a member of the AIS-AFL Academy, Boyd is with the squad on its two-week tour of Europe. Follow his blog on AFL.com.au

Wednesday, March 27, Melbourne
WELCOME to my blog where, as a member of the AIS-AFL Academy squad, I'll be providing daily insights into our tour of Europe.

The blog will contain a lot about why we are members of the squad, our football, and our journey to hopefully being drafted at the end of this year.

I also hope to bring you a few insights into some of my teammates along the way, so you get to know us a bit better. Each day I'll be putting the spotlight on one of them and describing what makes them tick.

Our camp began on Wednesday, March 27, when the squad gathered in Melbourne ahead of our game against Collingwood's VFL side at the MCG.

It was a chance to catch up with everyone again, having not seen my team-mates since out last camp in January.  

It didn't give us a lot of time to gel as a team, but the excitement within the group was obvious, and we were all pumped to get out for a short and sharp training session at Visy Park in the afternoon.

The first night ended with our jumper presentation night, which was a bit of a surreal moment for me. I wasn't in the Academy last year so this was the first time I'd received an Australian jumper.

You don't start playing footy and expect to play for Australia, and it took a few minutes for it to sink in that I had my own Australian jumper!

Hawthorn captain Luke Hodge addressed the group and reiterated a point that many make about being in our position: enjoy the experience but lean on the coaches as much as possible.

I aim to do that on the tour, particularly with Brad Ottens.

Spotlight on: Lloyd Perris. One of the best things about the Academy is making mates from other states. So it was good to catch up with Lloyd, who had been in Sydney sending me blunt text messages for months. Through the Academy we've become good friends.

Thursday, March 28, Melbourne
The bus trip to the MCG was pretty eerie. Everyone entered the bus with their headphones on, but there wasn't a laugh, there was hardly a conversation, and it was a weird experience.

Everything about the day was new to us. We were dressed in team suits. And we were playing on the MCG, against a Collingwood team including Dale Thomas and Andrew Krakouer.

We know recruiters want to know whether we can play on guys who have more senior experience and bigger bodies, and that might have been something in the minds of a few heading to the ground.

Although playing on the hallowed turf was going to be great, we weren't actually allowed on the surface until four o'clock, 20 minutes before the game. When we finally did get out there, it was strange being in the middle of a ground I had attended as a spectator so many times before.

I went into the match with an emphasis on doing two key things: attack the ball in the ball in the air, and play in the moment without over-thinking it.

Sometimes I do think about my footy too much and keeping it simple can help, particularly when there's the rush of blood to the head that comes with a game like this.

I was pretty happy with how I went, this being my first game against a senior team (I had 16 disposals and took 10 marks, five contested).

I just would have liked to have not hit the post twice. Three goals would have been a lot better than one.

Spotlight on: Lewis Taylor. I really like how this bloke goes about his footy. For example in the second half he really took the game on, and managed to find space where nobody else could. We were really struggling to get away from opponents but 'Lewy' made it look easy. He even sidestepped a man on the mark – something I've done once in my life in the under 15s and don't see myself doing again.

Friday, March 29, Melbourne
This was a chance to recover from the previous night's game, and a chance to prepare for the long trek to Italy.  

We started with a dip at Port Melbourne beach, before heading into AFL House, where we met with club recruiters.

It was a long session, and I had about an hour-and-a-half worth of interviews spread over four hours.

It was interesting to see the different approaches of the clubs. Some would pump you up a bit, some might talk you down, and others seem to be there for more of a general chat.

Each club has its own way, and I guess so do we as players, so it's their job to work out what we're like off the field as well as on it.

Spotlight on: Luke Dunstan. The South Australian always impresses with his attention to detail in recovery. Luke's one of the best midfielders in our team and it's easy to see why when you watch how carefully he looks after his body.

Saturday, March 29, Melbourne
We checked in at Melbourne airport at 9.30 for our connecting flight to Sydney. From there we had a four-hour stopover, before starting a 14-hour journey to Abu Dhabi.

The flight there was made a little easier by the fact I had an exit seat, sitting alongside Brad Ottens and Robert DiPierdomenico.

'Dipper' is the tour group leader of the support group, which includes families and recruiters, and he helped us whittle away the time by telling stories of his own playing days at Hawthorn.

Even though the details were sometimes a bit hazy, he was always entertaining. Unfortunately most of the stories can't be reprinted in this blog.

When we finally got to Abu Dhabi we had another connecting flight to get to Milan, where we would then take a bus ride to get to the AIS' European Training Centre in Garivate, Varese.

Getting over to Europe was a lengthy exercise and we all did well to get off the plane in good shape.

Sunday, March 30, Varese, Italy
A decent meal kicked off the start of the day, which was followed by a walk and a gym session after lunch.

The gym session woke me up, and after doing nothing but sitting in cramped airplane seats for two days, it was nice to finally feel like we were doing something beneficial for our footy.

It was a bit weird though, because there was about 25 people, including recruiters, cramped into the gym watching our every move.

I'm rooming with Billy Hartung and we tried to stay up as late as we could so we could get in a proper night of sleep. But in the end we went to bed at 7.45pm. The fatigue won that battle.

Spotlight on: Josh Kelly. Josh was my partner in the gym session and although gym might not be his forte, he always does everything right and that's what makes him such a great player.