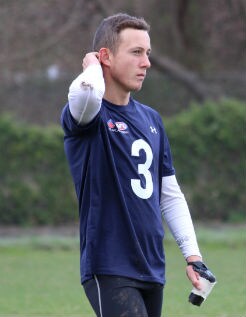 FINGER surgery has kept talented teenager Billy Hartung sidelined for almost three months but the Dandenong Stingrays forward is only weeks away from resuming his tilt at being drafted this year.
Hartung caught his left ring finger in the shirt of a teammate during a training sesson. After weighing up whether to have surgery or play with the injury this season, the 18-year-old went under the knife in February and has been out for nearly three months.
Unable to play any real part in the AIS-AFL Academy's tour of Europe – including missing the squad's game against the European Legion last Saturday – Hartung aims to be back for the Stingrays within weeks after a slightly expedited recovery. 
"I'm probably about two-to-three weeks away from getting back into training," Hartung told AFL.com.au in Surrey. 
"Hopefully I will be able to get the finger straight by the time I come back from Europe. That's the aim. I'll only be allowed to get into ball drills lightly when its straight but I'm pushing for [a return in] round five or six of the TAC Cup."
The injury has not prevented Hartung from keeping in good shape, however, regularly running laps with other members of the recovery group at training in Italy and England. 
Aerobic fitness isn't too much of an issue for Hartung anyway. 
As a 16-year-old he ran a 16.2 beep test at AIS-AFL Academy testing, but he has some breakaway speed to go with it and has excellent foot skills on both sides of his body. 
With some of the essentials already there, the 177cm Hartung is concentrating on putting it all together more often this season. 
"Getting the injury right is the main concern at the moment. But when I get back into footy it will be about being more consistent throughout the year. I've mentioned that to a few people already," he said.
"I remember at the start of last year I started off pretty slow but towards the end I started playing the footy I wanted to play. This year that's definitely a focus point for me – being more consistent."
Billy Hartung training in Italy with the AIS-AFL Academy. Picture: AFL Media
Follow AFL website reporter Callum Twomey on Twitter at @AFL_CalTwomey.