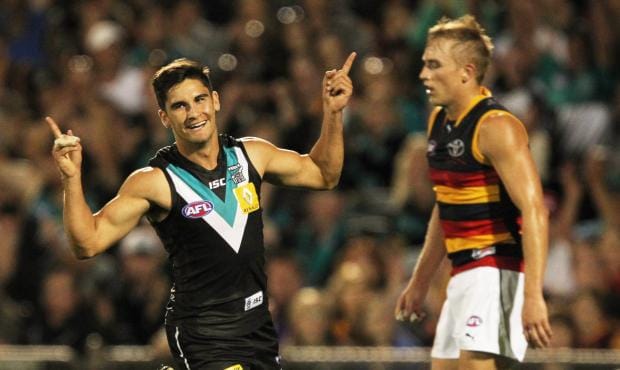 1. Best Showdown ever?
On the back of a tumultuous summer and two successive horror seasons, the Power's come-from-behind victory in Showdown XXXIV is surely their best. The clash shaped as the club's biggest on-field test since coach Ken Hinkley was appointed and, while its disposal efficiency was questionable at times, Port passed with flying colours. The Power were down by 31 points 10 minutes into the third quarter, but by three-quarter time the scores were level. It was a stirring victory and if any question remained that a new era had been ushered in at Alberton Oval, it was answered in emphatic fashion on Sunday.

2. Troubled Crows
Adelaide has some real worries. Port looked the better team from start to finish on Sunday and, worryingly for Crows coach Brenton Sanderson, it also looked the more determined outfit. It was only through the Power's wasteful kicking (1.7 in the second term) that the Crows took a narrow lead into half-time and once they found their range, the Power had too many weapons. Adelaide got beaten in contested possession (160-145), beaten in clearances (43-41) and inside 50s (56-50). A tough week ahead at West Lakes.

3. Vince in hot water
Adelaide coach Brenton Sanderson's problem of what to do with Bernie Vince after two poor performances from the midfielder might have been solved, with Vince reported for charging. Vince started the match as the sub, a clear indication he was already running on thin ice. But when he flattened Port's Chad Wingard after the young star marked 50m out from goal and was immediately booked, he might have sealed his own fate. To rub salt into the wound, Wingard slotted the goal – his third for the game.

4. Port extends its power
Port Adelaide's win on Sunday broke Adelaide's recent run of three consecutive Showdown victories while also extending its overall lead to 18-16. Port led the ledger early with 10 wins to Adelaide's three at the end of the 2003 season, but on the back of club legends Mark Ricciuto and Simon Goodwin, the Crows pulled the score back to 11-12 by the end of 2007. Since then it had been five wins each, but with Port's incredible performance on Sunday, could the Power of old be back to restore 'order'?

5. Casino puts its money on Port
The Adelaide Casino has decided to gamble on the Power, with the club announcing it as a premier partner minutes before Sunday's opening bounce. Given the Adelaide Oval redevelopment would likely see increased traffic in and around the casino, its general manager David Christian said the decision to jump on the Power band wagon was a no-brainer: "We feel the move of AFL football to Adelaide Oval next year, combined with our own plans for redevelopment, present the ideal opportunity to reinvigorate the city." If Sunday's performance is anything to go by, it looks a good bet.
The views in this article are those of the author and not necessarily those of the AFL or its clubs