Victorian Tom Boyd is a tall, strong big-marking forward who had an outstanding year in 2012 as a 17-year-old. Now a member of the AIS-AFL Academy, Boyd is with the squad on its two-week tour of Europe. He has blogged about the trip on
AFL.com.au
Friday, April 5, Surrey, England
With the game approaching against the European Legion we had a short touch session in the coldest conditions imaginable.

We could barely feel our hands, some of us wore beanies and it was even hard to speak sometimes because the cold wind was so icy.

But we got through it and then had a recovery session in our hotel pool, which was a nice change and gave us a chance to defrost.

We're staying about 40 minutes out of central London in a place called Guildford, and in the afternoon we all went for a bit of shopping to check it out. I brought back a couple of jumpers.

Funnily enough several of the boys all ended up buying the same vest from what they thought was a pretty reasonable price.

Only later in the night - when we met the European Legion squad at the local Jamie Oliver restaurant - did they realise they weren't exactly buying quality clothing that will last beyond a couple of washes.

Spotlight on: Christian Salem. One of the boys caught up in the vest-buying craze was Christian. Unable to buy the same vest as the other group, he found himself with an orange vest which he was convinced was a fashion statement. He was wrong.

Saturday, April 6, Surrey, England
It was an unusual build-up to this game as most of the boys weren't quite sure what to expect of the opposition, the ground or the conditions.

In the team meeting I found out I would be captaining the side for the day, which was a real privilege. I never thought I'd be captaining Australia, but being a leader is something I enjoy and hope to do in the future.

The physicality of the European players was a bit surprising. Whilst sometimes misdirected, the intent was always there and they proved a real challenge, particularly in the first quarter.

We ran away with the game after that but kicked inaccurately, which probably cost us a bigger win and might have been the product of a strong wind that was blowing across the ground.

We were told to have ice-baths after the game to aid our recovery, but the water out of the tap was colder than the ice-baths I experience at home anyway. Our strength and conditioning guru James Veale, however, insisted we still add ice.

At night we had a function with the European guys and supporter group, and it was great to hear some of the stories about why they had taken up AFL footy and the lengths they went to to play the game.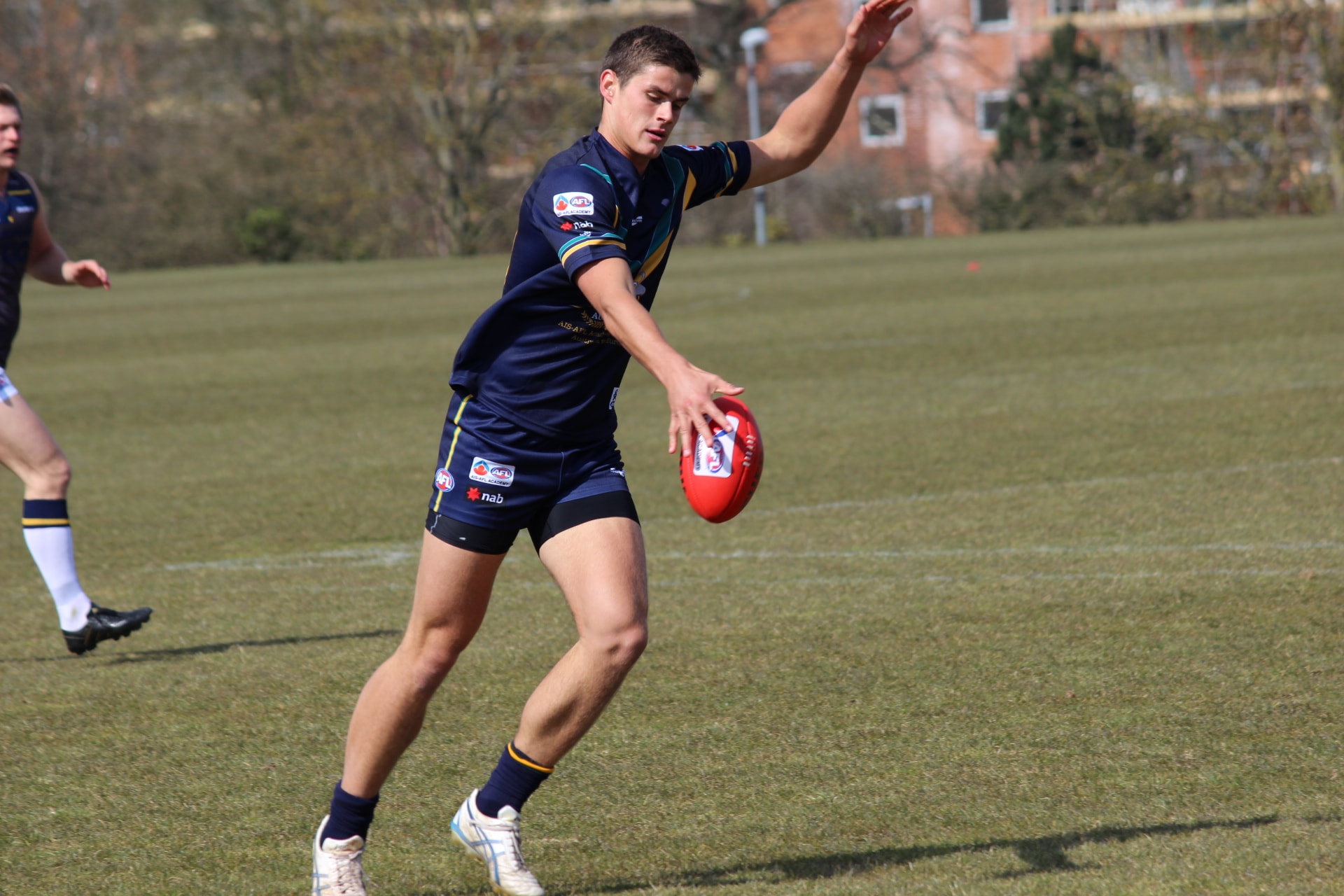 Boyd gets a kick away playing for Australia against the European Legion. Picture: Callum Twomey

Spotlight on: Matt Crouch. I roomed with Matt in London and I'm continually impressed by his on-field performance. Against the European Legion he was close to our best player, and he just keeps getting better and better as a really smart and effective midfielder.

Sunday, April 7, Surrey, England
We review all the games we play and we did a thorough one after Saturday's match. Looking back over the tape, it struck me again just how many competitive attempts were made by the European guys, some of whom picked up a footy for the first time only days before the game.

In the afternoon we headed down to Loftus Road to watch the Queens Park Rangers and Wigan soccer match that would have a big say in the relegation battle.

Being really close to the action there were a lot of interesting things about the game, like the non-stop chanting and singing from the crowd, and some of the top soccer players in the world playing in front of us.

But sitting in the crowd did remind me a few things don't change overseas: fans still get annoyed by the referees, they still get frustrated with their players, and they still boo the opposition.

Luckily for us we saw a ripper of a game, with QPR scoring a brilliant goal right in front of us in the 85th minute. They looked to have the game sealed before a goal by Wigan with only seconds remaining.

Spotlight on: Errin Wasley-Black. Errin's confidence and approach to match reviews is really constructive and he often provides great points that he's obviously thought about. The coaches have taught us to dissect the game and be able to draw and learn from it, and Errin's application of this skill has been impressive.

Monday, April 8, Surrey, England
I couldn't take part in our morning training session after copping a corkie from a crazy Irishman in the game.

But it didn't stop me from walking the streets of London that afternoon, where we saw all the iconic sights of the city, including Buckingham Palace, the London Eye, and even rode the tube.

Trafalger Square was probably my highlight. It was people-friendly, really clean and just a really nice place to spend a bit of time.

Spotlight on: Nick Robertson. Nick is a super competitor and always backs himself. But he probably was too eager in London's CBD, when he dropped into a hair salon and sat down for a trim. The haircut looks good, however I'm not sure it was worth 45 pound (about $70 AUD.) That along with the $700 he spent in Milan has really left his wallet a bit light.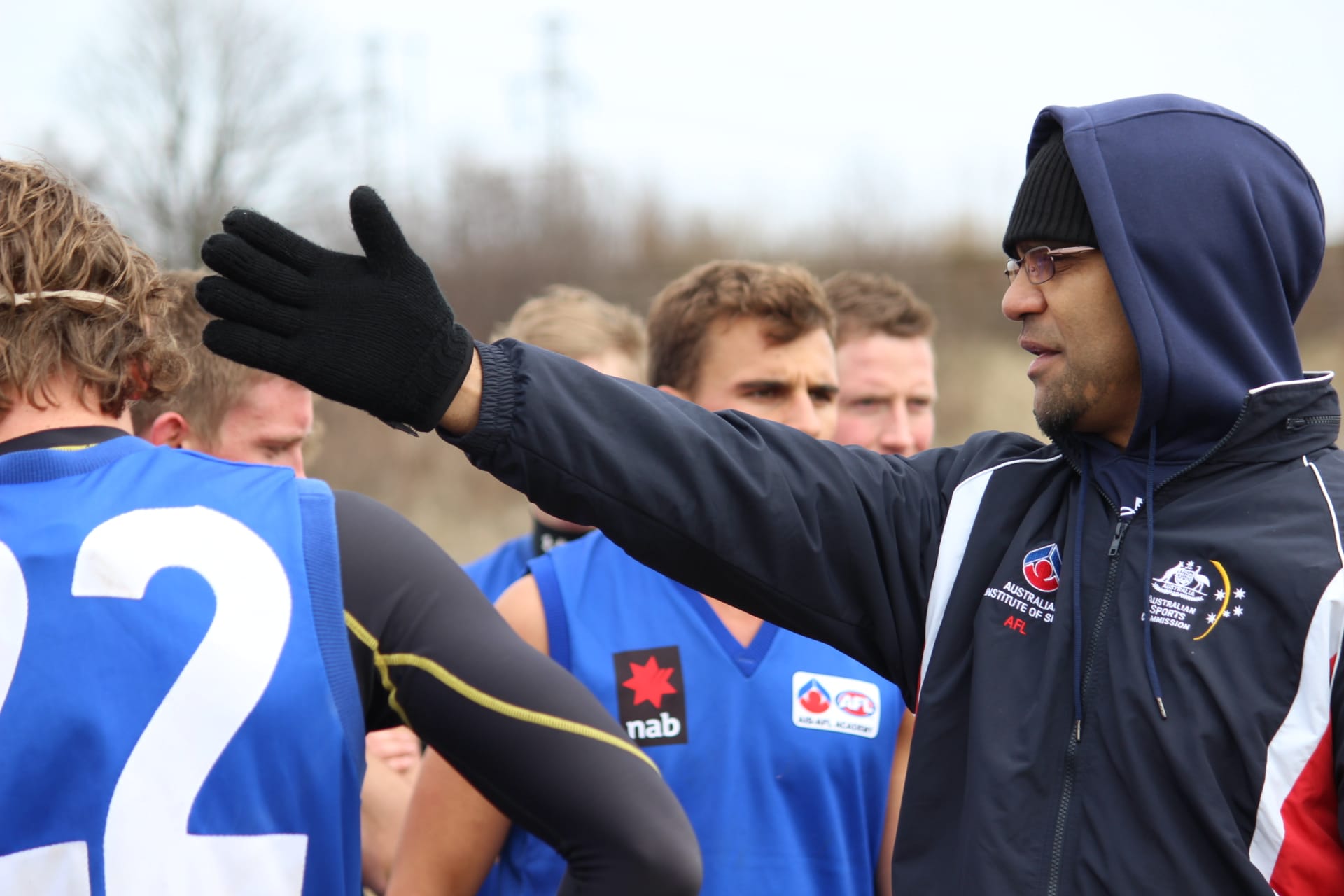 AIS-AFL coach Michael O'Loughlin gets his point across during the game in Copenhagen. Picture: Callum Twomey.
Tuesday, April 9, Surrey – Copenhagen, Denmark
We packed up and left off for our third and final leg of the trip with a one-and-a-bit hour flight to Copenhagen.

There have been a few 'pinch yourself' moments on this trip and this was another for me, as my mum Anita was born and raised in Copenhagen and now we're there for an Australian tour.

Mum left when she was 23 but still has lots of family and friends in the city, so it was a good chance to catch up with them given we otherwise probably wouldn't have seen them for another year or two.

I'm told Mum acted as a pseudo tour guide on the bus ride from the airport to the hotel, which doesn't surprise me because she takes any chance to show off her Danish knowledge.

Spotlight on: Kade Kolodjashnij. It can sometimes be a bit tough to quickly fit into a new side, particularly when you're a late inductee and the only member of the squad from Tasmania. But Kade has done it really well this tour. Not only is he a really good player, his laidback nature and Tassie slang is always a welcome addition to any conversation. He's also a dead-ringer in playing style for Grant Birchall. Check it out through the season.

Wednesday, April 10, Copenhagen, Denmark
We were greeted by horribly cold conditions (about two degrees) for our game on the outskirts of Copenhagen, where we were split into two teams with a few additions from the European squad.

One team was coached by Tadhg Kennelly and the other by Michael O'Loughlin, with Tadhg's the dominant side throughout the day. Unfortunately I was on O'Loughlin's team and he wasn't too pleased with how we performed in the first half when we were held goalless.

I was a bit surprised by how competent some of the Europeans were in the game, particularly with their skill level and marking on the lead.

I was matched up against Geelong Falcons defender Darcy Gardiner, who made every kick a tough one to get.

For losing we were going to punished with a dip in the icy lake for recovery purposes, but they decided against it for fear of frostbite.

There was an interesting moment after the game when I was interviewed by a national Danish television station. The reporter couldn't speak English very well and when I answered the questions I don't think she had any clue what was coming out of my mouth.

It didn't seem to matter because the next day a few members of the hotel staff came up to us and said they had seen us on the national news, a great promotion for the future of footy in Denmark.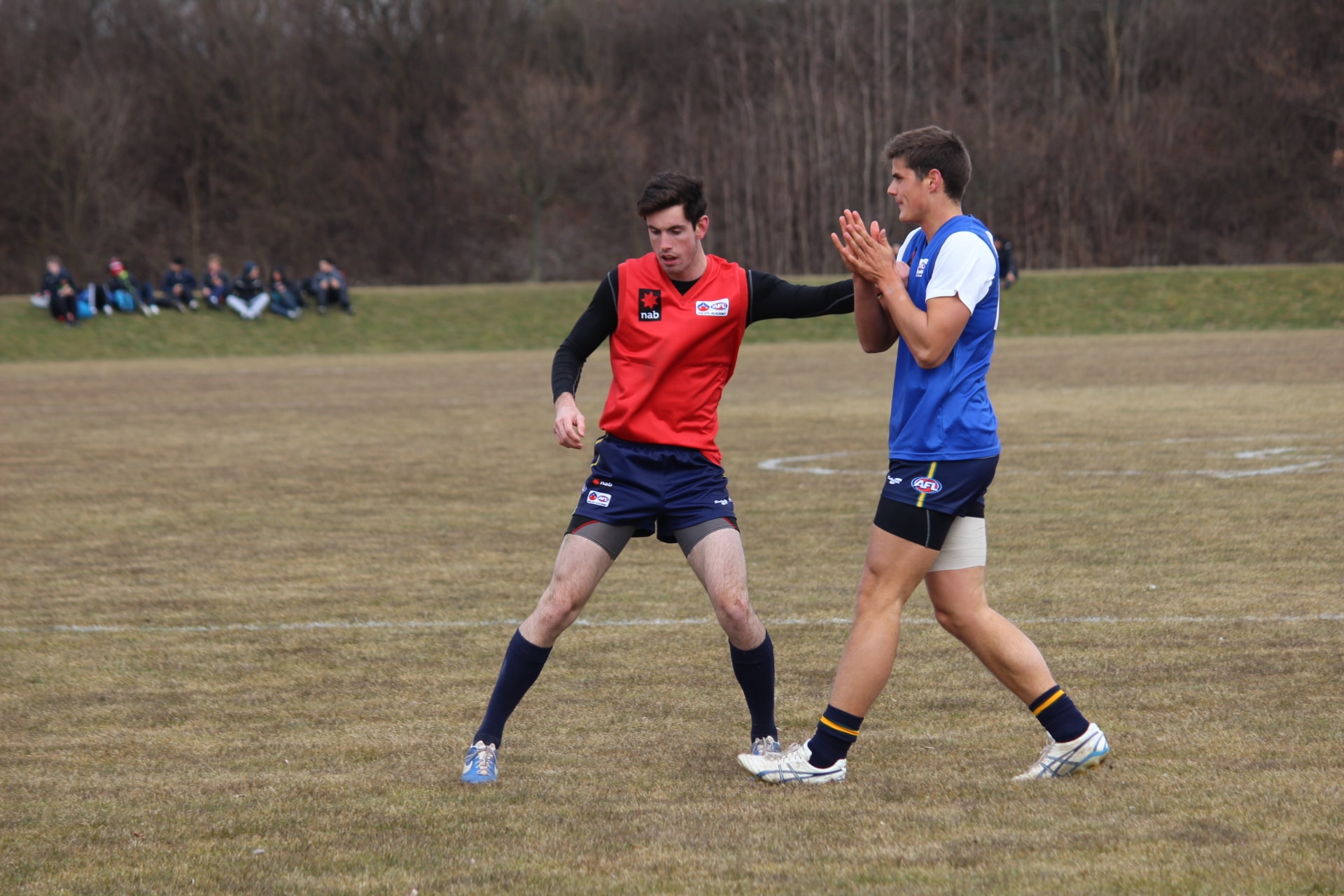 Boyd and Darcy Gardiner were opponents during the game in Copenhagen.
Spotlight on: James Tsitas. James is one of the most vocal members of the group and manages to always be rallying the troops. On the field he's a busy midfielder who finds heaps of the footy and he did that again on Wednesday in the game.

Thursday, April 11, Copenhagen, Denmark
Our last full day on tour was a pretty relaxing one that began with a tour of Copenhagen's landmarks.

The bus tour concluded with a visit to see where Australia's own Princess Mary and the Royal family reside and let her know that her absence at the game on Wednesday was duly noted.

I spent the whole afternoon catching up with my extended family, along with mum, my dad Geoff and sister Tess who have joined in the tour from the beginning.

Official proceedings for the AIS-AFL Academy trip finished with a tour party dinner, where each of had to address the crowd on a value assigned to us by the coaches.

These ranged from the likes of courage, competitive, passion, voice, discipline, and mine was the value of listening. I had to talk about its importance in football and outside of that, and give a couple of examples of players who had done it well in my view through the trip.

Spotlight on: Tom Cutler. Some guys find it really nerve-wracking to do public speaking but Tom's approach showed us all how it could be done. He spoke honestly and candidly and had an opinion too, which made for one of the best speeches of the night.

Friday, April 12, Copenhagen, Denmark
It was only a short sleep before we had to get up and get ready for our mammoth 35-hour or so voyage back home via Dusseldorf and Abu Dhabi.

A 3am wake-up was made easier by the sunglasses bought and worn at Copenhagen airport by Jack Billings. He wore them inside and thought they were pretty sharp and we found a few people who agree, namely Pitbull and Flo Rida.

It was bittersweet to end the trip given it has been such an amazing experience. To get the chance to go away with 30 of the best players your age in the country, to learn off the coaches, to see and understand different countries, and to come away better players make it a trip I wish I could do every year.

I think everyone learned a lot about each other but most importantly learned a lot about themselves and what it might take for us to reach our goal of getting drafted at the end of the year.

Thanks for reading the blog and I hope it's been enjoyable and insightful.