SNOWFLAKES fall lightly on their backs and legs. They are holding still, their teeth are clenched but their eyes are up, looking at each other, seeing everyone else is doing it as tough as them. Up. Down. Up. Down.
The AIS-AFL Academy has just arrived in Surrey, England, for the second leg of its two-week tour of Europe this month. A gym session greeted the squad of 31 of this year's best draft hopefuls as soon as they checked-in to the hotel.
Now they're outside the Guildford Holiday Inn, doing what key forward Tom Boyd describes as Academy coach Michael O'Loughlin's "favourite form of punishment": push-ups on their knuckles.
This time they've hit the pavement (joined by O'Loughlin) after a few players didn't keep up to date on their daily wellness recordings and weigh-ins, must-dos for the scholarship holders. And they're doing it under inspection.
Coach Michael O'Loughlin leads the group for a 'knuckles' punishment session in Surrey. Picture: Callum Twomey
Scattered outside the hotel are AFL club recruiters, on the trip to glean as much intelligence as possible about this year's pool.
They want to know who thrives under the pressure and who wilts. They want to know who speaks up and who says nothing.
"If it was easy," O'Loughlin says of playing AFL, "anyone could do it."
The Europe trip started in Gavirate, a sleepy town in Italy's north, where the team stayed at the AIS' European Training Centre, an elite facility shared this time with some of the country's up-and-coming boxers.
One afternoon, South Australians James Aish and Luke Dunstan stood in the gym admiring their intensity with the gloves. Some players raised the idea of a quick hit-out with the boxers before reconsidering.
After four nights there they moved on to Surrey for a five-night stint, before finishing with three freezing days in Denmark's capital city, Copenhagen.
Recruiters from 17 clubs were represented (Essendon the exception), and many of the boys had parents and siblings on the trip. But, for the players at least, it's not a holiday.
The moment Christian Salem opened the tour itinerary he knew that.
"We saw the schedule before we came over and every hour was filled," Salem said. "From the first day they smashed us."
Some found other ways to chip in. Nick Bourke hurt his shoulder 30 seconds into the Academy's match with Collingwood two days before the tour.
Initially fearing the injury might stop him from coming on the trip – like Cameron Conlon's knee injury – Bourke came and offered positivity and exuberance.
New Zealander Kurt Heatherley, himself recovering from hip surgeries, noted Bourke running laps at training as one of the team's best shows of diligence.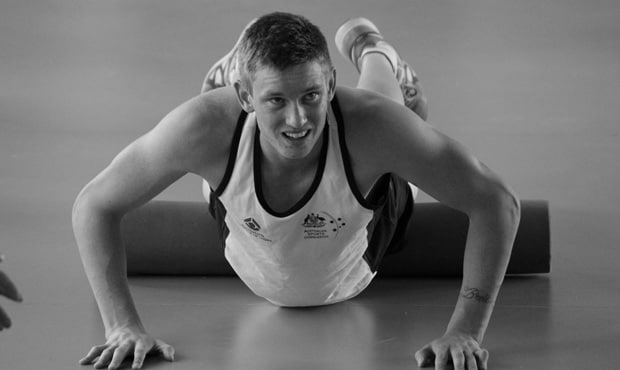 Errin Wasley-Black stretching during a gym session at the AIS European Training Centre, Italy. Picture: Callum Twomey
Billy Hartung's finger injury and Dallas Willsmore's knee strain also limited them, while Aish, recovering from a shoulder reconstruction, ran the coaches' messages, a role he doesn't want to get used to.

The competitor inside them would have been particularly annoyed to miss one session in Italy.

In the final run before the first game against the Europeans, the players were pitted against each other in one-on-one drills and told not to hold back.

Things got heated between Boyd and Darcy Gardiner when Gardiner slipped a knee into Boyd after a tackle. Darcy Hourigan won his battle with Luke Reynolds, and the bigger and stronger Dom Sheed got the better of Jack Billings.

Having earlier in the week been told by the coaches to get in touch with Brent Harvey as a mentor, the energetic Lewis Taylor buzzed around and won a few contests, but James Tsitas used his strengths - smarts and quick hands.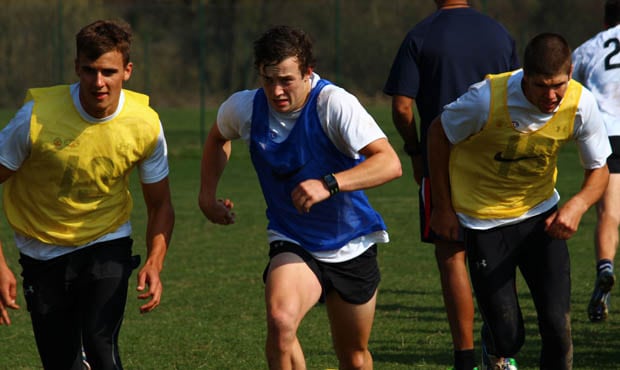 Dom Sheed, Lewis Taylor and Isaiah Miller take off at training in Italy. Picture: Callum Twomey
After a long struggle with injury, Alex Spina was agile in tight spaces, Kade Kolodjashnij showed he can make space when there isn't much, while Ben Lennon and Nick Robertson attacked the ball with meaning.
Recruiters watched intently. Some sat back, knowing they'd remember what was happening in front of them. Others jotted notes or typed into iPads.
It was one of the few times on the trip where the players were analysed for their football, for the trip is about more than that. The recruiters are there mainly for other things: how they deal with being on the road, who they interact with, what their personalities are like.


The games, one against the European Legion at Surrey and the other a combined team with and against another group of European players in Copenhagen, are predictably one-sided.

It's not to say the Europeans don't have a go. Coached by Tadhg Kennelly and Brad Ottens, the players paid their way from different parts of Europe to play in the game. Their inspiration comes from different sources.

Mikkel Kjoege, an 18-year-old Danish player, likes the rush of grappling for a ball, and being thrown around when he's got it. He wants to follow the lead of Denmark's Aksel Bang, who signed with Greater Western Sydney in February on an international scholarship.

Then there was Nicolai Di Giorgio, a big, strong Italian who was named the best European player in the second match. When he finally emerged from the changerooms to receive his medal and was told he had to make a speech, he called for his girlfriend to help translate him into English. When she didn't arrive in time, he just said it in Italian.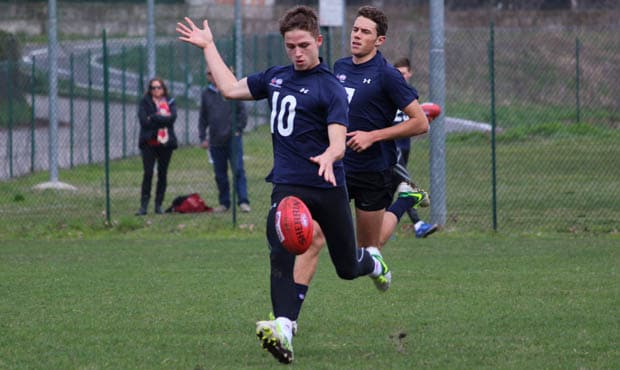 Jack Billings sizes up an option at training in Varese, Italy. Picture: Callum Twomey
Robert DiPierdomenico, standing at the back of the room as tour host of the supporters group, was the only one to understand a word.

The Australian players leave with wider eyes.

For some, like Trent Dumont and Taylor, it was their first trip overseas.

For others it was about exploring; Tom Cutler checking out a London art gallery, Salem talking his way into hiring a bike to ride around the streets of Copenhagen (there are nearly as many bikes as people in Denmark), Errin Wasley-Black amazed at seeing snow for the first time during a day visit to the Swiss Alps (jokingly referred to as the Academy taking altitude training to a new heights – approximately 1700m above sea level).

For all, the chance to hear from Jason McCartney, on the trip on official duties as the Western Bulldogs list manager, was memorable. McCartney told of his story of triumph after being a victim of the Bali bombings, and how important sport was in his recovery.

In terms of other Academy groups, this year's is reserved.

Dunstan pulls people into line if they're late for a meeting, and Lloyd Perris does the same, trying to make sure they don't see the camp as a retreat. Matt Scharenberg and Boyd offer opinions in team meetings, but there aren't a lot of other regular voices.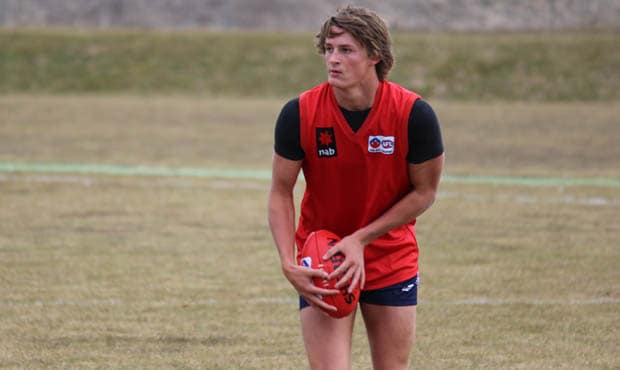 Matt Crouch shows his poise in Copenhagen. Picture: Callum Twomey
Josh Kelly, a member of the leadership group, acknowledges it's a quiet squad but says it deserves praise for trying to improve.

Everybody has things to work on. Billings asked O'Loughlin what he should be doing to become more of a leader, and how to do it.

Back at home Tsitas enrolled in a pilates class in Geelong and goes to weekly sessions among a group of grandmothers.

Matt Crouch is trying to get better at his aerobic base and has already got some handy advice from older brother Brad, who plays for Adelaide.

"He said learn how to swim before you get to a club because he didn't know how to swim and he's had to do a lot of it," says Crouch, who followed Brad's debut in Surrey via his iPhone and Twitter updates.

The trip is the centre-point of the Academy's nine-month program, which began last September with a week-long camp in Melbourne during Grand Final week.

It was followed by a week at Canberra's Australian Institute of Sport, where the group was introduced to mentors Ottens, Kennelly, Brad Johnson, Glen Jakovich and Matthew Lloyd, all available for help and advice throughout the year.

There the education began on the off-field requirements of a footballer: recovery, rehabilitation, diet, etiquette, media training. The level two Academy group caught up again in Melbourne in January for another training camp, before disbanding to AFL clubs around the country for a week of training and immersion in an elite environment.  

One player vividly remembers an AFL coach's advice to the group from that time. If you can't kick, said the coach, you can't play.

Football, however, is not the only priority.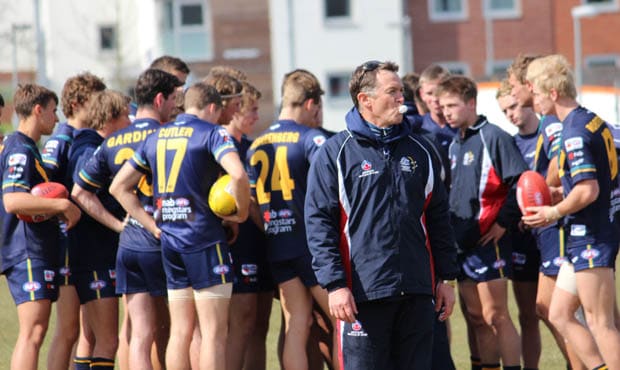 Coaching director Peter Schwab ahead of the match against the European Legion. Picture: Callum Twomey
The Academy wants to make its members engage and think more, to be interested in things away from football, and to be more rounded individuals at the end of the program.

In that regard, the players are each given a value at the start of the trip - courage, sacrifice, character, unity.

On the last night, they address the tour party and explain what the word means to them, and who best represented that value. At the outduction in about two months, the player who gets the most votes will win the Ben Mitchell medal. Mitchell was killed in a car accident in his AIS year in 2002.

Scharenberg said professionalism is something everyone can improve on, it can't just occur. Trust, said Cutler, was a skill, consisting of being trusting and trustworthy. Aish commended Billings, his roommate in London, for his discipline, saying every night he did extra amounts of stretching to make sure he was ready to perform.

The most poignant might have been Dunstan's view of hard work. Earlier, the AFL's national talent manager Kevin Sheehan said the Academy makes no apologies for how difficult the program is.

Dunstan, speaking for himself and perhaps his teammates ahead of their busiest and biggest year of football, spoke the Academy's goal: now, more than before, they're ready for what's to come.

"Hard work is when players work to a certain point and their mind tells them to stop," said Dunstan. "But they keep going anyway."

Follow AFL website reporter Callum Twomey on Twitter at @AFL_CalTwomey.
The views in this article are those of the author and not necessarily those of the AFL or its clubs