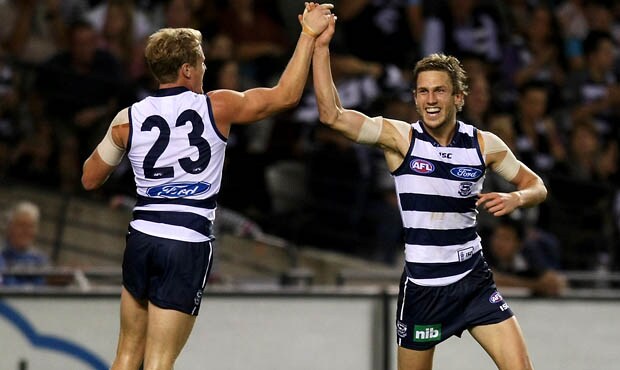 GEELONG'S Josh Caddy and Billy Smedts were arrested at gunpoint after their prank on a teammate went horribly wrong.
Police cautioned Josh Caddy and Billie Smedts on Wednesday afternoon after they were seen wearing balaclavas at an apartment block.
Teammate Jackson Thurlow had moved into a new home and the pair wanted to scare him.
But they went to the wrong apartment in South Geelong and a neighbour reported them to police.
The pair were found in their car at Kardinia Park soon after and police with guns drawn arrested them.
"We thought it would be a bit of laugh to scare Jackson Thurlow in his new house," the
Geelong Advertiser
quoted Caddy as saying.
"Me and Billie are both disappointed that we scared people in the community.
"The club has dealt with it. The police have dealt with it. We are both sorry to that lady."
It is understood Smedts and Caddy received cautions and no further action will be taken.
Not everyone was unimpressed with the prank. Adelaide forward Taylor Walker sent this supportive tweet to Smedts on Friday:
@billiesmedts loved hearing about your prank #wentwell #lovedit #legends

— Tex Walker (@texwalker13) April 26, 2013
The views in this article are those of the author and not necessarily those of the AFL or its clubs