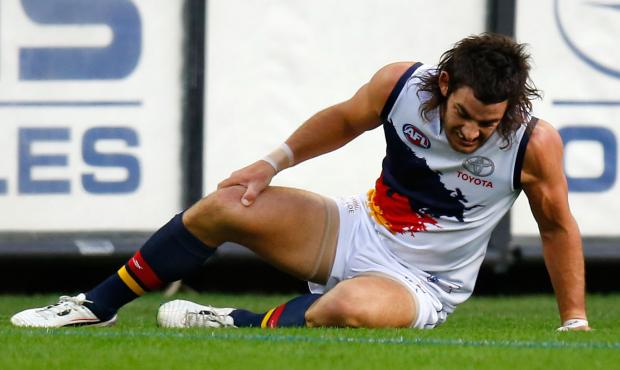 Taylor would be pretty hungry already, but I think this would just make him hungrier than ever when he does come back
Tony Modra on Taylor Walker's recovery
ADELAIDE'S greatest-ever goal kicker Tony Modra thinks Taylor Walker will emerge an even better player in 2014 - bigger, hungrier and smarter than ever.
Walker ruptured the ACL in his right knee against Carlton last Saturday and has opted for a traditional reconstruction.
Modra told
AFL.com.au
that while a year on the sidelines would see Walker return stronger and fitter, time spent watching the game from a coach's point of view would make him a more intelligent player.
The former superstar heart-breakingly missed Adelaide's 1997 premiership after becoming the 22nd player to require a knee reconstruction that season - the most in the last 17 years.
Modra believes he returned a more complete player thanks to watching from the sidelines.
"Taylor would be pretty hungry already, but I think this would just make him hungrier than ever when he does come back," Modra told
AFL.com.au
.
"But it'll give him a good opportunity to sit in the box which I reckon 'Sando' (Brenton Sanderson) would definitely do, make him have a good look at the game and they way it's played – that'll definitely help.
"He's obviously got a year to work on that now so he's going to come back a better player body-wise, but tactically wise as well.
"I didn't really get invited into the box too often, I really just looked from the side and it did make me a better player in the end."
Walker is a much-loved figure in Adelaide and one of the best-performing forwards in recent memory.
In recent years, Walker's 163 goals in 69 games is second only to Lance Franklin (181) to that point in a career.
While he played in a different era, Modra had already booted 278 goals by the same point in his career.
Working in Walker's favour, Modra said, was that the leg the he used to launch off was still intact.
It was Modra's all-important jumping knee, his left knee, which required a reconstruction when he injured it during the 1997 preliminary final against the Western Bulldogs.

Tony Modra hits the deck in the 1997 preliminary final. Picture: AFL Media

He insisted confidence in his reconstructed knee would be the most important thing for Walker to consider when a return was on the cards next season.

The Crows took such a cautious approach with Modra's own return to football in 1998 that he had to prove his fitness by jumping off a fridge and land using only his 'bad' leg.

"I definitely made sure I was fully confident when I came back and did everything possible in the rehabilitation which I'm sure he'll do," he said.

"They were really cautious with me…I was basically jumping left right and centre and off fridges onto one leg to prove I was fine.

"With his knee, it's his right knee that's injured so that's an advantage because it's not his jumping knee for a start.

"That'll probably make him recover a bit quicker."

Harry Thring is a reporter for AFL Media. Follow him on Twitter: @AFL_Harry.