THE NAB AFL Under-18 Championships offer recruiters the best opportunity to watch, study and compare the best draft hopefuls in the country.
Some of the teenagers are trying to prove themselves, while others have already proved enough to get drafted, with clubs now having to work out where they sit in order.
Ahead of the championships, which begin this weekend, AFL.com.au has ranked the top 20 prospects (in alphabetical order) to watch throughout the carnival.
Blake Acres
West Perth, 188cm, 83kg, 7/10/95
Mobile midfielder who can push back, forward or anywhere on the ground. Acres is a strong runner, and makes the right decisions, but may have only limited exposure in the championships after sustaining a shoulder injury this month. He will keep training and testing the injury in the hope he can avoid surgery.
James Aish
Norwood, 182cm, 70kg, 8/11/95
Jack Billings
Oakleigh Chargers, 183cm, 78kg, 18/8/95
Grew in prominence with a brilliant campaign last year, starring for Vic Metro and the Oakleigh Chargers at TAC Cup level. Billings is a smart and skilful half-forward with elite foot skills and a strong overhead mark. The composed and driven 17-year-old is likely to see some more midfield action this year.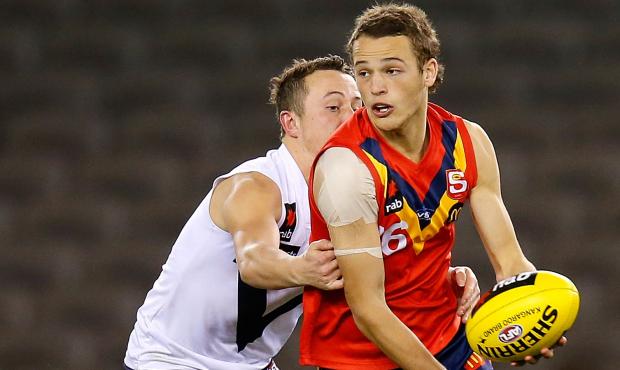 James Aish has the pedigree to be a star at the highest level. Picture: AFL Media
Marcus Bontempelli
Northern Knights, 191cm, 83kg, 24/11/95
The athletic utility has a few unique skills. Bontempelli is tall enough to hold down a key position, and runs and jumps at marking contests like one, but can also push up the field and is good at ground level. Has been starring for school side Marcellin College.
Tom Boyd
Eastern Ranges, 199cm, 102kg, 22/8/95
Matt Crouch
North Ballarat Rebels, 181cm, 77kg, 21/4/95
Luke Dunstan
Woodville-West Torrens, 184cm, 81kg, 29/1/95
A strong and physical midfielder who thrives on the contested situation. The South Australian has a presence around the ball and swings onto his left foot with ease.
A smart half-forward, Jack Billings could move into the midfield this year. Picture: AFL Media
Trent Dumont
Norwood, 184cm, 84kg, 30/6/95
Solidly built midfielder who does everything well. Isn't afraid to put his head over the ball to win it, but has also shown he can use it when it's in his hands. Well-rounded player who attacks the ball and recently made his senior SANFL debut.
Nathan Freeman
Sandringham Dragons, 181cm, 85kg, 16/6/95
A strong-bodied midfielder who fiercely attacks the ball and contest. Will help lead Vic Metro's on-ball department and has also shown a tendency to push forward and hit the scoreboard.
Darcy Gardiner
Geelong Falcons, 192cm, 84kg, 22/9/95
Gardiner's competitiveness puts him in this bracket. As perhaps the best tall defender of the draft, Gardiner is quick to read the ball in the air and finds a way to effect a spoil. Most of all he hates being beaten - the perfect quality for a backman.
Billy Hartung
Dandenong Stingrays, 177cm, 72kg, 24/1/95
Josh Kelly
Sandringham Dragons, 182cm, 73kg, 12/2/95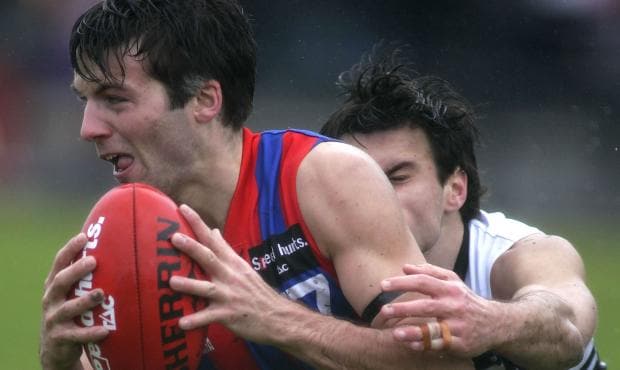 Half-back flanker Luke McDonald is eligible to join North Melbourne as a father-son pick. Picture: AFL Media
Jay Kennedy-Harris
Oakleigh Chargers, 173cm, 68kg, 21/3/95
Named Oakleigh Chargers co-captain after an impressive season last year. Small forward with extreme pace and goal sense, but also an ability to work up the ground. One of the smaller prospects but has a lot of tricks.
Kade Kolodjashnij
Launceston, 188cm, 77kg, 9/8/95
Ben Lennon
Northern Knights, 188cm, 79kg, 5/7/95
An exciting half-forward who is great mark above his head and one of the best kicks of the draft. Had a taste of Vic Metro action last year and will be better for it this time. Started the year in strong form and might even see some time through the midfield.
Luke McDonald
Werribee Tigers/Oakleigh Chargers, 188cm, 80kg, 9/2/95
North Melbourne will use its first pick at the draft on McDonald, having already committed to him as a father-son selection. They're likely to get a bargain, too, with McDonald one of the top prospects. Has played mainly off a half-back flank, where his raking left-foot kick, footy instincts and competitiveness have been suited.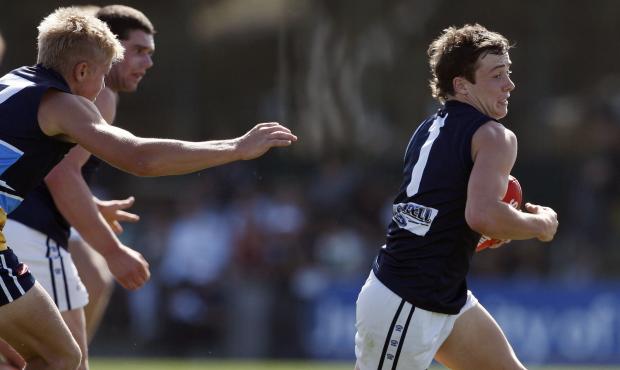 Lewis Taylor is a strong-bodied midfielder who can win his own ball. Picture: AFL Media
Christian Salem
Sandringham Dragons, 183cm, 82kg, 15/7/95
Matt Scharenberg
Glenelg, 190cm, 85kg, 18/9/95
Lewis Taylor
Geelong Falcons, 174cm, 73kg, 17/2/95
Taylor is a player who makes things happen. Although small, the Geelong Falcon wins his own footy and runs with it, taking opponents on with his pace or a crafty sidestep. Has shown he can use his creativity in the midfield or closer to goal.
Errin Wasley-Black
NT Thunder, 187cm, 78kg, 20/1/95
Callum Twomey covers the NAB AFL Draft for the AFL website. Follow him on Twitter at @AFL_CalTwomey.