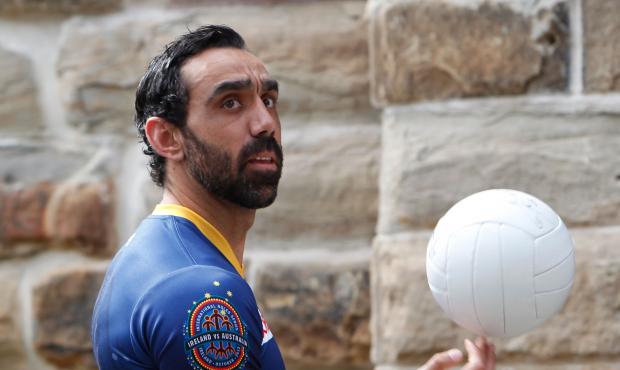 ADAM Goodes has been honoured with a lifetime achievement award in Aboriginal and Torres Strait Islander sport for his stance against racism and his long list of AFL achievements.
As he attempts to get back on the field for his beloved Sydney Swans following knee surgery, Goodes received the Ella Award at the Deadlys at the Sydney Opera House on Tuesday night.
A dual Brownlow medallist and two-time AFL premiership winner, the 33-year-old has also made a significant contribution off the field.
A leader in the indigenous community, Goodes received high praise for the way he carried himself when he was racially vilified by a young Collingwood supporter at a game at the MCG back in May.
The Swans' games record-holder, Goodes has also been heavily involved in the Australian Human Rights Commission campaign 'Racism. It stops with me'.
The award is named after the acclaimed Ella family, with brothers Mark and Glen representing the Wallabies in rugby union in the 1980s and sister Marcia a former Australian netballer.
"The Ella Award for Lifetime Achievement in Aboriginal and Torres Strait Islander Sport recognises excellence and achievement on and off the field," Marcia Ella-Duncan said.
"(It's) an award that marks our leaders in sport, singles them out and says 'you have set a national example for others to follow'.
"An Aboriginal man that has stood up to be counted, standing tall against racism, and setting an example in the tradition of the great Nicky Winmar."
Born in South Australia, Goodes moved to Victoria and played with North Ballarat before being drafted by the Swans in 1997.
He broke former teammate Michael O'Loughlin's Swans games record last season and his tally of 331 games puts him 21st in AFL/VFL history.
In 2009 the great friends set up the Goodes-O'Loughlin Foundation, which aims to help indigenous Australians achieve their life goals.
Both have also been heavily involved in the decision to select an all-indigenous team to represent Australia in this year's International Rules Series against Ireland.
"He is a leader for our time, on and off the football field," Glen Ella said.
Twitter: @AFL_JD