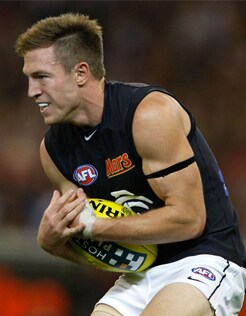 Mick said, 'I want you to go back (to the VFL) and play forward.' That was a bit of a shock
Jeremy Laidler
DEPARTING Blue Jeremy Laidler admits he found it difficult to accept his lengthy absence from Carlton's line-up this season, but believes he still has much to offer another club.
Laidler played just one AFL game this year and has requested a trade, hoping to reignite his AFL career at a third club.
The 24-year-old defender has played 26 AFL games – two in three seasons at Geelong, and 24 in the past three years at Carlton.
Laidler insists his troublesome left knee is now 100 per cent, saying he has been pain-free since the removal of a pin in the joint mid-season.
"It's hard to comprehend how things have gone this year, but if I get another opportunity, I can't wait to start afresh again," Laidler told AFL.com.au.
"I've still got a lot to offer, and a lot to prove. I've got a lot of footy left in me, the body's really good, and I'm really determined to get back to playing the way I was last year and the year before."
He is enthused by the interest that has already been shown by several potential suitors.
"It's been positive. There are a few clubs talking about it and contacting my manager (Tom Petroro). I'm happy to go anywhere to continue my career," he said.
Before being struck down with a succession of knee dislocations last season, Laidler had been regarded as one of the Blues' most reliable defenders under then coach Brett Ratten.
However, the signs were ominous for Laidler early in Mick Malthouse's reign.
He missed selection in round one against Richmond, before being promoted for the Blues' round two clash with Collingwood. He had four disposals – the lowest tally of his career – before being substituted out of the game in the last quarter.
Then came a fateful conversation with Malthouse that left Laidler uncertain about his playing future.
"Mick said, 'I want you to go back (to the VFL) and play forward.' That was a bit of a shock. I'm not complaining; it just wasn't the ideal situation to have at the start of a season because then I had to basically go back to square one and get my head around something different," he said.
Laidler had been a forward in the TAC Cup with Calder Cannons during his junior years, and had been rookie-drafted by Geelong as such, but those days were long gone.
He played "about seven games" in attack for Carlton's VFL affiliate Northern Blues and while he didn't feel out of place, Laidler eventually concluded the change of position wasn't working.
"I went and spoke to Mick and said, 'I just don't see myself getting a game at this football club as a forward. Can I go back to playing down back and try to prove myself there again?' From there, I had a few good performances (in the VFL)," he said.
"It's good to be flexible enough to play in other positions, but I see myself mainly as a backman."
Laidler rejects talk that he fell out of favour for lacking accountability.
"With a new coach coming in, there just wasn't a spot for me," he said. "Mick had a different game plan and different theories, and he wanted a bit more run off half-back. He felt that with 'Simmo' (Kade Simpson) and 'Walks' (Andrew Walker) going back there, they got a few more possessions than me, and they were a different type of player to me.
"It was quite frustrating not getting a gig and seeing other blokes playing in front of you, but that's part of footy. There's no hard feelings. Carlton have been great to me."
Ratten rated Laidler as both a player and a leader, lauding him in 2012 as a backline "general". Laidler hopes to regain this standing within a new group of footballers.
"I pride myself on my leadership qualities. I like to play as a team, and try to get the backline to play as a team too," he said.
"'Ratts' was a strong believer in me and gave me the confidence to express myself to the group, but when Mick didn't want to pick me, my confidence went down and it became harder to express myself. I think I can get that back and help another club."