You have unlimited trades after round one right up until the round two lockout
The Traders
THE Traders' pre-season NAB AFL Fantasy Classic team was drafted in early January. Putting together a squad at such an early stage of the year was always going to be a difficult task.
Now that the NAB Challenge has been completed, we have made some important changes to our initial team that was formulated so long ago.
These changes are based around injuries that have occurred or players who have really flown or flopped during the pre-season.

DEFENDERS
OUT – Not seeing Matthew Fuller or Kade Kolodjashnij during the NAB Challenge series, basically means that we have to cross them off to start with. It's too risky taking these players into round one when we have seen much more potential from players at an equivalent price.
IN – One of the most talked about defenders over the pre-season has been Luke McDonald [DEF/MID $243,900]. He was very impressive in his two NAB Challenge games with scores of 66 and 75 points forcing us to place him firmly on our field.
After scoring 66 and then 101 points with three goals and 19 disposals, Will Langford [DEF, $135,500] now finds himself sitting next to Jeremy Laidler on our bench. Cheap options in the backline are limited so we are ready to pull the trigger and trade these players if they are not named early on.
MIDFIELDERS
OUT – Just like many Fantasy coaches, we were brutal in swinging the axe on some under-preforming midfielders after the NAB Challenge. Claye Beams and Mitch Honeychurch failed to impress compared to other players around the same price and Beams is now injured.

Our under-priced premium players Marc Murphy and Jobe Watson have also been cut despite solid NAB Challenge performances. Murphy is probably the unluckier of the two after he scored 61 and 95 points in 74 per cent game time whereas Watson managed 84 points in his only appearance.
With so many value options in the midfield, the tough decisions had to be made, but it's the delisting of 'our boy' Brandon Ellis that will turn some heads.
At the end of the day, Fantasy coaching is a ruthless business and decisions must be made with your head and not the heart.
THE TRADERS' ROUND ONE TEAM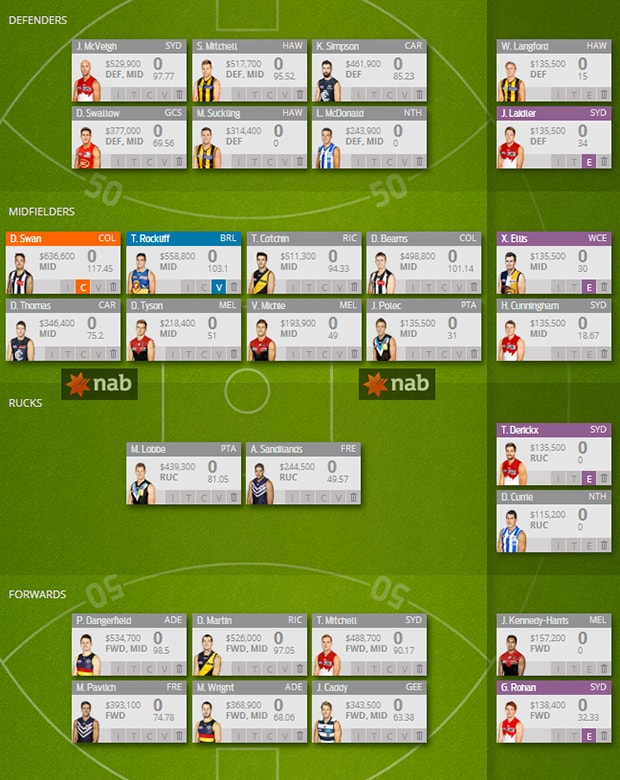 IN – With the amount of value available in the midfield, some big changes needed to be made and some cheaper options needed to be added.
Xavier Ellis [MID, $135,500] averaged 76.6 in 2010 whilst playing at Hawthorn and the newly recruited Eagle scored a fantastic 72 points in under half a game in his opening match. To Warnie's delight, he backed it up with a solid 75 points in his second game and appears fit and ready to fire at his new club.
Melbourne recruits Viv Michie [MID, $193,900] and Dom Tyson [MID $218,400] also impressed. Michie scored 87 and 73 in his NAB Challenge appearances and Tyson scored 56 in just 41 per cent game time and then a huge 114 points in his final game. Both players are beautifully priced and worthy of selection in our all-star side.
With scores of 72 and 92, Sydney young gun Harry Cunningham [MID, $135,500] also did enough to place himself on our bench.
After top scoring for entire NAB Challenge with 154 points, Trent Cotchin [MID, $511,300] takes a position on our field. He is priced at an average of 94 and is currently in the form that saw him rise to an average of 110 two years ago.
RUCKS
OUT - Billy Longer must be replaced after he returned two scores of 20 and 46 points during the NAB Challenge and it appears that he will be playing second fiddle to Tom Hickey. Hamish McIntosh is also moved aside after he only fronted for one game. There are still clouds over his fitness after playing half a game for just 28 points against Melbourne.
IN - Although he failed to produce huge numbers during the pre-season, Matthew Lobbe [RUC, $439,300] will take our number one ruck position as we back him to replicate the end of his 2013 season. He averaged 104 in his final seven games last year and appears to be great value after being priced at an average of 81.
Replacing Longer and filling a bench position for us will be the Swans' Tom Derickx [RUC, $135,500]. At his price, he's the best option after scoring 65 and 53 in his NAB Challenge games. Hopefully he can play early games for us.
FORWARDS
OUT – Early injuries to Mitch Clark and Patrick Karnezis were disappointing as was the form of Alex Fasolo.

Also on the chopping block is Lance Franklin [FWD, $426,500]. He struggled with just six disposals in his only NAB Challenge match for just 31 points. Yes it was only one wet pre-season game, but after previous years of averaging 102 and 101, he was far from the dominating force of old.
IN - With the poor form of so many cheap bench options in our forward line, we currently have Jay Kennedy-Harris [FWD, $157,200] warming the bench after he kicked three goals for 69 points against Richmond. He is tentatively positioned there for now, as we wait for round one teams to be finally named.
Tom Mitchell [FWD/MID, $488,700] scored a huge 138 points against GWS during the NAB Challenge, reminding Fantasy coaches how impressive his debut season was. He averaged 105 in his first six games in 2013, with a top score of 144 points.
After much discussion and debate, Matthew Pavlich [FWD, $393,100] has made his way onto our field thanks to some strong encouragement from Roy. Averaging 90 plus points for eight years straight, Pavlich returned an average 75 last year after an injury interrupted season that only saw him play nine games.
The last controversial inclusion is Calvin's old friend, Matthew Wright [FWD/MID, $368,900]. He has been in amazing form throughout the NAB Challenge with scores of 139 and 111 points. Although he disappointed many Fantasy coaches last year averaging 68, he appears to be firing on all cylinders in 2014.
Only $28,500 remains in our kitty.
As a collective, we are very happy to take this team into this year's Fantasy season; however we will be watching selections carefully over the opening round and adjust the side where needed.
With the opening round split across two weeks, there will be a rolling lockout over the first five matches. This means you can make changes to your side but once a game begins, players from the competing teams will be locked into your squad in whichever position you have selected them in or remain unselected until after the round.
Once the North Melbourne v Essendon match commences, AFL Fantasy Classic will be in full lockout.
You have unlimited trades after round one right up until the round two lockout. You might choose to be strategic with your selection for the first round before settling on your squad from round two onwards.
For more #AFLFantasy advice, follow @RoyDT, @CalvinDT and @WarnieDT on Twitter and stay up to date by following the official @AFLFantasy account.