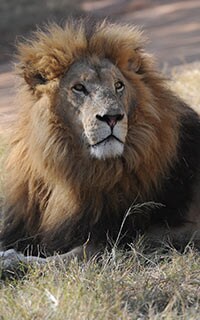 It's a provocative idea that has lots of different angles
Gillon McLachlan on the Lions' lion request
FANS have reacted angrily to the Brisbane Lions' "provocative" move to explore using a live lion as pre-match entertainment at Gabba games next season.
The Lions are speaking to zoos and lion parks – as well as animal welfare groups – to assess whether the club could push ahead with the unique initiative.
Teams have been encouraged to follow Port Adelaide's lead and enhance their matchday experience for fans, but supporters have been quick to criticise the Lions' recent effort on social media.
The idea has been described as "disgusting" and "barbaric" by some supporters.
Lions media manager Steele Tallon tweeted: "In relation to animal rights, we would never do anything to harm a lion. Australia Zoo is one of our partners & match day sponsor this year".
The club's CEO Greg Swann called for calm after a mixed reaction to the proposed initiative.
The Wash-Up: Brisbane Lions
In a statement released on Thursday afternoon, Swann said the Lions would consider everything when making their decision.
"There has been a fair amount of hysteria today around the idea of having a real lion at our home games next season," Swann said.
"Let me be clear in saying it is an idea and only that.
"It is one of a number of initiatives we have discussed as part of planning for the 2015 season, and it has found its way into the media.
"Animal welfare would always be the overwhelming priority in any such idea, but let me stress we are only at a conceptual stage at the moment."
Swann said with the 'old' lion set to return to the Lions guernsey in 2015, it got the club thinking.
"We simply asked ourselves whether we might be able to add the 'real thing' to a match day experience," he said.
"Given the reaction today, we are mindful that people have strong views and we will take that into consideration as we continue to plan for next season."
AFL CEO Gillon McLachlan has spoken to the Lions about the plan and said it was "pushing the envelope".
"Whether it's a reality, I don't know, " McLachlan told SEN.
"It's a provocative idea that has lots of different angles.
"But I love the fact that lots of different clubs are thinking like this about what their experience is.
"Greg is making noise up there in Brisbane and we love that. I love the fact he's pushing the envelope."
It emerged on Thursday that the Lions were seeking a $3 million handout from the AFL to help them compete with richer clubs.
Swann said the Lions were likely to spend more than $2 million less than the new football department spending cap.
"That money will allow us to reinvest in the business, we've cut everything to the bone," Swann said.
In relation to animal rights, we would never do anything to harm a lion. Australia Zoo is one of our partners & match day sponsor this year

— Steele Tallon (@SteeleTallon) September 10, 2014
"The soft [football department] cap has come in at $9.4 million and ours is $7.3 million, so we're a mile below the industry average.
"It's not like we've spent too much money to get in this situation, we've had a drop off in revenue.
"Our job is to get the business back to break even and we need to invest some money into resources to be able to do that."
Swann said the Lions, who are chasing Essendon ruckman Paddy Ryder,
were struggling to pay the required 95 per cent of the player salary cap because of the make-up of their young list.
However, the club will need to secure the futures of its talented youngsters after a number of emerging players left the club last year.
"We've got the third youngest list in the competition so we don't have the big stars to spend the money on," Swann said.
"We've got to pay 95 per cent so we've got to get some players in that allow us to do that."
@AFL I am not even a Lions Supporter, but I will fly up to see that!! Awesome idea!!!!!

— Bonnie Lillico (@BonnieLillico) September 10, 2014
@AFL disaster waiting to happen, remember the elephant that was on show at North games back in the day? Didn't go so well

— Clayton Edwards (@Clayton_Edwards) September 10, 2014
@AFL this is a disgusting idea and I seriously cannot believe the afl would allow it! Animals are not for entertainment! #disgrace

— Rose (@RoseKile) September 11, 2014
@AFL That is absolutely ridiculous!!! Barbaric!!!

— Johnny Connell (@Johnnycee94) September 10, 2014