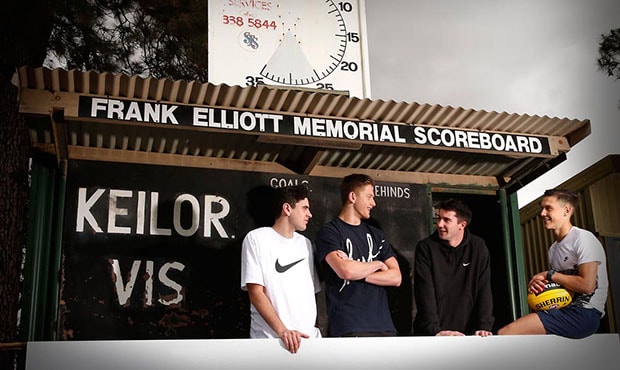 We actually thought these kids would be the backbone of our club. You never think of them making it to the next level so early
Keilor coach Paul White
• Get to know your club's future stars at the NAB AFL Draft Hub
• Going places: Four incredible draft stories
• Draft trumps: Insider access to this year's gun prospects
• Check out the latest indicative draft order
JAYDEN Laverde was on the wing, ready to push into the centre, get the ball and run off. On the opposite wing was Corey Ellis, who moved between half-forward to half-back and was never too fussed doing what was asked of him.
Damien Cavka played in the centre, and when he got tired from his midfield role he moved to the wing for a rest. Nobody could keep up with him. Paul Ahern stood in the forward line, and despite the wet and muddy conditions every one of his kicks hit its target.
All four were playing for Keilor against Greenvale in the under-16s Grand Final at a wet and muddy Glenroy Oval in Melbourne's north-west.
Cavka hadn't played in more than a month, having hurt his shoulder at school and then learning he needed a reconstruction to fix the injury. But he was desperate not to miss out on the Grand Final, if Keilor made it.
"So I took six weeks off with the injury, strapped both of the shoulders up for the Grand Final and then went in for surgery two days after the game," Cavka said.
"It was close at half-time, but then we blew them out of the park."
There were a lot of those types of games for that Keilor team over many years - and on reflection it's no real surprise: next Thursday, Laverde, Ellis, Ahern and Cavka are likely to be drafted.
Local clubs rejoice at one player making an AFL list, but the prospect of four in the one draft has Keilor – the suburb and football club – thrilled.
Keilor plays in the Essendon District Football League. Its home ground is humble, tucked in behind the Calder freeway. Pine trees instead of a grandstand shelter its oval, and the Blues' old interchange bench and scoreboard remain.
The club has been a powerhouse of the competition, winning 11 A-grade premierships since 1973, bringing a tight, country culture to a suburban line-up. But Thursday night promises to be as memorable an occasion as any.
"A couple of weeks ago we were at the club and were being asked for photos with everyone," Laverde said.
"A lot of people seem pretty excited about it all, and you're always seeing people around town who ask about it. Everyone sort of knows each other around here."
Laverde and Cavka met each other as six-year-olds playing Auskick, before they started with Keilor's lower division team. They quickly became mates, sleeping over at each other's houses the night before games, and played in three losing Grand Finals together.
Cavka was big, strong and heavy for his age then and played at full forward. "'Damo' was the monster in our team," Laverde said.
Keilor kids (left to right): Paul Ahern, Corey Ellis, Damien Cavka, Jayden Laverde. Picture: Michael Willson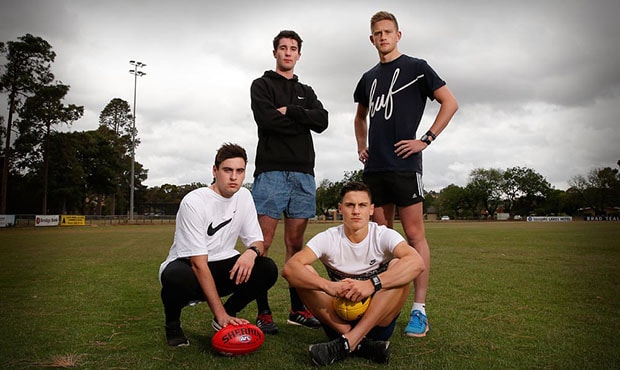 Laverde could play anywhere, and often his coaches put him at full back to take the kick-ins, knowing he would kick to himself, play on, dodge a couple of opponents and get the ball to the wing in no time.
The pair moved up a level to play in the division one team in the under-12s, and got to know Ellis, who was nicknamed the 'Rolls Royce' around the club.
They played in a flag that season, which was one of eight in a row for Ellis at Keilor. In four of those, Ellis was named best on ground.
Click here to check out Corey Ellis' draft profile and watch his 2014 highlights
"Corey's a quiet kid, but he stood out early with his left and right foot disposal, and he was a notch above the rest," said Paul White, who coached the first-round prospect in the under-12s.
"He just floats across the ground. I was coach, but my aunty could have coached those kids."
Ellis was the early standout: he played for Victoria as an under-12 and looked the most likely player to make the grade. The others developed later. Laverde went through growing pains, had knee injuries and missed almost a year of footy at under-14s level.
He took the long-term approach, looked after himself and got them right, and never lost faith that he would get the best out of himself. He'd sit at the front of the team at every half-time break, listen to everything he was told and then go and do it.
"Once he got through that injury you could tell he had natural skill, but he was just so light and he got knocked around a bit. But he's got some size now, he can play everywhere, he's got that bit of height," White said.
It's a size and shape that has many admirers, with Laverde a strong chance at being picked in the first 10 selections at the draft. He showed his ability to play nearly anywhere this season for Vic Metro and the Western Jets, combining his pace, skill and smarts to be a top-end prospect.
Cavka's game has long been built on hard work. Though he started a bit chubby, he quickly started eating healthier, and training daily.
As a junior he would run to training instead of getting a lift. He would be the first on the track half an hour before others, kicking 10 times on his right foot and then 10 on his left and doing it again.
He has become renowned for his meticulous approach, but entered this season thinking he could peg it back a bit, concentrate on his game and put his name forward to clubs.
Cavka played for Vic Metro during the national championships, and starred for the Calder Cannons in the back-end of the season before an adductor injury ruled him out of the Grand Final.
"I had the belief in myself where if I got my obsessiveness with training right, listened to the right people and took the right guidance and didn't go over the top, then my football could do the talking," Cavka said.
"I stopped thinking about how I could get fitter. Hopefully it makes me fortunate enough to get drafted."
Ahern arrived at Keilor in the under-16s, after Ellis had encouraged him to move from his old club.
"It didn't take much – I just needed to convince him that it wasn't too far to travel," Ellis said.
Ahern and Ellis were friends from Essendon Keilor College, which Ellis attended before moving to Penleigh and Essendon Grammar. Ahern quickly noticed the attitude at Keilor, how everyone wanted to make the most of every minute at the club.
"The first year at Keilor is when I realised if I kept going I could play AFL and follow my dream. The professionalism at Keilor was important, everyone just wanted to get the best out of themselves and that's when I realised I wanted to do that as well. I followed everyone else and worked really hard," Ahern said.
Click here to check out Paul Ahern's draft profile and watch his 2014 highlights
For Ellis, playing at Keilor didn't take much of a choice. He lives within walking distance of the club, his dad and uncles both played there, and his three brothers played there this season.
"I always wanted to follow in my dad and uncle's footsteps and play in the senior side. I never did, but what's to say I can't come back and play with them after a career," Ellis said.
He wasn't the only one who was eyeing a senior career. Many around the club predicted they would lead the senior Keilor team. Then, the AFL seemed so far away.
"We actually thought these kids would be the backbone of our club. You never think of them making it to the next level so early," White said.
"But there's a massive, massive vibe around the club about the draft. It's in the hands of the gods now."
Last week, the four players ran a clinic for the juniors at Keilor. And next week, the club will hold an event on draft night, inviting everyone to come down and watch the telecast to see their fortunes decided.
Over the last few years they have been separated at times – Ellis and Laverde with the Western Jets, and Ahern and Cavka with the Cannons – but they have always felt like they've shared the journey. The next step awaits.
"When you see someone from the club that's pretty much the only thing they ask you, like 'Who are you speaking to? Where are you going?' It's the talk of the town around here, the draft," Cavka said.
"If we all get picked, it would be great for the club and its reputation, because it is a really good club with a great training program and people."