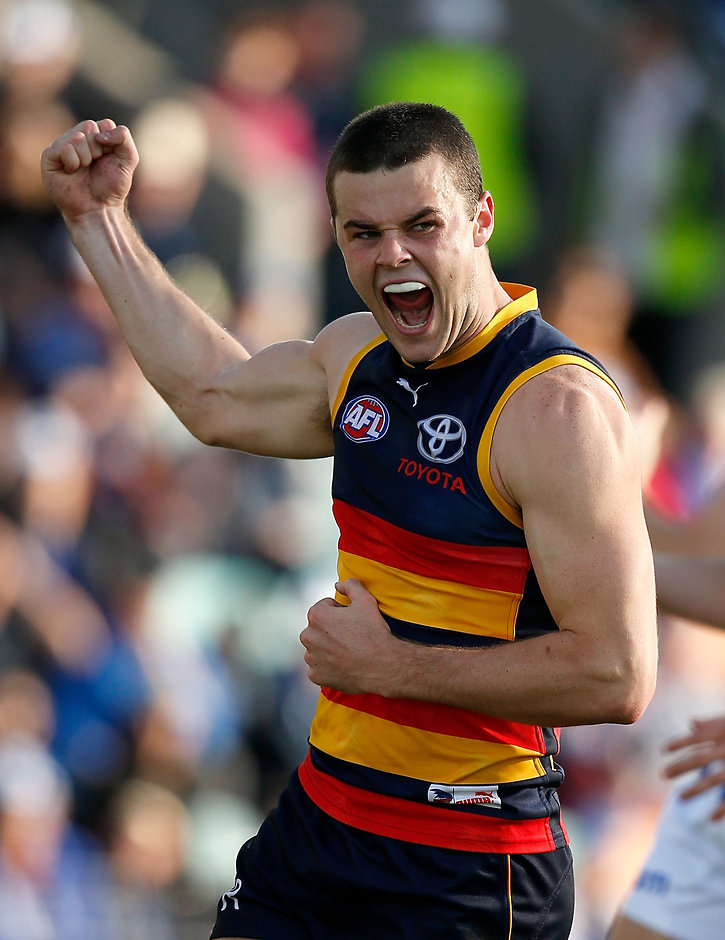 We're not getting as much rest as we've been used to before,
Brad Crouch on pre-season training
ADELAIDE young gun Brad Crouch is injury-free and ready to produce his best, after completing every session this pre-season.
A pre-season Achilles injury limited Crouch prior to the start of 2014, then he broke his leg in round two and missed three months of football. It was a frustrating spell on the sidelines given his runner-up placing in the 2013 NAB AFL Rising Star Award.
The 21-year-old has the tools to become one of the best midfielders in the competition and said an incident-free summer had put him on the path to leap forward in his development.
Jenkins not expecting an easy ride
"I'm sweet at the moment, I've done every session so far – it's been a little bit different to my first three pre-seasons," Crouch said on Wednesday.
"Now, in comparison to last season, my fitness is a lot higher. This time last season I was just starting to run again.
"It's crucial, especially once the games roll around - that's when you get the biggest benefit."
Crouch's younger brother, Matt, hasn't been so lucky this summer and underwent ankle surgery just before Christmas.
Matt Crouch played eight games last year, his first in the AFL, but had to wait until round 23 to line up alongside his older brother.
The 19-year-old is out of a moonboot and although the ankle injury was a setback, Brad predicted the pair would spend more time together on the field in 2015.
"It's obviously disappointing for him (Matt) to get the little niggle during the pre-season but he was going really well before that and late last year he was playing really good footy," he said.
"I expect him to push hard for a spot."
After two years of mid-table finishes, Brad Crouch said the most noticeable difference at training under new coach Phil Walsh was a spike in intensity.
On Wednesday morning as players completed agility and tackling warm-ups, assistant coach David Teague sternly demanded players lift their effort and avoid "going through the motions".
"The harder we go offensively, the better tackling team we're going to become," Teague reminded them.
Crouch hoped the increased enthusiasm would pay off once the season began.
"It's definitely stepped up a lot, and we're not getting as much rest as we've been used to before," he said.
"Hopefully that'll be replicated in an AFL game."
Meanwhile, youngster Riley Knight was seen at West Lakes in a moonboot and the club confirmed he had injured his ankle earlier this week.
The forward made significant progress in his first season last year and is considered a chance to debut in 2015.
Knight, 19, is waiting on the result of scans to determine the extent of his injury.
Brad Crouch is a $524,000 midfielder in NAB AFL Fantasy. Create and fill your Fantasy Classic league by March 2 to win a free AFL Live pass.