It is not just 'at all expenses' success
Nathan Buckley
THE EXTERNAL perception of what Nathan Buckley is like as a coach is often a long way from the reality, according to the Magpies' mentor.
Two objectives drive him as coach, he told AFL.com.au, and both sit alongside each other in importance.
One is to create an environment at the football club that maximises the opportunities for each player to grow as an individual; the other is to win football games.
"They [players] have got to walk out the door better than they did when they walked in, with a better experience, with a better understanding of themselves, with tools and a skill set that enables them to make a success with whatever the rest of their life is," Buckley said.
In his view, getting that aspect of a club right is fundamental to long-term success on the field.
"It is not just 'at all expenses' success," he said.
Buckley said he was looking forward to working alongside new football manager Neil Balme – who history suggests shares a similar view – after the latter returned to the club from Geelong.
He expects to benefit from Balme's feedback because he was, like anyone, looking to improve his performance each year.
"I can be better. I want to improve every day, role-modelling that [ethos], maintaining your curiosity, testing what you believe has to be the norms and the mores," Buckley said. "But it is not just what I do. It is the environment that you allow and provide for."
Pies opt for streamlined leadership group
Collingwood has slipped down the ladder during Buckley's three years as coach finishing fourth in 2012, eighth in 2013 and 11th last year.
The Magpies sat sixth after round 15 last season before enduring a horror run of form and injuries to lose six of their final eight games and miss finals for the first time in eight years.
In the meantime, they re-positioned the list by recruiting highly rated young talent and either moving on or losing several premiership stars.
In the most recent trade period they lost Dayne Beams to the Brisbane Lions and traded Heritier Lumumba to Melbourne.
They then recruited Levi Greenwood from North Melbourne, Travis Varcoe from Geelong, Jack Crisp from the Lions and had two top-10 draft picks for the second season in succession.
Buckley's role in the change has been heavily scrutinised, a situation he spends little time worrying about.
"I'm sure there are still some Collingwood fans out there and clearly elements of the media that are consumed by what was at Collingwood," Buckley said.
"We can't be focused on that and we're not. We're focused on what is and what can be."
Mark Williams honoured by Collingwood
What they can be in the short term is less well known than what they plan to become in the long term.
It makes predicting the Magpies' performance in 2015 tough.
"We'd be one of the hardest teams to get a handle on," Buckley said.
But with everyone at the club clear about the strategy being undertaken and the objectives being set each year he believes the club has built a strong foundation to develop a new era.
"We're in a unique position. We have got a lot of youth that have been exposed – 35 blokes that have played at the level but we have got a dozen premiership players that have been there, done that and [who] know what it feels like to get there," Buckley said.
"A lot of the young lists that are out there at the moment don't have that level of experience so we think that is something we can take advantage of."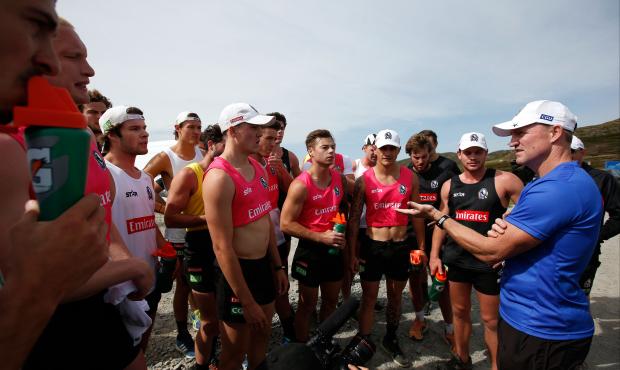 Buckley addresses his players at the Pies' training camp at Falls Creek. Picture: AFL Media
The Magpies have four top-10 picks – Darcy Moore, Matt Scharenberg, Nathan Freeman and Jordan De Goey – who are yet to play senior football.
Scharenberg is progressing well after a knee reconstruction and the other three have had solid preparations for 2015.
The club is also hopeful Paul Seedsman, Tim Broomhead and Alex Fasolo can take the next step towards becoming reliable, quality players.
They are also conscious that young ruckmen Jarrod Witts and Brodie Grundy are being given responsibility ahead of time but they expect that to be of benefit to the club in the long-term.
Collingwood has just nine players who have played 100-plus games but more than its fair share of players – seven – who have played between 25 and 50 games.
"We do believe we will be better year on year over the next four or five [years] but that is not to cap our expectation on this year as well," Buckley said.
He said the group was preparing to take what he described as a "squad mentality" into 2015, with players easily able to step in and out of roles without the team's performance being negatively affected.
"We want to look like a team that plays like a unit regardless of personnel and we believe that is the template for successful teams going forward."
Not only known as having a sharp sense of humour, Buckley possesses what one Magpie premiership player – who enjoys playing under Buckley – described as the best handwriting he has ever seen a coach have.
Such a trait might have helped him as he spelt out the club's plan for the future.
But Buckley knows it's only by coaching and developing a squad capable of challenging again sooner rather than later that will answer for some the question as to what he is like as a coach.
Right now he just keeps performing his role.
"We will either be vindicated with performance or we won't and ultimately that is what we will be judged on."