There are people you become aware of who will never be positive about you
Chelsea Roffey
CHELSEA Roffey is the most high-profile umpire in football. This is both by default and design.
By default because she is a woman who excels in a physically demanding and mentally exacting role, in which the consequences of a slip-up can be huge.
And by design because she is smart, urbane and always up for a chat. As a trained musician and practising journalist living in a chic inner-Melbourne suburb, she's part hipster, part footy chick.
She does the footy part exceedingly well. She has taken part in 167 games since her debut at a Brisbane Lions-West Coast clash in 2004 and her CV includes the 2012 Grand Final.
She thinks deeply about the game, the craft of goal umpiring, her part in the game and the role of women in the game.
Madam president
Footy's first lady
The coach
And she's an agent for change. For a long time, the five-kilometre time trial was a key part of the pre-season regimen for the AFL goal umpires. But running a slashing time trial was at odds with the aim of making goal umpiring, and by extension, all aspects of umpiring more inclusive, so Roffey's success sparked a change of thinking at the AFL.
Instead of five kilometres, the time trial has been pared back to three and the emphasis is on reaching an acceptable benchmark depending on the athlete rather than smashing personal bests.
"We may have eliminated some women because it was too hard to meet the requirements," admits AFL umpires manager Wayne Campbell. "There were restricting physical factors but we have wiped those. Now there are individual times they need to meet rather than set times."
Roffey believes the understanding from head office that women have a different physiological make up indicated progress.
"I reflect on that a lot," she told AFL.com.au. "If someone is lagging behind – for whatever reason - and speed's not that important when you're running a few kilometres, it sends a message that you're not up to scratch when perhaps you are up to scratch.
"If we are going to encourage women into these roles we need to be clear about the requirement of the role. It can't be about fitness because women have a different physiological make up. It's less relevant what you run around a running track," she said.
But she believes the AFL could do more. "It leads the way in talking the talk," she continued, "but real change requires action on a daily level, where we're doing things differently and trying new things."
Roffey cites research from the Harvard Business School, indicating it is only when minorities comprise between 25 and 40 per cent of a group that their opinions have credibility and shape the group.
"I'd back that up based on my experiences. I think more change and faster, will provide a truer indication of what women bring to football. But in terms of making an impact you have to have more than one or two in each position."
Roffey's story has been told before. Her family is from South Australia, but moved to Brisbane. She took up goal umpiring while still at school to earn some pocket money but it was clear she had some promise. She followed in the footsteps of the trailblazing Katrina Pressley and since moving to Melbourne in 2008 has become one of the very best at her craft.
"It's no longer that she's a female," noted Campbell. "She's a bloody good umpire and she's fantastic for umpiring because she's different. She's very good at what she does and she's articulate, so she has a high profile."
Roffey understands that she will be under the microscope for as long as she waves the flags. The only time it doesn't sit so well is when her work is highlighted over that of her colleagues. "Umpiring is a team sport. We're out there as a team and it does feel uncomfortable sometimes being promoted in a different light," she says.
But she also understands that she has to be front and centre if umpiring, and the game as a whole, is fair dinkum about becoming more inclusive. As a working journalist she understands the need for compelling content and that as a rarity in the game, she helps provide it.
Goal umpires Rose O'Dea and Chelsea Roffey. Picture: AFL Media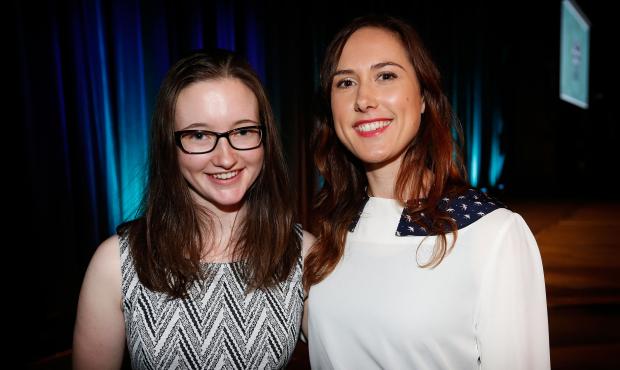 She held initial fears that hers was a token appointment, although being selected for finals and then the Grand Final put those fears to bed. But when it takes until last year for another woman, Rose O'Dea to earn a senior game, it requires some resolve to soldier on.
"I know I can do the job. The stakes are too high. But there are people who say things regardless, no matter how good a job you do, how hard you work and how many decisions you get right, there are people you become aware of who will never be positive about you."
Roffey's family is still based outside Victoria, which has complications of its own. "I have good friends who live in Melbourne but in terms of family and a lifelong support network, they're not here, so I'll get on the phone and chat to friends.
"But having said that, the umpiring fraternity is is very positive and supporting. There are times through when you need to get out of the bubble," she says.
She did just that during the last off-season. Roffey received a Winston Churchill Fellowship, which allows Australians to conduct research in their chosen field that is not readily available in Australia.
Shortly after the end of last season, Roffey embarked on an 11-week journey through Canada, the United States, Sweden, the United Kingdom and India looking at issues such as leadership, equality, engagement, communication and storytelling.
"I have a genuine interest to look more into Australia's culture when it comes to equality," she said.
It was a fabulous trip, although it meant her pre-season training campaign started with a series of pre-Christmas runs through the wintry streets of Stockholm where it was dark by 3pm.
"But the change of scenery keeps you fresh and you come back with a new perspective into who we are. I'm looking at the next step in that area - either mentoring girls one-on-one or being a spokesperson," she said.
She already does a bit in that area and spends some time at the umpires' training base at Visy Park working as an ambassador for the AFL's women's umpiring pathway program.
"It's not a ridiculous amount, but we encourage her to promote umpiring and the diversity of umpiring, so anything we can do to accommodate that we do," said Campbell. "But the exception is her training. Nothing gets in the way of that."
And it can't. The umpires portray themselves as a team, but competition between them remains intense. Roffey has been thereabouts for Grand Final section the last four years but has officiated in the Grand Final just that one time.
She's in her early 30s and at the peak of her career, but she notes with interest how young and fit are the new goal umpires coming into the game. She's scaled back to part-time writing work to better accommodate her training and ambassador work and to allow herself to have some time to, and for, herself.
Her goals for this year and beyond aren't based on results. "It would be nice to get a final, but I personally want a year where I perform consistently and don't get anything wrong. I don't want it deducted from my weekly assessment because I have muffled my words, not communicated effectively or moved off my line when it's a touchable ball. That's the big no-no."
She has been around the caper long enough to understand how technology has changed the way the goal umpires go about their work. On the one hand, she says they have to "park their egos" to the side and respect that video goal reviews help the game.
"But it also adds another element to what we do. You have to play the game a certain way now because our coaches expect us to refer to the review any decision that seems really close," she said.
"Nailing a really close decision - which feels really good - that's gone now. In a sense, that ability to be instinctive has been taken away a bit and overcoming instinct can be really difficult.
"As long as the technology is used the right way, then it is good, but you can look at something 10 different ways and still be unsure as to the correct decision. No decision is foolproof."
If you are interested in umpiring, click here