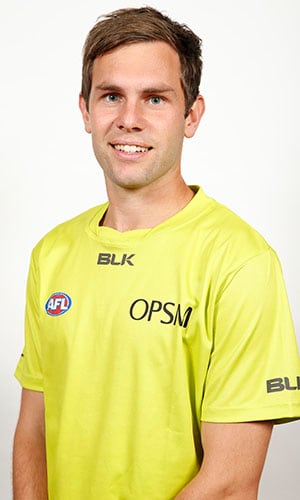 My job is to call it as I see it, and his job is to call it as he sees it
Terry Wallace on his son Brent
BRENT Wallace used to follow the ball when he was a player, but as an umpire he has to make sure he keeps well clear of its path.
That has been the toughest transition for Wallace, a promising junior footballer out of the Northern Knights in the TAC Cup and with Box Hill in the VFL.
Wallace has seen the infamous incident when umpire Peter Carey marked the ball in the Fremantle-St Kilda clash at Subiaco Oval back in 1999 on numerous occasions, and hopes he doesn't find himself in a similar situation.
Umpires' coaches join the AFLCA
"I haven't got in the way as yet. Touch wood it stays that way," Wallace told AFL.com.au.
"Hopefully the ball doesn't come spearing towards my chest."
Wallace, 23, the son of former Western Bulldogs and Richmond coach Terry Wallace, was elevated to the senior umpiring panel at the start of the 2015 season.
He had watched former Essendon and Carlton player Jordan Bannister make a smooth transition to umpiring and thought he would give it a go.
Wallace was hampered by injuries toward the end of his playing career and, after consulting father Terry, decided to go down a new path.
Since joining the umpiring pathway in 2012, he has made some solid progress and was given the chance to officiate in the Geelong-Gold Coast NAB Challenge clash in Townsville on March 1.
Unfortunately, Wallace nicked a calf late in that game and missed the rest of the pre-season competition, but having recovered, is only four or so weeks away from making his senior umpiring debut.
And Terry could not be prouder, although that won't stop him critiquing Brent's performance in typical fatherly fashion.
"When I'm sitting there watching, I'm thinking 'Did he miss that one (decision)? Was it a free kick? Wasn't a free kick?'" he said.
"A few times I've mentioned to him things like 'At the five minute mark of the second quarter you made an interesting decision' – that's what fathers do."
There is also a strong likelihood that Terry Wallace, who does special comments for Melbourne radio station SEN, will have to call the matches his son umpires in.
"As soon as there's a 50/50 decision, the other commentators are going to be turning to me and asking 'What's your call?' Terry said.
"That will be an entertaining part of it because my job is to call it as I see it, and his job is to call it as he sees it.
"There's going to be times where we don't agree."