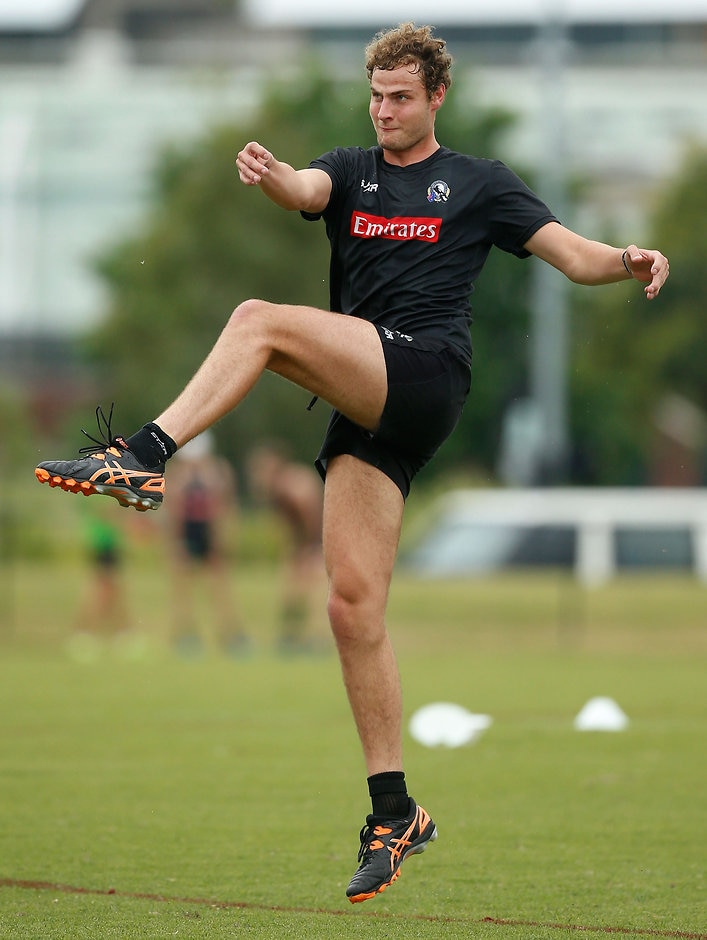 You'd be silly to think that wasn't getting to a player and I wanted to ... explain where I was coming from
Jarrod Witts
JARROD Witts left Collingwood's football powerbrokers in no doubt about his desire to remain at the club when his name was raised in trade rumours.
The ruckman's future was the subject of speculation when Carlton big man Matthew Kreuzer was linked with a move to the Magpies.
There was also conjecture Witts could have been part of potential deals to secure Greater Western Sydney's Adam Treloar or the Brisbane Lions' James Aish.
But the 23-year-old, who has aspirations to be the Magpies' No.1 ruckman again, said he made sure he set the record straight with coach Nathan Buckley and football manager Neil Balme.
"Bucks, Balmey and I had a meeting when there was speculation when Kreuzer was going to come to Collingwood," Witts told the club's website.
"And I said that, 'I'm still a contracted player at Collingwood and I still believe I've got a lot to offer this club and I want to stay at the club and I love the club and what it's done for me.'
"(I told them) 'I've still got something to prove.'"
GALLERY: Pies pack a pre-season punch
Witts, who has played 38 games since making his debut for Collingwood in 2013, said the trade talk had started to affect him so he decided it was best to seek reassurance from two of the club's main men.
"I just wanted to get everything out there and explain to them (Buckley and Balme) where I was coming from because it was getting to me a little bit," he said.
"You'd be silly to think that wasn't getting to a player and I wanted to put my foot in the ground and explain where I was coming from."
The big man played 11 games in 2015, but he lost his place in the team when the Magpies opted to go with Brodie Grundy as first-choice ruckman, with Jesse White often employed as his back-up.
Witts, who played 20 games as the team's primary ruckman in 2014, has not had any pre-season setbacks leading into 2016, as opposed to last summer when he was fighting his way back from shoulder surgery.
"I'm more determined than ever to turn it around again and build on the season I had before last," Witts said.
"I'd like to do that again and be a top player in the team throughout."