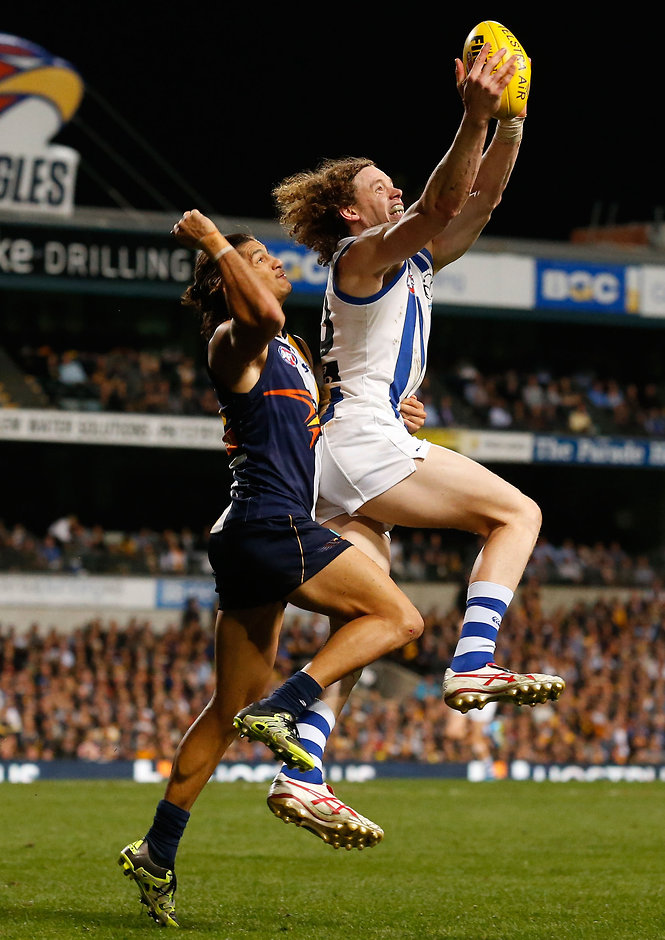 Last year, I suppose when it got towards the end of quarters I was getting tired before the other guys
Ben Brown
BEN Brown still doesn't know what happened to his usually sticky hands in last season's finals.
After averaging 4.9 marks a game in the 2015 home and away season, Brown took just six in North Melbourne's three finals, only two of them contested and only three inside forward 50.
Despite kicking two goals in the Roos' elimination final win over Richmond, the key forward did not take a single mark.
But it was some near misses in North's next two finals that most disappointed Brown.
In a low-scoring semi-final against the Sydney Swans, Brown dropped two overhead marks that would have earned him set shots at goal from about 40m. First, he made a meal of a Taylor Garner pass early in the second quarter, then late in the same term he couldn't quite hang on to a long bomb from Jarrad Waite.
Neither chance was a 'gimme' – Brown was at close to full stretch for both – but the big Roo had separation on his opponent each time and would have backed himself to take both.
But it was another missed mark a week later against West Coast that proved most costly for Brown and North.
It came in the dying seconds of the second quarter as North clung to a five-point lead, the Eagles having nearly erased the Roos' 20-point quarter-time lead with a three-goal-to-one run.
Drew Petrie had the ball in the centre of the ground, 80m out from North's goal. As he looked for forward-50 options, Brown cleverly broke clear of opponent Will Schofield and led into open space.
Petrie's pass was good and Brown hit the ball well clear of Schofield. But as he reached for it at fell stretch, his hands let him down again.
If the Tasmanian had taken the mark, he would have had a set shot from 40m to give North an 11-point half-time lead.
When Brown spoke to AFL.com.au shortly before Christmas, he was still ruing that missed opportunity.
"The most disappointing thing was that we missed out on making a Grand Final and winning a premiership and I thought we were a really good chance to do that," Brown said.
"We all backed ourselves in and we had a good lead against West Coast in the prelim and unfortunately we gave that up."
Brown is still at a loss as to why his marking deserted him in the finals, but is determined to ensure it never fails him that way again.
"I don't really know what it was necessarily, but I think it's just something that I need to keep improving on and it's just (a case of) doing it over and over and over again until I take that mark every day of the week," he says.
"That's something I've got to do over pre-season. I've already started working on it and I'll do that post-Christmas as well, really working on marking and my contested marking.
"I'll back myself in to take those marks every day – that's what I pride myself on – so to not follow through with it was disappointing.
"But next year I'll keep on working on my craft and it's just something that I think will get better with repetition and working with the experienced guys in the side to make sure I'm learning off them as much as I can."
The disappointment of his finals campaign aside, Brown was deservedly content with his 2015 season, his second in the AFL.
Although knee surgery severely limited his pre-season, the 200cm Brown played 22 games last season and established himself as a key member of North's attack alongside fellow tall forwards Drew Petrie and Jarrad Waite.
His 32-goal season also saw him win North's best young player award at the club's best and fairest count in October.
The 23-year-old, however, is looking forward, so is more encouraged by the fact he is on track to complete his first pre-season since joining North at pick No.47 in the 2013 national draft.
"Anything I do in this pre-season is going to be a positive compared to the last two years because I haven't really done a pre-season before this summer," Brown says.
"Being able to get out on the track and get a bit of extra work in has been fantastic and I'm especially looking forward to getting into the training post-Christmas.
"Last year, I suppose when it got towards the end of quarters I was getting tired before the other guys, so hopefully doing a bit of extra pre-season this year will help just spur me along in 2016."
Brown considers himself "pretty lucky" to be playing alongside veterans Petrie and Waite, saying they have taught him the value of professionalism.
"I know now that I've got to push every training session, every game, to get the most out of myself and improve," he says.
But Brown won't be following Petrie's lead on one front this summer.
The 33-year-old Roos vice-captain was almost 5kg lighter than his 2015 playing weight when he reported for the start of pre-season training, keen to slim down to cope with the ever-increasing running demands on key forwards.
However, at 23, Brown is taking the opposite approach this summer.
"I haven't quite got the gym base behind me that Drew does, so I've just been trying to put on a little bit of weight and add a bit of strength," he says.
"I think that was what I was lacking last year.
"Endurance and running have never really been my issue, so if I can try and put on a little bit of weight and improve my strength in the gym over the summer that will hold me in good stead for next season."