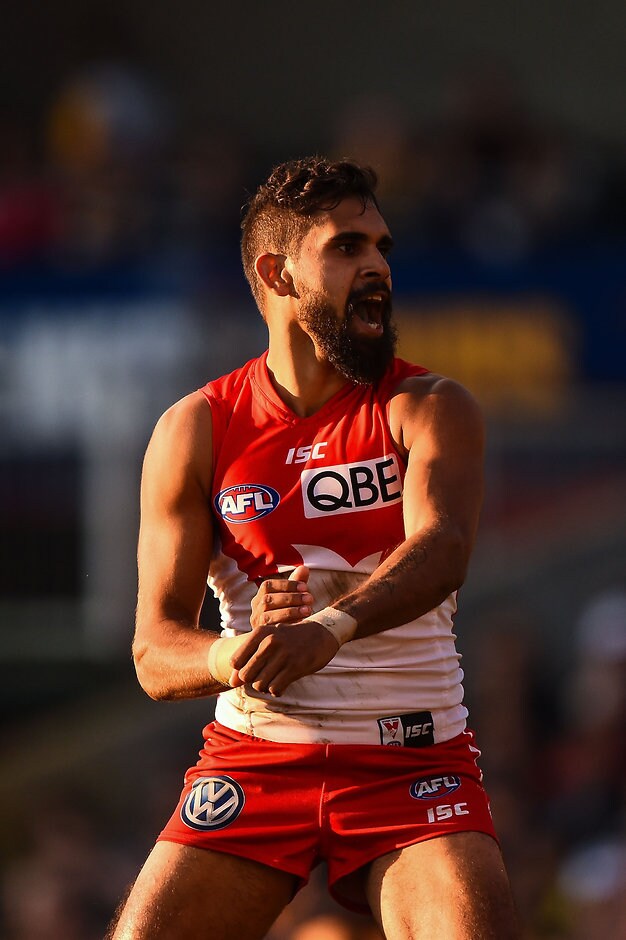 It's going to take a little while, but I think most people will move on
Lewis Jetta
LEWIS Jetta hopes West Coast fans understand why he performed an indigenous war dance at an Eagles home match last season and embrace him as one of their own following his trade from the Sydney Swans.
Jetta stunned the Domain Stadium crowd when he celebrated a goal with a war cry in round 17 as a show of support for teammate Adam Goodes, amid the polarising booing controversy that had engulfed the now-retired Swans champion.
Speaking to The West Australian newspaper, Jetta said he had grown frustrated at Goodes' treatment and wanted to make a stand about the issue.
War cry was Jetta's call for respect

"Nothing was happening and up close I could see with Goodesy, some days he was fighting and just putting on a brave face," Jetta said.
"All the other clubs had been doing it in the previous games and I just got sick of it.
"There were racist people and then there were others who didn't know what they were booing for. Then you could see kids copying what their parents were doing and it was like a domino effect.
"I was thinking about it for a while and I had to make a stand. It triggered and sparked a whole conversation."
Just two months later, once the Swans' season had ended, Jetta toured the Eagles' facilities and he was granted his wish to return to WA in a straight swap for ruckman Callum Sinclair.
Jetta, 26, said the controversy about his war dance never affected his plans to return home and play for West Coast, the club he supported growing up, and he hopes for a warm reception from Eagles supporters next season.
"It's going to be interesting, but that's footy fans," he said.
"Like Goodesy said, we've just got to keep educating people and just teach them wrong from right. It's going to take a little while, but I think most people will move on.
"I think once you change clubs, the fans pretty much jump in and back you ... well, that's what I'm hoping."
Jetta said the pull of family back in WA was too strong to ignore after six seasons at the Swans, which included the 2012 premiership among his 127 games.
The speedster is looking forward to watching his children Lewis Jr and Daisy grow up closer to their relatives in his hometown of Bunbury.
"To play footy for a living is amazing to start with, but to be able to do it back home now is even better," Jetta said.