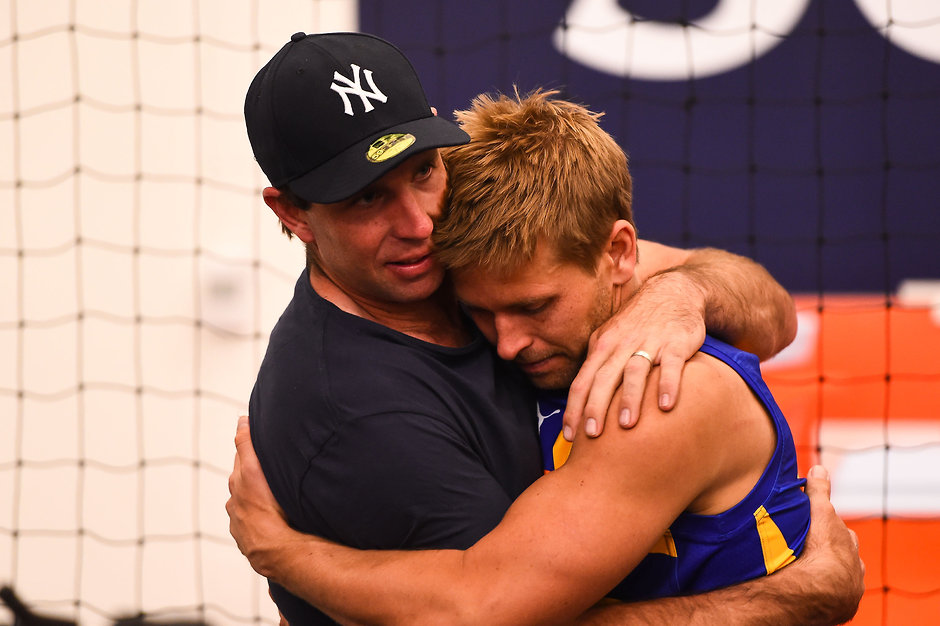 That's the best thing about having a kid, they cheer you up so much when you win or when you lose
Mark LeCras
WEST Coast's players find themselves in a strange situation as the 2016 NAB Challenge nears.
Determined to correct the errors made in last year's Grand Final loss to Hawthorn, they also know that if they focus too heavily on redemption they'll miss their chance to wipe that game from the memory banks.
Instead, star forward Mark LeCras insists his teammates have to find the discipline to concentrate on day-to-day training.
The Eagles surprised the football world in 2015, battling substantial injuries to key players, to win through to the season decider.
Smart tactics, the form of the midfield group and the inspired brilliance of Josh Kennedy to boot 80 goals and claim the Coleman Medal while carrying an injured elbow, highlighted a successful campaign.
Ultimately though, LeCras saw season 2015 as an opportunity missed, and he urged the Eagles to narrow their focus.
"It felt like [the Grand Final] went very quickly and we let a huge opportunity slip," he told The West Australian.
"You come out of your year having made a Grand Final and all you want to do is atone for what you did on that day.
"But it's so far away that you can't afford to think about it. You have to get back to training and focus on what you're doing that (particular) day.
"It's alright to dream, but you can't take your focus off what you've actually got to do."
LeCras was left "devastated" by his side's 46-point loss to the Hawks, but told of the joy he found when daughter Molly tried to make him smile in the change rooms.
Less than a month after the Grand Final, the 29-year-old and wife Emily welcomed a second child – a son this time, Rex.
"That's the best thing about having a kid, they cheer you up so much when you win or when you lose," he said.
"You can get away from it when you see your kid and they're just fun to be around.
"It's quite easy to switch off and they're always keen to play and go and do something else. You don't feel like you have to get out of the city to switch off from footy, you can just go home."