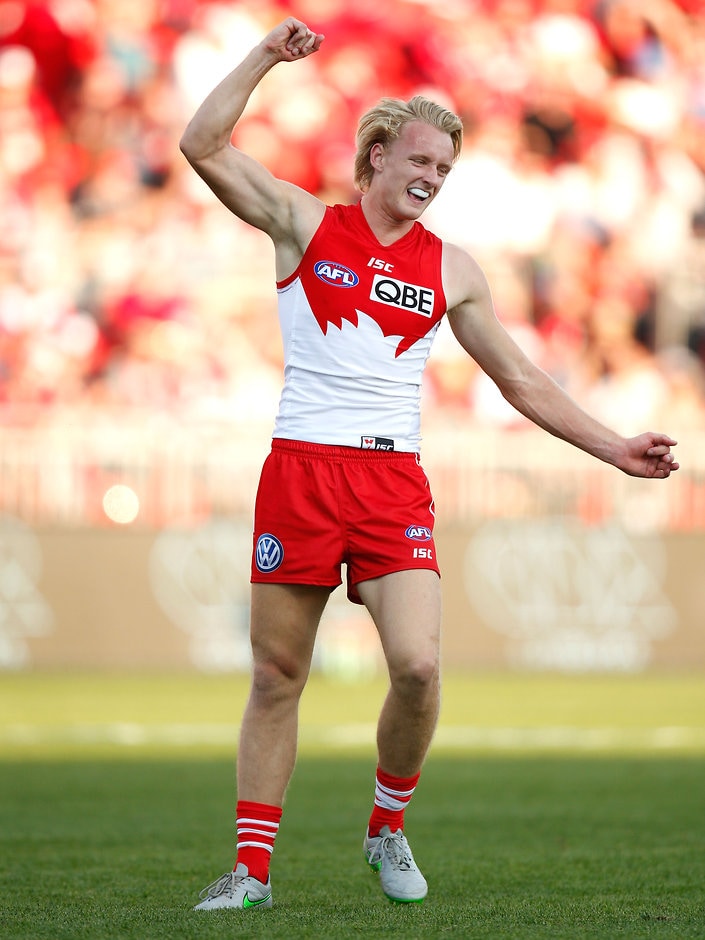 NEWLY re-signed Sydney Swans forward James Rose says assistant coach Brett Kirk has left him under no illusions about where the youngster needs to improve to nail down a senior spot.
Rose, who played two games in his debut season last year, has put pen to paper on a two-year contract extension which will tie him to the Swans until at least the end of 2018.
Speaking to the club's website, Rose said new forward coach Kirk – who worked under Ross Lyon at Fremantle for the past three seasons - is demanding the emerging youngster lift his defensive work-rate.
"We've got a few new structures coming in with Brett Kirk coming back, which is good for us forwards," Rose said.
"I'm just really getting to know the new structures and where my role sits.
"Defensive pressure is something I need to work on, with that comes an increased fitness level, so hopefully I can knock those off before round one."
Rose, the 37th pick in the 2014 draft, immediately turned heads last season when he bagged three goals in a matter of minutes after coming on as the substitute in his debut match against crosstown rivals GWS in round 22.
Despite his sudden impact, the 19-year-old was dropped the next week, but fought his way back into the line-up for the semi-final loss to North Melbourne.
The South Australian native has enjoyed a solid pre-season to date, and is keen to cement his spot in the team in 2016 after committing to stay in Sydney.
"Let's hope. At the moment, my focus is pre-season and then we'll just take it game-by-game and step-by-step," Rose said.
"It was an easy decision to make (to re-sign).
"The Swans have shown an enormous amount of faith in me, now it's my turn to repay them."