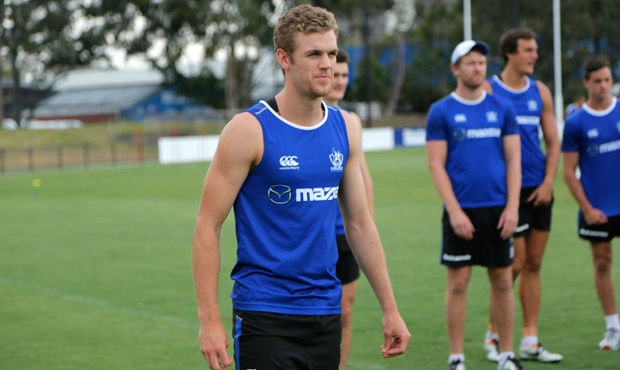 It was just a simple tackling drill. Nothing out of the ordinary
Ed Vickers-Willis
LUCKLESS North Melbourne defender Ed Vickers-Willis is eyeing a return at the start of the season after undergoing his second shoulder reconstruction in as many years.
The 19-year-old suffered another major setback last month when he hurt his 'good' right shoulder during a tackling drill in Utah.
It followed a reconstruction on his left shoulder last June, which derailed his debut season at the Kangaroos before he played a senior game.
But as he undergoes another lonely rehabilitation at Arden Street, Vickers-Willis is staying positive with a view to playing close to a full season in 2016.
"I had surgery about four weeks ago. I'm just on the recovery trail. I'm doing a lot of strengthening work and slowly getting that range back so I can then get back to training in a few months," he told NMFC.com.au.
"It was just a simple tackling drill (when I hurt my shoulder). Nothing out of the ordinary. I reached out to tackle (Taylor Garner) and felt my right shoulder move.
"I knew straight away that something wasn't right.
"Bang on four months from surgery is when the season starts, so hopefully I won't miss too many games."
The Roos' medical staff are taking a cautious approach with the 190cm backman, who will remain in a sling for two more weeks before aiming to return to full training by the start of the season ahead of a likely VFL comeback.
"Being around a lot of boys – a lot of testosterone going around at the club – they tend to get a bit aggressive, so you don't want anyone to knock me or inflame the shoulder that way," Vickers-Willis said.
"It's just being really cautious, at home now I'm out of the sling moving it around, so it's going well.
"It's been a long time, but I know that come April I'll be ready to go full training with the boys and playing with the boys, wherever that may be."
Vickers-Willis' latest injury continues a tough run of luck for the Roos' 2014 draftees, none of whom played a senior game in their debut year.
North's first pick Sam Durdin also needed a shoulder reconstruction last June, while Daniel Nielson ruptured his ACL in March.