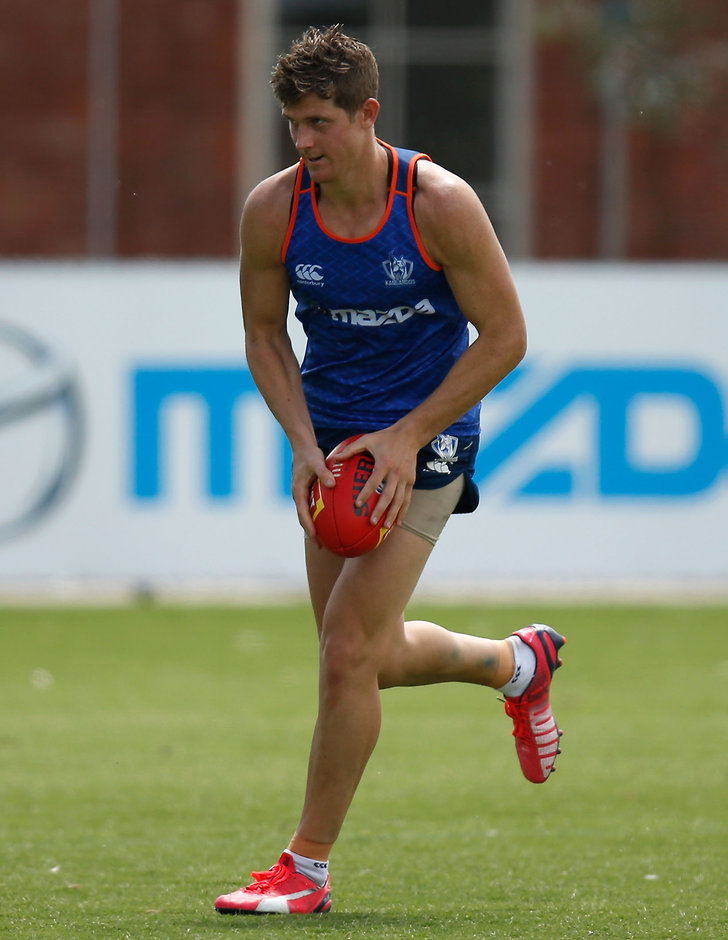 NORTH Melbourne's exhausted players had nowhere to hide as they were forced to chase, tackle and grapple their way through a punishing and ultra-competitive session on Friday.
Aggression was Brad Scott's hallmark during his playing days, but with the senior coach still on leave, it was tackling specialist John Donehue who pushed the Roos to their limits at Arden Street.
Having already been on the track for 90 minutes working on full-ground ball movement drills, the Kangaroos' squad was handed over to Donehue – who has worked with Hawthorn, Carlton, the Brisbane Lions and NRL club Melbourne Storm – for one of his twice-weekly sessions.
Starting with light tackling exercises using padded bags, the hard taskmaster quickly ramped up the session into two-on-one 'keeping-off' drills, ground wrestling and commando rolls without giving the players a break for about an hour.
Donehue prowled between the Roos barking instructions and demanding "aggressive talk" because it leads to "aggressive football", while naming and shaming any perceived passengers not working hard enough.
The willing session claimed only one minor casualty, Kayne Turner, who was accidentally kicked in the ankle by veteran Nick Dal Santo, but the youngster hobbled through the pain and kept going.
Dal Santo, Jarrad Waite, Scott Thompson and Michael Firrito were among the experienced campaigners who completed the entire brutal session, with hard nut Jack Ziebell stepping out as a precaution to protect his right shoulder after surgery in October.
Skipper Andrew Swallow ran laps as he builds his way back from a knee complaint, while Daniel Wells was on light duties as he continues to be managed after two seasons almost wiped out by various leg injuries.
Lachie Hansen applies a strong tackle at training on Friday. Picture: North Melbourne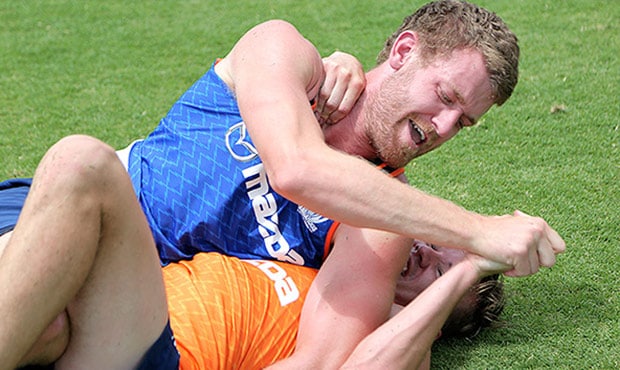 Key forward Drew Petrie and gun ruckman Todd Goldstein had the day off from training, while evergreen 37-year-old Brent Harvey is not yet back on the track yet post the Christmas break.
The Roos are in a significantly stronger position than last pre-season, when many of their key players – particularly big men Petrie, Thompson, Robbie Tarrant and Ben Brown - were racing the clock to be fully fit by the start of the season.
However, yet-to-debut second-year players Ed Vickers-Willis (shoulder) and Daniel Nielson (knee) are among those still working their way back from injury.
Vickers-Willis is aiming for an early-season return after a shoulder reconstruction last month, while Nielson is 10 months into his rehabilitation from a knee reconstruction and ran laps on Friday.