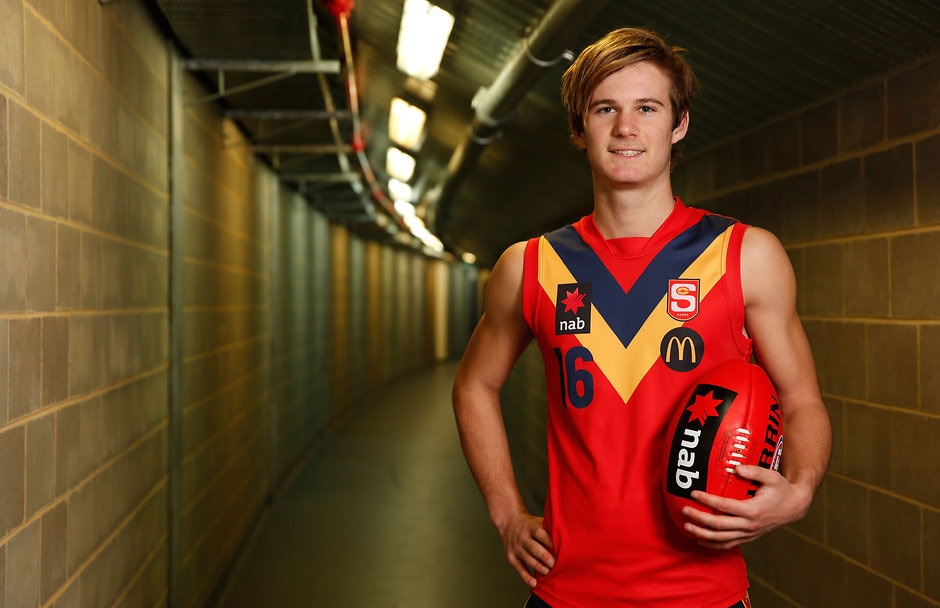 This trip is their opportunity to really push themselves and prepare as best they can for what's going to be a really good year for most of them
NAB AFL Academy coach Brenton Sanderson
THE NAB AFL Academy's training camp in America will help set up the draft class of 2016, which head coach Brenton Sanderson says is shaping as a pool full of quality midfielders.
The Academy will head to the US on Tuesday, flying to Orlando. The group will then travel to Sarasota in Florida, where they will spend eight days on a high-intensity camp at the IMG Academy.
The tour will finish with four days in Santa Monica, and Sanderson said the two-week trip would provide the 33 players a strong opportunity to kick-start their charge towards this year's draft.
"The last draft was dominated early by the key position players but this looks to be a really strong midfield draft," Sanderson told AFL.com.au.
"There will be some good key forwards and defenders again this year, but there's a really strong mix of midfielders in this draft and I'm looking forward to seeing how they develop over the next nine to 10 months.
"This trip is their opportunity to really push themselves and prepare as best they can for what's going to be a really good year for most of them."
West Australian Sam Petrevski-Seton, South Australian Jonty Scharenberg and Victorians Will Brodie, Jy Simpkin and Ben Ainsworth are among the smaller types who have already impressed as classy prospects available to clubs this year.
All are members of the Academy squad travelling to the US, which will take on a challenging high-performance camp at the IMG facility, which is known for its tennis, soccer and golf programs.
"The beauty of this camp is the IMG Academy is a world renowned, world class international facility and the boys will actually be training alongside college players preparing for the NFL draft," Sanderson said.
"From our point of view we're looking to expose our boys to a level of training load that they haven't emotionally or physically experienced before.
"We're also looking to get as much information as we can from them, including fitness testing, nutrition, leadership, resilience and as much data as possible so we can prepare them for the season ahead."
Around half of the AFL clubs will send recruiters on the tour to assess the talent and interact with the prospects, including two interview sessions where each player is allotted a time to speak with every club.
It will be the second consecutive year the Academy has travelled to America and trained and stayed at the IMG grounds for its tour, having previously been on camps in Europe and South Africa.
But this will be Sanderson's first time in America with the group, having been appointed head coach midway through last year's tour.
The former Adelaide coach, who travelled with the majority of this year's squad to New Zealand last year on the level one camp, said the US tour gives the players a chance to establish an early pecking order.
"We talk about pushing ourselves and pushing the players, but it's also a good chance for me from a coach's point of view to get to know these players even more," he said.
"To have these guys full-time and get them for two weeks living in a camp environment gives us a great chance to spend time with them 24/7. We'll definitely learn a lot about the draft class of 2016 over this block."