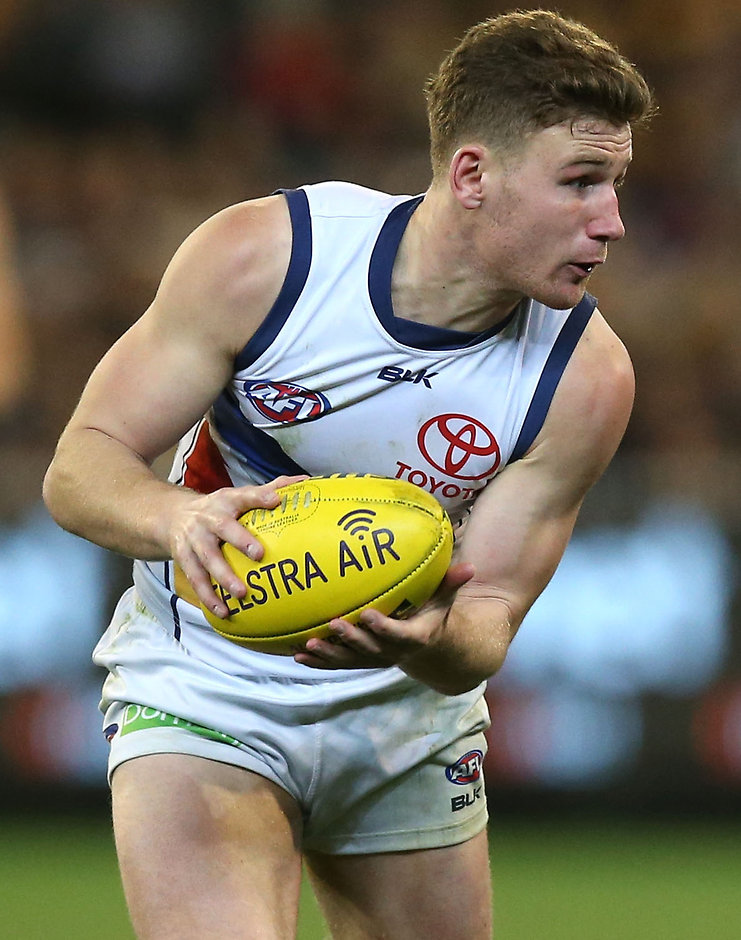 HAVING established himself as one of the game's leading small defenders last year, Adelaide's Rory Laird is intent on not only taking his game to a new level in 2016, but his leadership too.
Lairdm, 22, has always been regarded a brilliant kick and as courageous as they come, with criticism largely focused on his lack of voice on the field.
That started to change last year as he first approached and then passed the 50 senior games mark – the versatile defender was comfortable with his place in the scheme of things, allowing him the confidence to talk up.
He's now so confident as a senior member of the playing group that he would embrace the opportunity to be part of Adelaide's leadership group.
"Of course [a spot in the leadership group would interest me] if that comes about, but I think the leaders we have now are doing a really good job," Laird said.
"I'm trying to improve my skills as a leader in terms of voice and instructional voice out on the ground.
"I think it's definitely improved from where it was in my first two seasons – last year I was a lot more comfortable with the game structures we have in play and actually knowing what I have to do and then being able to help others.
"The more I play the more it will continue to improve."
Laird narrowly missed out on selection in last year's All Australian side, although he was named in AFL.com.au's best under-23 team.
Injuries to Matthew Jaensch and Andy Otten allowed him greater responsibility in Adelaide's defence, although with their return as well as the arrival of running defender Paul Seedsman, competition in the club's back six will quickly heat up.
Laird said he still expected to spend the bulk of his time down back this season but tipped he'd also see minutes in the side's new-look midfield.
Critical to the performance of a midfield group minus superstar Patrick Dangerfield will be the execution of skills – bang for bucks.
Adelaide's skill level has proven an issue for several years and without the match-winning abilities of Dangerfield the club must get maximum value from its possessions this year.
Laird said the improvement of "skill fundamentals" had already proven a focus for the group this pre-season.
"At times I think they (skills) let us down and we've been working on that a fair bit, being total footballers," he said.
"[We're] really working on the basic fundamentals of skills."