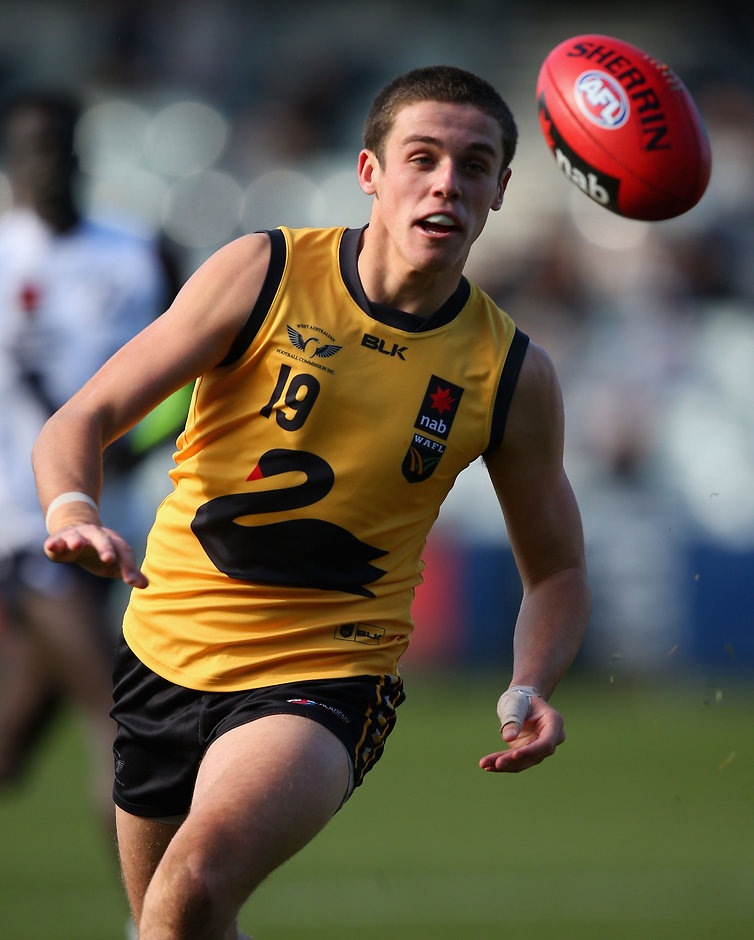 The time at West Coast clicked something in my mind where I thought, yep, this is definitely what I want to do in my life
Jake Waterman
JAKE Waterman doesn't turn 18 for another four months but has grown up around football and is already familiar with the AFL's challenges and triumphs.
His brother was drafted by West Coast in 2014 and his father, a great of the club, won two premierships for the Eagles.
But it wasn't until last month, when Waterman spent two weeks training with the Eagles as part of the NAB AFL Academy's program, that the medium forward worked out just how much he wanted to experience the top level for himself.
"The time at West Coast clicked something in my mind where I thought, 'Yep, this is definitely what I want to do in my life'," Waterman told AFL.com.au at the Academy's training camp in Bradenton, Florida.
"It was a bit of a turning point in my life. I've never learned anything more than what I did in that two-week period at the club and it made me want it more than I had before."
It, is being picked by a club at this year's NAB AFL Draft, a hope that grew throughout the father-son prospect's bottom-age year last season.
Waterman, a 189cm marking option in attack, started his year playing well for Claremont's under-18s side.
His form attracted the attention of the West Australian coaches, and his promise in their state side at the under-18 championships saw him selected in the Academy squad.
Being a member of the 34-player group has led to playing at the MCG on Grand Final day, a trip to America for the high-intensity training camp and the stint at the Eagles.
He says he spent plenty of his time at the club observing the way stars Matt Priddis and Josh Kennedy went about their day-to-day training. "They were at elite levels the whole time," Waterman said.
"I got a bit star struck, but I couldn't be like that for too long because you've got to focus on the next job. I've been watching these guys on the TV and seen them win a Brownlow and Coleman Medal, so it was great to be having a kick-to-kick with them and a chat."
Waterman earned the nickname 'Junior' in his time at the Eagles in December, as the younger brother of midfielder Alec, who joined West Coast as a father-son selection two years ago.
Alec was only at the club for part of Jake's stay, however, as he was given indefinite leave from the Eagles to battle glandular fever.
He had been diagnosed with the illness in May but the Eagles decided to give the accumulating ball-winner an extended break to overcome the problem.
Waterman had been delisted but re-drafted as a rookie in November.
"It was a bit weird for us seeing him there when I was training at the Eagles," Jake said. "Growing up he has always been better than me, and that's always been a good thing for me to try to get to his level.
"He would kick me up the bum and tell me if I was doing something wrong and I really admired that, and he's always been very helpful.
"He's going through a tough time at the moment with his sickness and that just pushes me even further. He's doing everything he can to get back out there and back to playing footy."
Jake Waterman celebrates a goal for Western Australia. Picture: AFL Media

Waterman is one of the leading father-son candidates in the 2016 draft class, with West Coast having priority access to the son of premiership player Chris, who played 177 games for the Eagles between 1988-98.
The Eagles haven't yet discussed the chances of him becoming the third member of his family to play at the club, and he's fine with that.
"I'll play anywhere, but staying home and playing for the Eagles would be a bonus. I just want to play in the AFL," he said.
"The Eagles haven't said much about the year, and that's good. I don't really want to hear anything from anyone until the end of the year because I just want to focus on playing well and having a good year."
He sees this week's training camp at the IMG Academy facilities in Florida as an ideal starting point, and on Thursday morning – two days after arriving in the US – the team was put through a grueling running and conditioning session.
The squad will train at the world-class centre for another week before finishing the tour in Santa Monica, and Waterman said he had come prepared knowing it would be a challenging trip.
"The boys from last year's intake gave me a good insight into what was going to happen, which puts us in a mode where we're ready for it," Waterman said.
"It's a really unique year and I want to hit the ground running and get off to a good start."