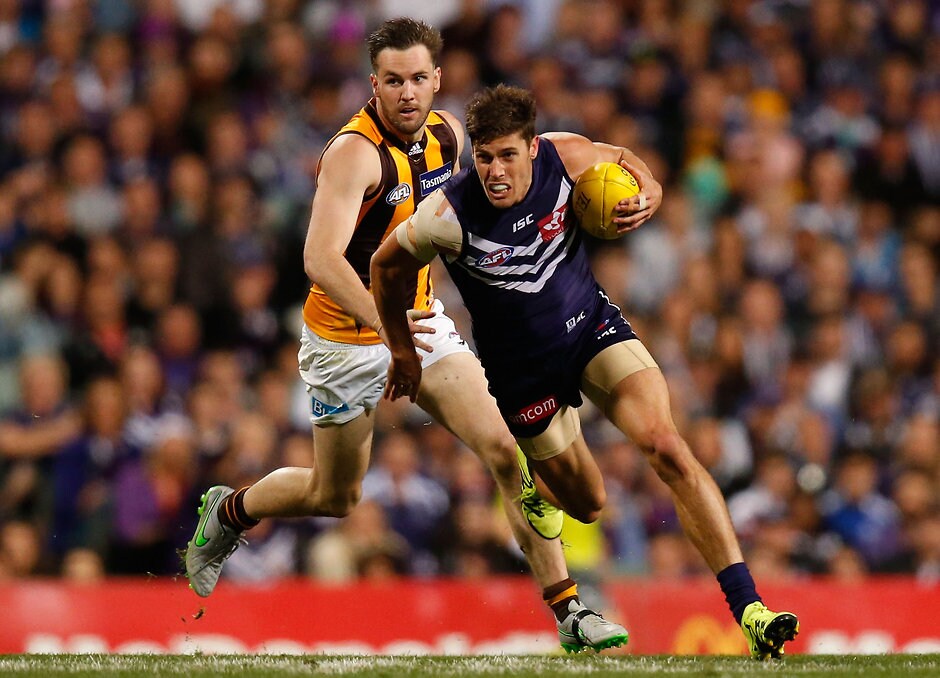 But we're just trying to get the kicks in and making sure that we hit our targets as much as possible
Garrick Ibbotson
FREMANTLE continues to sharpen its skills and ball movement at training as the Dockers look to bridge the gap to three-time reigning premiers Hawthorn in 2016.
The Dockers' main session at Fremantle Oval on Monday had a heavy kicking emphasis.
Defender Garrick Ibbotson said kicking had been the major focus this pre-season following the arrival of new assistant coaches, Hawthorn premiership players Brent Guerra and David Hale.
"With the inclusion of Brent Guerra and David Hale, obviously coming from Hawthorn, probably the best attacking side in the competition for a few years now, we've tried to apply a few things that they've brought with them," Ibbotson said.
"It's a little bit of skill execution with a little bit of a change in the way we're working the ball.
"But we're just trying to get the kicks in and making sure that we hit our targets as much as possible.
"We're learning. We're not trying to tweak too much but just little bits and pieces."
While the main group honed their skills, Fremantle's rehab group has not reduced in size over the last week.
Star midfielders Nat Fyfe and Harley Bennell once again did not appear with the main group, instead joining the rehab group for some running and light skills after the main session had been completed.
Fyfe appeared in good shape running at top speed, as well as pulling a weight sled and doing some agility work.
Ibbotson said the Brownlow medallist was not far away from returning to the main group.
Bennell was not moving as freely as Fyfe. He did some lighter running and practiced his goalkicking for a short period.
Zac Clarke, Alex Pearce, Michael Apeness and new draftee Harley Balic were also doing some work with the rehab group.
Clarke looked in good shape as he continues to work his way back from ongoing knee troubles. He ran smoothly and also did some skill work with Fyfe.
Pearce and Apeness were not moving as fluently as they participated in some low-intensity running. Apeness continues to rehab the knee injury that kept him out of most of last year.
Pearce missed the finals series last season with shin soreness and is working his way back to full fitness.
Balic, the Dockers' second pick (No.38) in last year's NAB AFL draft, had wrist surgery last year and has been kept away from the main sessions for the majority of the pre-season so far. He did some running alongside Fyfe and Clarke.