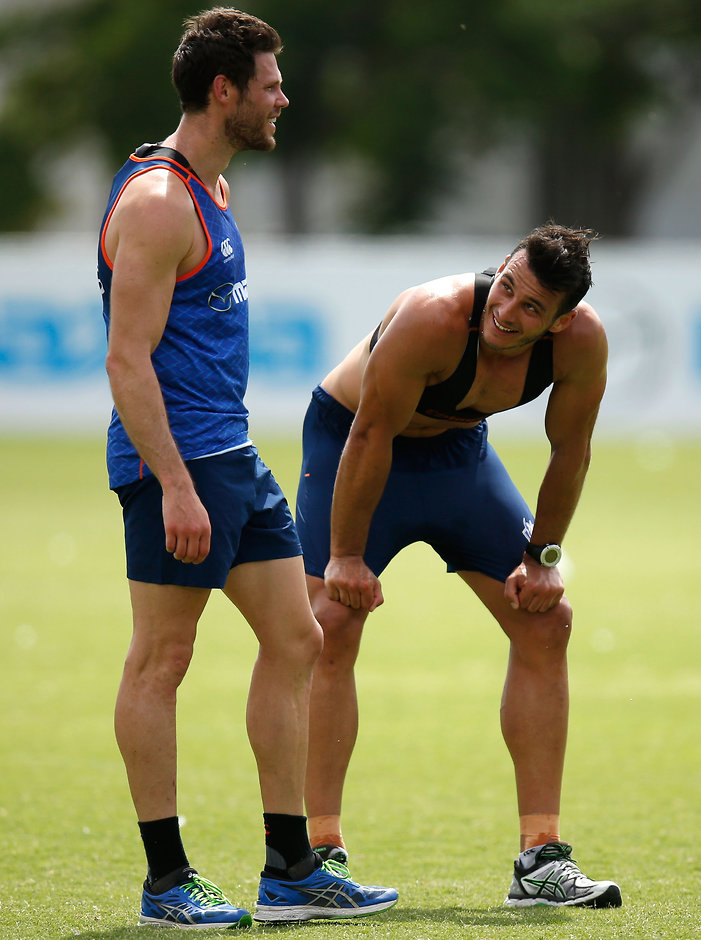 NORTH Melbourne running machine Sam Gibson has shown he's ready to put an injury-interrupted pre-season behind him by reclaiming his time trial crown from Kangaroos youngster Will Fordham.
Gibson had a delayed start to pre-season after ankle surgery and didn't run the pre-Christmas time trial, dominated by Fordham.
But despite Fordham recording a personal best time on Monday, the 19-year-old rookie still couldn't hold off Gibson as he surged ahead on the final bend.
"I must admit, probably (with) a lap to go I thought I was no chance. But funny things happen in these races - you're pretty tired, some blokes blow up, so I just tried to run the quickest time that I could," Gibson told the club's website.
"I've had a pretty interrupted pre-season, so to come back and run an OK time is pretty pleasing."
Fordham said he could hear Gibson coming around the last bend, but the exhausted youngster had nothing left to give.
"He's a good runner, he's a ridiculously good runner," Fordham said.
"I slowly heard him coming, his breathing, and then I hit a bit of a wall.
"I beat my time by three or four seconds I think. I'm just shattered I couldn't get him."
The Roos have drafted some standout athletes in recent seasons, with first-year players Declan Mountford and Mitchell Hibberd also pushing up to be among the club's elite runners.
"Myself and Will and a few of the young fellas – Declan, Mitch and Mase (Mason Wood) – are really competitive, which is really good for the group because we're really pushing each other along," Gibson said.
After a delayed start to pre-season, Gibson, 29, is back in full training as he builds up towards the Roos' first NAB Challenge match against St Kilda in Wangaratta on February 20.
Star ruckman Todd Goldstein also proved he's in good shape to back-up his All Australian efforts from last year by flying home to clinch victory in North's second group of time trial runners.