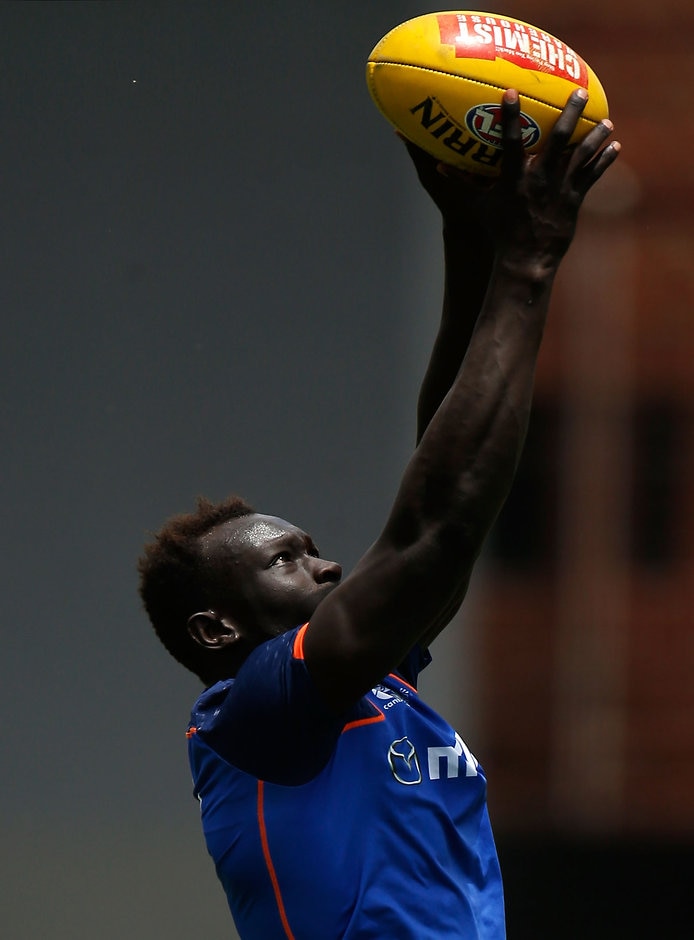 ROOKIE Majak Daw will be available to play senior football from round one this season, with North Melbourne set to elevate the tall to bolster its ruck options.
Daw was delisted by North at the end of last season after playing 16 games in three years on the Roos' senior list, but was subsequently reclaimed by the club in the rookie draft.
And after support ruckman Dan Currie's trade to Gold Coast last October, North coach Brad Scott told AFL.com.au the Roos would name Daw as their nominated rookie ahead of round one, primarily as back-up for 2015 All Australian ruckman Todd Goldstein.
"We'll have Majak Daw as our nominated rookie, so 'Maj' will for all intents and purposes be available to back 'Goldy' up," Scott said.
"We were encouraged by his round 23 performance (against Richmond) when Goldy didn't play and we think Maj will get better again as a back-up ruck."
Beyond ruck pinch-hitters Ben Brown and Drew Petrie, North's only other ruckman is rookie Braydon Preuss, so if Goldstein is injured in 2016, Daw now looms as his likely replacement.
Daw has played most of his AFL games as a key forward, but is training with North's ruck group this pre-season, with Scott saying the Roos now believe he is best suited there, at least for the moment.
Daw managed just two senior games in 2015, a season played under the shadow of an upcoming rape trial late last year.
The ruckman was ultimately acquitted of all three charges.
Scott said the fact Daw's off-field ordeal was finally over could only help his quest to establish himself in North's team in 2016.
"I find it incomprehensible what he's gone through and what he's had to deal with and the brave face that he's put on," Scott said.
"The club's been there to support him, but he can only be better for having cleared this space now.
"Hopefully he can focus fully on footy now and he'll show the improvement that we know is in him."