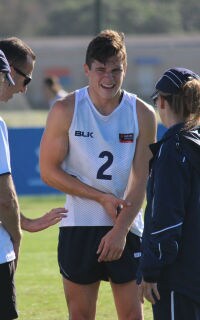 A BROKEN wrist suffered on the NAB AFL Academy's tour of America won't dent draft prospect Ben Ainsworth's hopes of moving into the midfield this season as the Victorian plans to back up his starring campaign last year.
The 17-year-old, touted as one of the most talented players in this year's draft pool and a likely early pick, suffered the small fracture earlier this week when training with the Academy on its high performance camp in Florida.
He has had to sit out training in recent days and will be sidelined from contact drills for around a month, a small hiccup in what looms as an exciting season for the Gippsland Power prospect.
"I got bumped when I was off-guard and landed awkwardly when I went to brace myself and it started hurting," Ainsworth told AFL.com.au at the IMG Academy in Bradenton, Florida.
Jy's American diary: rockets, time-trials and early starts
"I went to get up and tackle again and thought 'No, I can't do this' and found out later on I had broken it. The doc is saying I can't do any physical contact training for four weeks, but after that I can work myself back into it."
Ainsworth has found ways to still be involved in some drills during training despite his left wrist being in a cast, but is disappointed he has been restricted by the injury.
"It's pretty frustrating. We came here for a high performance camp and obviously I can't do that now, so I got a bit down on myself," he said.
"But a few people have said to me it's lucky I've done it now rather than the first or second week of the national championships, so I'm pretty happy with that and it's not too bad of a break."
The wrist fracture is perhaps the only thing to go wrong for Ainsworth in recent times after a brilliant 2015 saw him win under-18 All Australian honours and be a joint winner of the Power's TAC Cup best and fairest.
The 178cm forward showed his power, strength and speed during the national carnival for Vic Country, kicking 15 goals across several classy performances as Country went undefeated through the championships.
His overhead marking and skills near goal make him dangerous around goal, but he has earmarked a move up the ground. Clubs, too, are keen for him to make that progression.
"Everyone's telling me to get my endurance up and try to mould myself into a midfielder. I want to do that and have more of an impact and get the ball a bit more," he said.
"I've played midfield basically all my juniors and at times with Gippsland Power last year, and had a few games then that were some of my best games of the season."
A strong season as a 17-year-old means hopes will rise for Ainsworth this year, something he acknowledges. But he is keen to approach this year like last.
"There is an aspect of higher expectations, and just mentally more than anything I need to get past that and see myself as someone not even in this squad who is trying to work up into the squad," he said.
"For me I just have to work hard until I hopefully get drafted. No matter where I go I just want the opportunity and I'll go from there.
"Last year I had no expectations and just went out and played footy. This year I'm going to try to act the same and play the best I can."