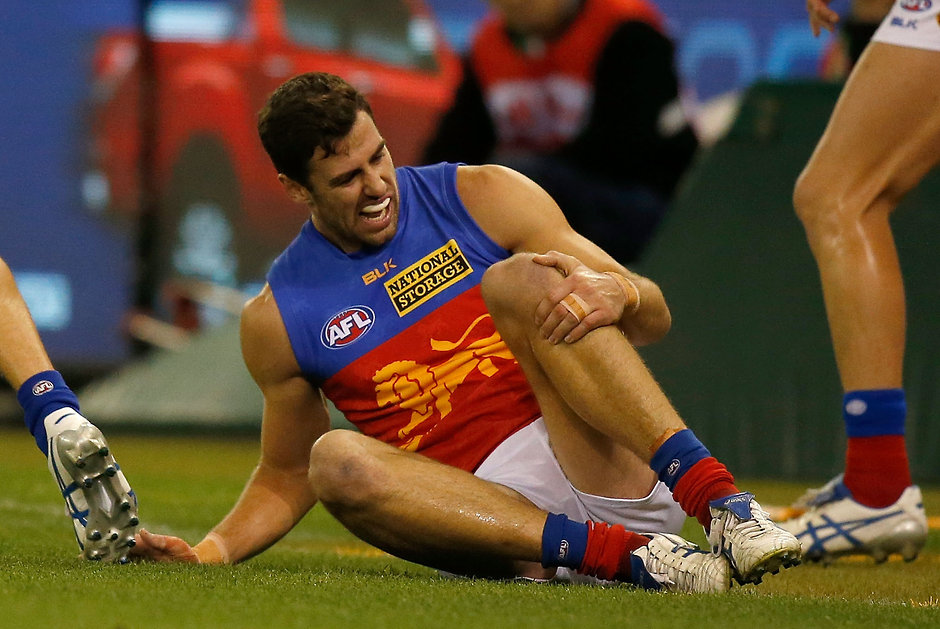 You don't actually know how tough it is until you experience it. Sitting on the sidelines, we're getting beaten and you can't do anything about it
Michael Close
YOUNG Brisbane Lions forward Michael Close has spoken of the difficulty in coming back from an ACL injury, describing it as "the saddest place to be".
The 21-year-old made headlines for the wrong reasons early in 2015, when he ruptured his anterior cruciate ligament after slipping on artificial turf at Etihad Stadium in round two against North Melbourne.
What had started as a season full of promise where Close hoped to nail down a permanent spot in the Lions' forward line, quickly turned to a year down the tubes.
The country Victorian is now almost 10 months into his rehabilitation and ready to jump right in intra-club games in the next fortnight.
"It was tough," Close told AFL.com.au.
"You don't actually know how tough it is until you experience it. Sitting on the sidelines, we're getting beaten and you can't do anything about it.
"It's the saddest place to be in."
One silver lining for Close, but not the Lions, is that he wasn't alone on the sidelines, with long-term injuries to teammates Claye Beams and Jackson Paine giving him company in rehab.
Close has an exceptional work ethic, and despite his 196cm frame is one of the best runners at the club.
"Zero to 12 weeks is hardest, but once you start running you feel like you're making improvements with your body," he said.
"I'm confident in it now, but the physios just need to tick off on some things, like jump-and-land, just to make sure the knee placement is good.
"The thing I'm trying to get used to is the awareness of other players around me in marking contests. That'll come though as I get more time out there in contested situations."
While last year he was one of the first forwards picked, Close will start 2016 jockeying to earn a spot after an influx of tall talent over the off-season.
Geelong recruit Josh Walker and number two draft pick Josh Schache look likely to win selection, while Lions Academy draftee Eric Hipwood (No.14) will also be putting his hand up.
After the year he's had, that doesn't faze Close.
"It's going to be good competing for spots," he said.
"There's going to be two or three spots out there and I've just got to keep working and putting my hand up to play.
"We've got a young list, but we're learning together.
"I feel like we're growing as a group and it gives us a chance with two or three on the park to have a good connection together."