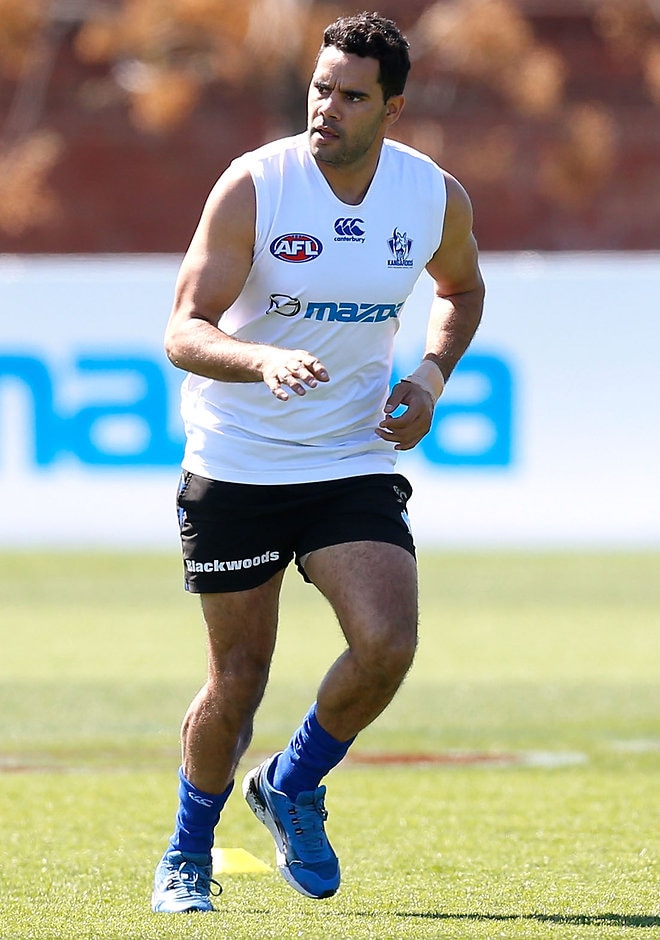 I don't think he's ever lost the hunger (to play). He's been incredibly frustrated with his body not allowing him to do what he knows he can
Brad Scott on Daniel Wells
DANIEL Wells' career could be extended by his wretched recent injury run just as Alastair Lynch's was a decade ago, North Melbourne coach Brad Scott says.
Wells has played just 12 games over the past two seasons, with a Lisfranc foot injury sidelining him for most of 2014 and persistent Achilles problems restricting him to two games last year.
The two-time North best and fairest winner comes out of contract at the end of 2016, with some questioning how much time he has left in the game given he turns 31 next month.
However, Scott told AFL.com.au that Wells might be able to follow in the footsteps of his former Brisbane Lions teammate Lynch.
Injury restricted the three-time premiership spearhead to 13 games in his first year with Brisbane – then known as the Bears – after he crossed from Fitzroy ahead of the 1994 season.
Lynch was then flattened by chronic fatigue syndrome in 1995, missing every game after round one.
But after being carefully managed over the next few seasons, Lynch was able to play until he was 36, finally retiring after the Lions' 2004 Grand Final loss to Port Adelaide.
Scott believes Lynch's health problems in the mid-1990s ultimately helped extend his career, and is hopeful Wells' time on the sidelines will produce a similar silver lining.
"I don't think he's ever lost the hunger (to play). He's been incredibly frustrated with his body not allowing him to do what he knows he can," Scott said.
"But, certainly, physically if he can get the ailments right then the rest of his body is no doubt going to benefit from [his time on the sidelines].
"Go way, way back to Alastair Lynch. The years he lost in the middle of his career he basically got back at the end.
"We'd love that to be the case with 'Wellsy'."
In good news for North fans, Wells has enjoyed an encouraging 2016 pre-season so far.
The midfield star remains on a modified program as part of an understandably cautious build-up to the home and away season, but Scott has been buoyed by his progress.
"The signs so far this pre-season have been really encouraging," he said.
"He's in great physical condition, he's completed a large chunk of the training program to date."
A fit Wells offers North much-needed outside run and class, but the Roos coach won't be burdening him with great expectations this year.
Scott certainly does not expect him to be "the difference" that helps North improve on its 2014 and 2015 preliminary final appearances.
To take the next step in 2016, Scott agrees North probably has to finish in the top four at the end of the home and away season.
In the past two seasons, the Roos were too inconsistent to secure the double chance and Scott concedes they dropped games that the competition's best teams never would.
Interestingly, Scott thinks Wells can help North address that weakness, noting that in the two seasons since Nick Dal Santo crossed to Arden Street the former Saint, Wells and Roos captain Andrew Swallow have played together in just seven of a possible 50 games.
"There's no secret we struggled to cover the losses in our midfield last year and over the last two seasons Dal Santo, Wells and Swallow have all missed half a season to a whole season," Scott said.
"We'd just love to get some continuity with our seasoned, experienced players playing together. I've got no doubt that's the first step to addressing some of the consistency challenges.
"You look at the benchmark in the Hawks. If Luke Hodge, Jordan Lewis, Sam Mitchell and Jarryd Roughead didn't play too many games together, even they'd probably struggle."