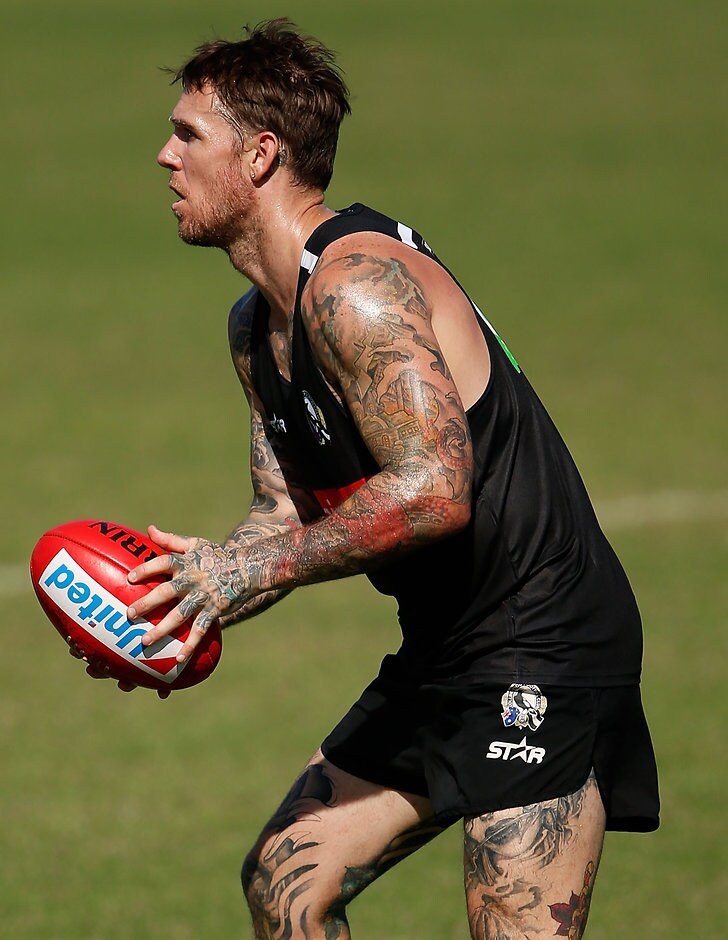 But there's no reason if he played more time forward that, with our improved midfield depth, he can't have 80-100 shots on goal every season
Nathan Buckley
COLLINGWOOD star Dane Swan will spend more time up forward in 2016, coach Nathan Buckley says.
Swan remains one of the Magpies' best clearance players through the midfield, but Buckley said the club needed to have an eye on the future and provide greater opportunities for youngsters such as Taylor Adams, Jordan De Goey, Adam Treloar and James Aish to come in and prosper.
"The fact is the Collingwood midfield in two or three years probably won't have Dane Swan in it," Buckley told AFL.com.au.
"At some stage you'll find we have to contribute to that evolution and allow the next wave to come in."
Swan has predominantly been utilised through the midfield over the majority of his career.
Even as a permanent midfielder, where he has spent between 80 and 85 per cent game time in that position, the five-time All Australian has been a constant threat in front of goal.
Since 2011, there has only been one season (2014) where he has had fewer than 30 shots at goal. He has kicked 32, 25, 21, 11 and 21 goals in each of those seasons.
The move up the field also makes sense for Swan, who will turn 32 in February, as he looks to extend his career beyond the expiration of his contract at the end of this year.
"Swanny's still got every right to see himself as an elite ball winner who can be effective at clearances and play his role in transition," Buckley said.
"But there's no reason if he played more time forward that, with our improved midfield depth, he can't have 80-100 shots on goal every season. We're excited by that potential."
The club's philosophy in regard to recruiting this past off-season will also assist with the midfield transition, with Treloar (22) and Aish (20) set to play significant roles for Collingwood over the next few seasons.
Jeremy Howe, 25, whom the Magpies acquired in a trade with Melbourne, is also a key part of the club's future plans.
Treloar and Aish have had slow introductions in their first pre-season at Collingwood, following groin and finger surgeries respectively, but have already made an impact at the club.
"Adam's an elite midfielder in any way you look at it. He's going to make any team that he goes into better," Buckley said.
"We saw James as someone who is a great decision maker, who looked uncomfortable in his environment over the last 12 months so we didn't read much into that.
"We need to get him settled and we know there's growth in his footy. He's got great composure and awareness and we look forward to seeing where that can go."
Howe has also battled soreness in his right foot this pre-season, but that should not stop him from being available for the start of the season.
"Jeremy played 100 games at Melbourne. He's a sensational athlete and for whatever reason hasn't been able to maximise his talent," Buckley said.
"The challenge for him, and this came up in our discussions, was, 'if you come across you've still got a lot of work to do and how do we get you from where you've been to where you want to be?'"
"The task is still ahead for those three boys but they come into a program that we believe gets the best out of individuals."