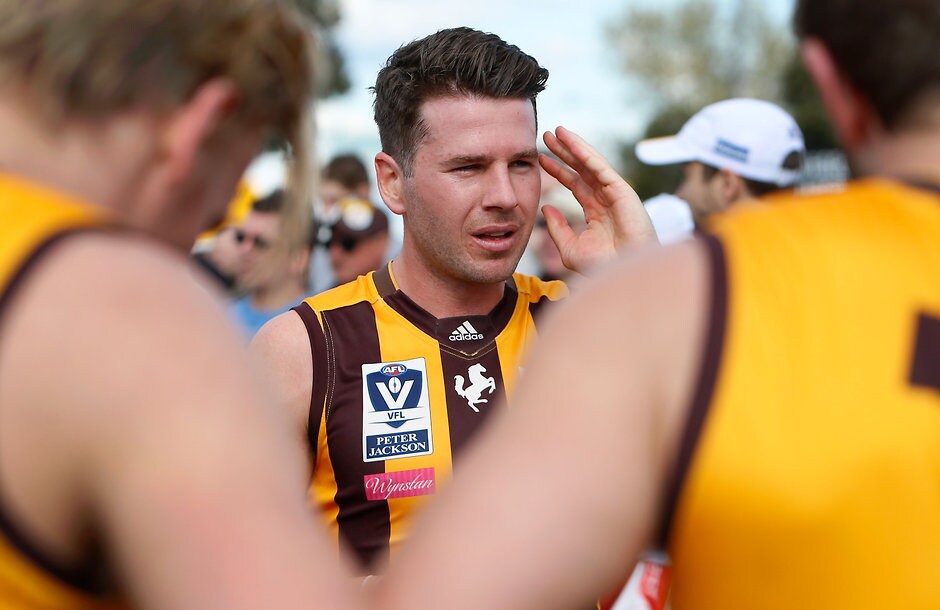 ESSENDON top-up player Jonathan Simpkin believes he can provide the club's young players with an insight into what it takes to persist and play consistent football at the highest level.
Simpkin, 28, was officially confirmed as the Bombers' third signing this week, behind ex-Docker Ryan Crowley and former Cat James Kelly, and said he saw a dual purpose for himself at his fourth AFL club.
Simpkin has played 37 games during his career bouncing from the Sydney Swans, Geelong and Hawthorn but would have likely played more if not for the depth of those squads.
He was, of course, part of Hawthorn's 2013 premiership victory.
"I've been at Hawthorn and Geelong and clubs like that which have been really strong sides and I've been in and out of the side, and being the sub, so I first want to get in there and earn my own spot," Simpkin told Radio Sport National on Friday morning.
"But at the same time I want to help out these young kids (at Essendon). There's a lot of guys there who are aged between 18 and 21 who haven't played much AFL footy.
"Although I haven't played a heap of games I've been around good clubs and I've seen how blokes like [Brad Sewell] go about it."
Simpkin will meet with coach John Worsfold and assistant Guy McKenna in the coming weeks to discuss his role at the Bombers, but he has already set himself to play on beyond this season.
The 28-year-old played just one senior game for the Hawks in 2015, before being delisted, but he said the time he spent playing for Box Hill in the VFL enhanced his leadership skills.
"My leadership increased and I spent a lot of time working with Hawthorn's young and developing players and I was able to help them learn the structures and team rules," Simpkin said.
"Hopefully I can take a bit of that with me and spend a bit of time with these young kids and hopefully they can develop and become good players."
Sewell, a host on the morning radio program, spent a fair bit of time with Simpkin at Hawthorn and has backed the journeyman to prosper at his new club.
"He's a great fella and he's going to bring a lot to the Bombers," Sewell said.
"There'd be nobody more experienced – the Sydney (Swans), Geelong, Hawthorn – they are three of the best clubs of the last 10 years. He would've been a 150-200 game player had he been at a lesser club.
"He's been the best player not to be playing regular football as his form would indicate at VFL level."