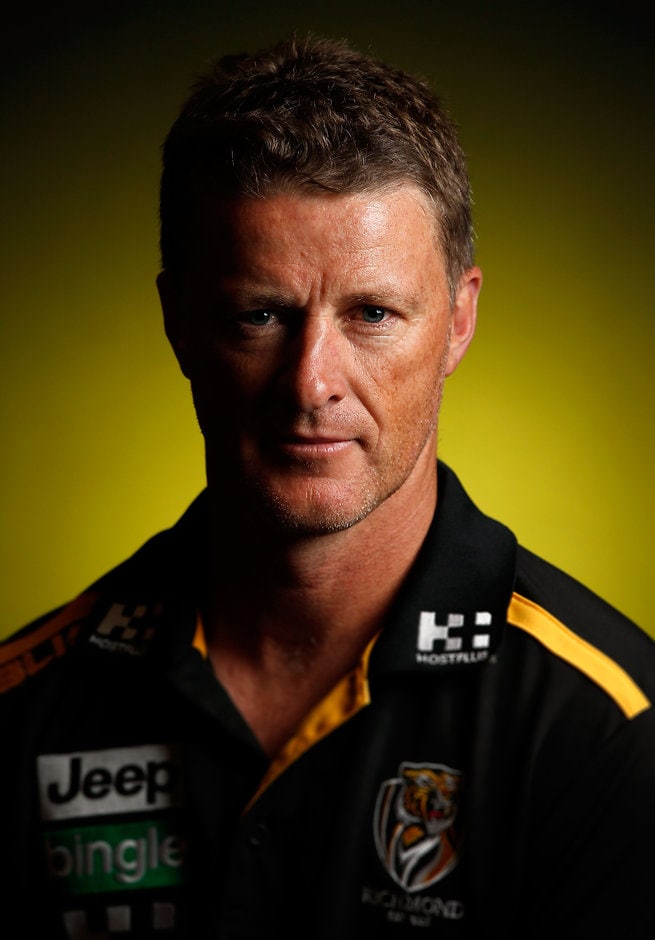 RICHMOND has confidence in coach Damien Hardwick, but will not be rushed into extending his contract beyond 2016, CEO Brendon Gale says.
Gale told SEN the Tigers had a range of "internal criteria" to decide if Hardwick was the right man for the job beyond 2016, but said the club had faith in its coach.
"We have got enormous confidence in Damien," Gale said.
"We think he is a fine person. We think he has brought this club and the playing list a long way and we think he has enormous upside."
Hardwick began coaching Richmond in 2010, taking over a team that had finished second last on the ladder.
The Tigers lost his first nine games as coach as he began the arduous process of rebuilding the list during the expansion era.
He has built a team good enough to make the finals in the past three seasons but they are yet to win one, being eliminated in the first week each season.
Gale said those losses – particularly the devastating loss to North Melbourne last season – had hardened the team's resolve.
"Sometimes those bitter experiences, those extremely painful experiences, really harden your resolve and make you stronger going forward," Gale said.
Hardwick now has a win-loss record above 50 per cent and the Tigers have a list considered capable of reaching the top four.
"We think he has done an extraordinary job in the last five or six years from where he has brought the list, and I think we continue to get better and better," Gale said.
The Tigers CEO said the club would not put a timeline on when a decision would be made on Hardwick, however the club board is expected to meet in mid-February.
"We'll sit back. We have got our own internal criteria in which we'll make a decision," Gale said.
He didn't think Hardwick would be affected by the contract speculation.
"He is a pretty focused and resilient coach and I would not imagine it would be too much of a distraction," Gale said.